The Ethics of Barring Donald Trump From Your Country
Should Britain ban a man for planning a ban?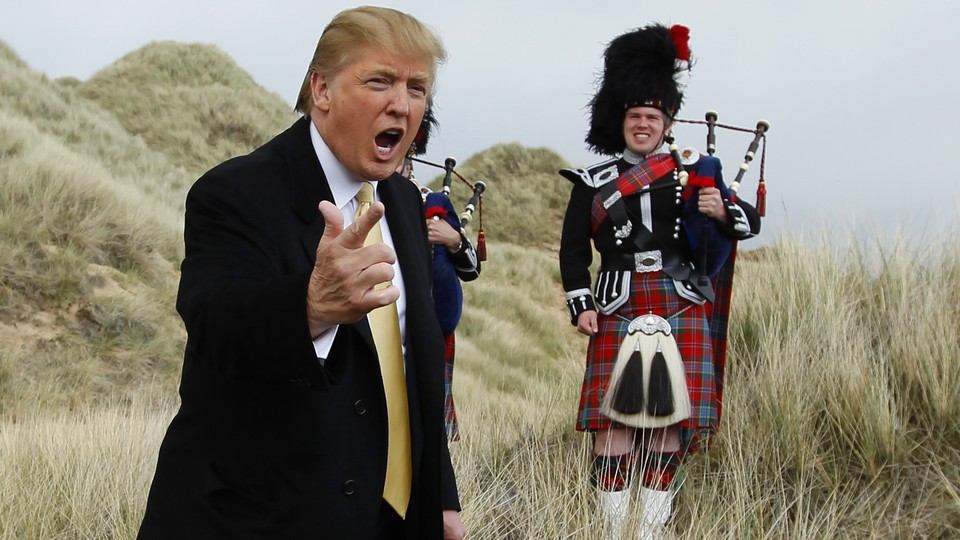 As of this writing, more than 450,000 people in the United Kingdom have responded in kind to Donald Trump's call for banning Muslims from entering the U.S. (and to other comments of his, including that parts of London are so rife with Islamic extremists that police are terrified to patrol them): They've called for a blanket ban of their own—on all Donald J. Trumps entering the U.K.
"The UK has banned entry to many individuals for hate speech," declares the petition on the British Parliament's website. "The same principles should apply to everyone who wishes to enter the UK. If the United Kingdom is to continue applying the 'unacceptable behaviour' criteria to those who wish to enter its borders, it must be fairly applied to the rich as well as poor, and the weak as well as powerful."
The petition, which was first lodged in late November by an activist critical of a Trump golf course in Scotland, has garnered more than four times the necessary signatures to be considered for parliamentary debate, and Trump's statements have already come up during a round of Prime Minister's Questions. Asked by Tasmina Ahmed-Sheikh, a Scottish lawmaker, if the government would designate Trump a "hate preacher" and bar him from visiting the country, Chancellor of the Exchequer George Osborne said no.
"Donald Trump's comments fly in the face of the founding principles of the United States," Osborne said. "I think the best way to defeat nonsense like this is to engage in robust democratic debate and make it clear his views are not welcome." (As for the specific accusation of hate speech, a spokesman for Osborne pointed out that Trump has "not been convicted of any crime.")
Ahmed-Sheikh, the first Muslim member of parliament from the Scottish National Party, disagrees with Osborne's stance. "While we cannot control what [Trump] says on U.S. soil, we can demonstrate leadership in relation to this issue and say: 'Not in the United Kingdom do we want people making Islamophobic, racist, anti-Muslim remarks that are completely unfounded and unhelpful when we continue our fight against terrorism,'" she told The Huffington Post, predicting that if Trump were to travel to the U.K., he'd attract an audience and contribute to "a rise in anti-Muslim rhetoric or Islamophobia," including violence against Muslims.
The dispute poses a set of thorny questions that many democracies struggle mightily with: What distinguishes free speech from hate speech, and what should the government's role be in making that distinction? And then, even if a government determines that someone is engaging in a form of hate speech, is the best reaction to try and muzzle that person (by, say, issuing a travel ban) or to openly contest that person's ideas? Then again, can a travel ban really muzzle a person nowadays, when his or her ideas are readily available online? Put another way: Regardless of the merits of this particular British petition against Trump, are the dual premises of the petition itself—that the government should regulate hate speech, and that doing so can be effective—sound?
In a 2008 article for The New York Times, Adam Liptak mapped out the varied answers to similar questions. Noting that hate-speech laws are much stricter in Canada and Western Europe than in the United States, he quoted the New Zealand legal philosopher Jeremy Waldron suggesting that European countries might be justified in arguing "that a liberal democracy must take affirmative responsibility for protecting the atmosphere of mutual respect against certain forms of vicious attack."
But the American civil-liberties lawyer Harvey Silverglate offered a very different assessment:
"When times are tough," he said, "there seems to be a tendency to say there is too much freedom."

"Free speech matters because it works," Silverglate continued. Scrutiny and debate are more effective ways of combating hate speech than censorship, he said, and all the more so in the post-Sept. 11 era.

"The world didn't suffer because too many people read 'Mein Kampf,"' Silverglate said. "Sending Hitler on a speaking tour of the United States would have been quite a good idea."
A Canadian lawyer, meanwhile, told Liptak that the United States was simply exceptional in its tolerance for airing hateful ideas: "Canadians do not have a cast-iron stomach for offensive speech. We don't subscribe to a marketplace of ideas. Americans as a whole are more tough-minded and more prepared for verbal combat."
In the United Kingdom, the Home Office, a government agency in charge of security and immigration, has in recent years excluded more than 150 foreigners  from the country, on the grounds that they've exhibited "unacceptable behaviour" and that their presence in the U.K. would not be "conducive to the public good." These individuals have ranged from a white nationalist in the U.S. to a Muslim televangelist in India. A spokesman for the current home secretary, Theresa May, recently boasted that his boss had banned "more foreign nationals on the grounds of unacceptable behaviour than any [home secretary] before her."
But this aggressive campaign has raised serious concerns. During a 2014 debate in Parliament, Dominic Raab, a fellow member of May's Conservative Party, noted that the "unacceptable behaviour" provision was formulated after the 2005 terrorist attacks in London and designed to prevent people from entering Britain not just for national-security reasons, but also because they were sowing hatred in a way that could yield intercommunal violence. But, he added, Secretary May had interpreted the vaguely worded policy far more expansively than her predecessors (several examples he cited, including prohibitions against the rapper Snoop Dogg and the far-right politician Geert Wilders, predate May's tenure):
The current home secretary made it clear in 2011 that she wanted to take an even more interventionist approach, banning people who hold extreme views even if they are not necessarily or directly inciting or promoting violence. …

The grounds for refusal and for exclusion are not limited to terrorist-linked or other violent extremism. A criminal record, or even just obnoxious views, can get someone barred. For example, recently, U.S. shock jock Michael Savage and right-wing activist Pamela Geller, who is also from the States, have been refused entry to Britain.

Overall, if we look at recent history we see that there is a long list of rather curious characters who have been excluded from Britain: from Snoop Doggy Dogg and Chris Brown to Martha Stewart; and from Nobel laureate Pablo Neruda and scientologist Ron Hubbard to Dutch MP Geert Wilders. Along with the positively dangerous, there is a rather rag-tag mix of crooks, kooks, and cranks who have been barred from coming here.

There is a legitimate wider debate around all of this. Do we risk suffocating free speech because of undue sensitivity or political correctness if we bar individuals who are not directly inciting violence but are just offensive to certain quarters of society? Who decides where to draw that line, or what the objective criteria are for barring people for bad taste or because they may be regarded by some as insulting? Beyond protecting the public, in the sense of public safety, should the role of a home secretary effectively involve acting as some kind of thought police? I am not convinced that we have gone quite that far, but equally I am not convinced that we should go that far.
Similar debates have played out everywhere from Australia, where former Prime Minister Tony Abbott proposed a "red card" system for foreign "hate preachers," to Israel, where controversy flared in 2010 after the American linguist Noam Chomsky, a fierce critic of Israeli policies, was denied entry to the West Bank under murky circumstances. In the latter case, some characterized the incident as an inexcusable embarrassment for Israeli democracy, while others took the opposite position. "This is a decision of principle between the democratic ideal—and we all want freedom of speech and movement—and the need to protect our existence," said Otniel Schneller, a member of the centrist Kadima Party, at the time. "Let's say [Chomsky] came to lecture at Birzeit [university in the West Bank]. What would he say? That Israel kills Arabs, that Israel is an apartheid state?" Such statements, he argued, could incite grave violence.
In a 2010 paper on how the "territorial First Amendment" in the United States has evolved over time, Timothy Zick, a law professor at William & Mary, noted that while it is especially common for countries such as Britain, Canada, and South Africa to deny entry to foreign speakers based purely on their ideology, the United States has done so as well ever since its founding—from the Alien and Sedition Acts of 1798 to severe restrictions against anarchists and communists during the Cold War. The Obama administration, he pointed out, had not disclaimed this authority, though it has lifted bans on Muslim scholars who were denied entry visas under the Bush administration. "It remains unclear, even today, whether the First Amendment prohibits the government from excluding an alien from the United States based solely upon ideological grounds," Zick wrote, while adding that America's "First Amendment is more cosmopolitan today than perhaps any other time in the nation's history."
This week, following Trump's remarks about Muslims, the Israeli government took a notable approach to these difficult questions. Prime Minister Benjamin Netanyahu dismissed demands from some lawmakers that he cancel a meeting later this month with the Republican presidential candidate—who was planning a trip to Israel—and that the government stop Trump from entering the country altogether. Instead, Netanyahu kept open his offer to sit down with Trump while openly engaging with Trump's ideas, tweeting that he rejected the candidate's comments and that "the State of Israel respects all religions and strictly guarantees the rights of all its citizens."
The outcome: On Thursday, Trump announced that he had decided not to visit Israel after all. He would meet with Netanyahu "at a later date," he said, "after I become President of the U.S."