Triple Suicide Bombings in Chad
Dozens of people were killed in explosions at a market on Saturday.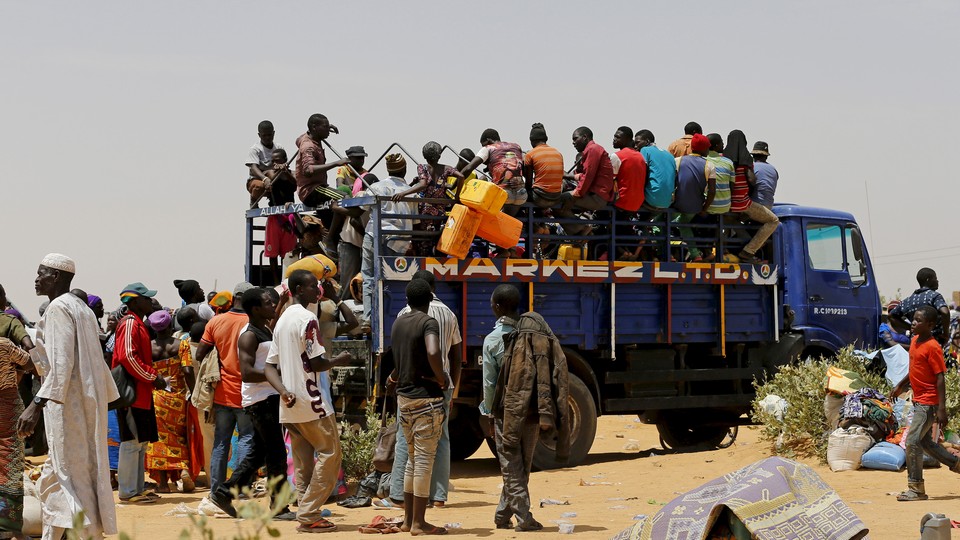 Three suicide bombings at a market on an island of Lake Chad on Saturday have killed and injured dozens of people.
The exact number of victims is unclear. The Associated Press reports 27 people were killed and 90 were injured, while AFP and Reuters report 30 people killed and 80 wounded. The news outlets cite government and security officials in Chad.
The bombings were carried out by females. Most of Lake Chad is inside Chad; smaller parts of the lake fall within the borders of Cameroon, Nigeria, and Niger.
No one has claimed responsibility for the explosion, but Boko Haram, an Islamic extremist group, is suspected. The group is largely based in northeastern Nigeria, but has launched attacks in Chad, Cameroon, and Niger. Last month, Chad imposed a state of emergency in the Lake Chad region, following multiple deadly suicide attacks in the area that were also carried out by female bombers.
Nigeria's president, elected in May, has vowed to destroy Boko Haram, and the governments of Chad, Cameroon, Niger, and Benin have contributed troops to the cause. This week, Cameroon's defense minister said the military had killed more than 100 members of the militant group and freed more than 900 people the group was holding hostage near Cameroon's border with Nigeria.
Boko Haram has abducted hundreds, killed thousands, and displaced millions of people since launching military operations in 2009. The group this year aligned itself with the Islamic State, calling itself the organization's "West African province."
Last month, an index that tracks terrorism-related deaths designated Boko Haram as the deadliest terrorist organization in the world. The group has on multiple occasions used young girls as suicide bombers, often against their will.