Sexism in Paradise
Activists say an abortion bill will make life even more difficult for Brazil's women. But feminists are fighting back.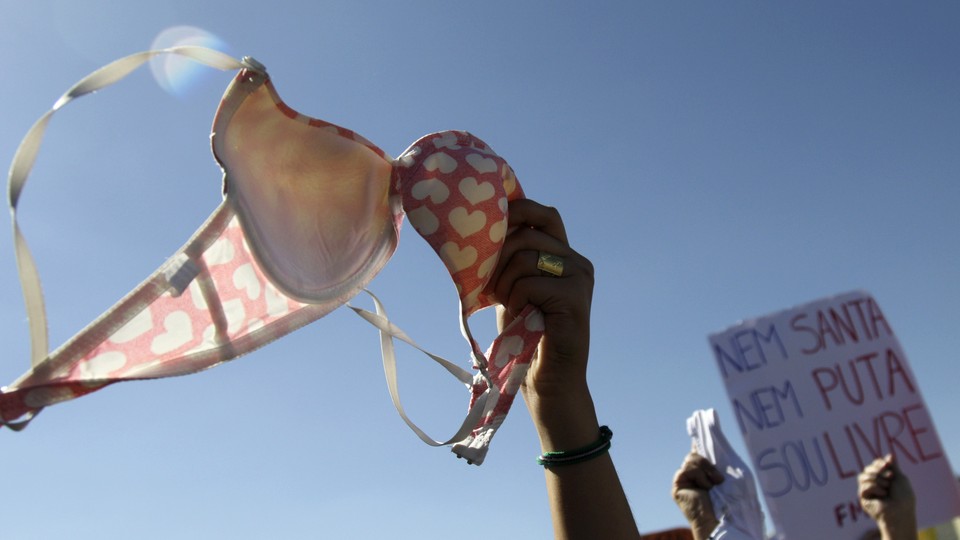 RIO DE JANEIRO—Two dozen women formed a circle and linked hands on a stretch of concrete near the Carioca metro station here Wednesday, dancing and chanting. They called for the fall of Eduardo Cunha, the speaker of Brazil's lower house of congress, because of a new law he's proposed that would make abortions much harder to obtain in a country where they are already all but illegal.
"Women should have the right to choose," said the group's leader, Luciana Targino, who wore a pink flag as a cape. The women's rally was a small element of a larger march against Cunha that day by unions and other interest groups. But it echoed the actions of thousands of women who have taken to the streets of Rio de Janeiro, Sao Paulo, and Brasilia in recent months to protest the abortion law, specifically, and Cunha in general.
Roughly a fifth of Brazilian women will have an abortion by age 40—either by paying exorbitant fees to secret clinics, ordering abortifacient pills, or traveling to Uruguay. If caught, they can be criminally tried, though in practice few such women are jailed.
Legally, Brazilian women can only abort if they've been raped, if their life is threatened, or if sonograms reveal a brain deformity in the fetus. Cunha's proposed bill would make things more difficult for women in the first category. It would require rape victims seeking abortions to report to a police station and have their bodies examined, and it could limit access to the morning-after pill. People who give women advice on how to obtain abortions could be jailed.
Rape is widespread in Brazil—one is said to occur every 10 minutes. The law's opponents say the measure would discourage rape reporting and traumatize survivors. There might also be a rarer, more clandestine consideration at play. With abortion barely available, women find creative ways of skirting restrictions. Desperate abortion-seekers sometimes turn to false rape reports as an out.
The bill's proponents say its evidence requirement will bolster rape investigations, as the Green Party lawmaker Evandro Gussi explained to AFP. And also, he said, they want to eliminate "any doubts that a rape was committed."
But feminist opponents say it's just another swipe at their gender in a country where machismo rules and women are far from equal.
Even libertine Rio de Janeiro, all megawatt smiles and dental-floss bikinis, has a misogynist streak, according to a group of feminist activists I had dinner with recently. "You can wear a short skirt, but you'll still be judged for this," said one of the women, Bea Lopez. "The probability of getting violated is high."
Women's rights activists here have been emboldened in the past few years, and not only because they have Cunha as their foil. Social media makes it easier to organize, and as more Brazilian women attend college and get good jobs, they've become eager to shake up traditional gender roles. No more dama na casa—lady in the house—they say: It's time for men to start sharing in the housework and respecting female bodies.
"Some people call this the spring of the woman," said Silviana Bahia, who has also been involved in a burgeoning black women's protest movement in the country. "Men need to change the way they look at women."
Her friend Domingos Pimentel, who is also black, said Afro-Brazilian women are drawn to the anti-Cunha movement because they tend to be poorer, so they'll be hit harder if the high price of a furtive abortion rises even more.
When I asked if any of them knew someone who'd gotten an abortion, they grew quiet. Even though they're feminists, they said, there are some things they don't talk about.
The pro-life legislative push is propped up by conservative, evangelical politicians like Cunha, who have snatched up congressional seats in recent years. The rise of evangelical Christianity in Brazil has brought about a major cultural shift in a country that, though firmly Catholic, had previously taken a relaxed approach to issues such as homosexuality and divorce.
Today, Lopez believes the country's iconic Carnival and beach culture are "just what's sold to outsiders. In the suburbs, the church has all the power."
The church, and as ever, the patriarchy.
In November, a 12-year-old contestant on the Brazilian version of Master Chef Junior was bombarded with sexual tweets about her appearance. "If there's consent, is it pedophilia?" one asked. After that, Brazilian women used the hashtag #primeiroassedio—my first harassment—to flood social media with thousands of stories of the first time they were sexually targeted.
Later that month, women took to the hashtag #meuamigosecreto (or "my secret friend") to highlight acts of everyday sexism by men they know. "#Mysecretfriend loves criticizing the power structures present in society," one wrote, "Almost as much as he loves reproducing them in his own relationships."
They're also creating tech tools such as Vamos Juntas, a mobile app that's like Waze, but for preventing assault. Women walking alone at night can tell the app when they feel unsafe, and it will suggest alternate routes.
The women I met differ from most American feminists in one major way: Several of them said they don't believe men can be feminists. They hear men say things like, "a feminist is a woman who doesn't want to be married," and they fear that men, if invited in, will dominate feminism like they do other spheres of life. "In our movement, men don't sign the papers," said Thais Alves Pinto.
"It's not that men are horrible," Lopez interjected. "I love men! But sexism is socialized in the man from the time that he's a young person."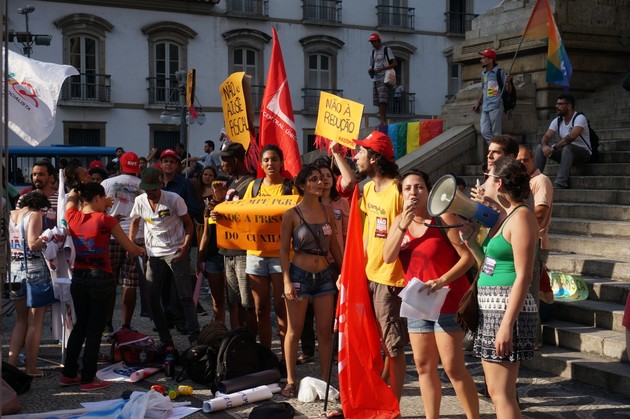 The following day, Lopez led a group of students—her colectivo, or protest club—in an anti-Cunha rally down the street from where Luciana Targino's group gathered. Walking backwards, drum-major style, Lopez called out chants like, "Cunha, you are sexist! My body is not an account in Switzerland!"—a dig at Cunha's alleged role in a corruption scandal involving the state-run oil company Petrobras.
Lopez's colectivo marched on to a large square in the center of the city. There, it was clear how the feminists planned to propel their agenda into the mainstream: They'd join forces with like-minded Cunha-haters. There was no shortage of options: An LGBT contingent unfurled rainbow banners, because Cunha opposes gay marriage. Young people marched, because Cunha lowered the age of criminal responsibility to 16. On the sidelines, a man said he represented a land-justice group, and indeed, Cunha wants to restrict indigenous Brazilians' rights to their ancestral territories.
Cunha is also pushing for the impeachment of the country's president, Dilma Rousseff, whose popularity ratings have tanked because of the flagging economy and the same corruption scandal that has engulfed Cunha. (Rousseff has been the target of her fair share of "quit now!" protests.)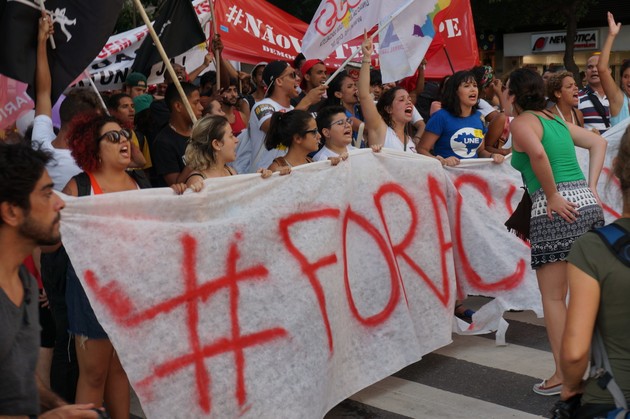 But the workers' union loves Dilma, and plenty of crimson flags belonging to the Central Unica dos Trabalhadores—Unified Workers' Central—flew in the square. The women's activists stationed themselves on a platform and stoically held their signs. Down below, the rally's emcee alternated between singing samba and issuing rallying cries. Beer was sold, and the protesters gradually grew less angry and more, well, tranquilo.
When I asked Targino whether she thinks demonstrations like these will really improve things for women, she offered a frank assessment of their odds. Even if change doesn't arrive now, she said, "we're also working for the women who come up behind us."
---
Olga Khazan is reporting from Brazil as a fellow with the International Reporting Project (IRP).