Another Journalist's Effective Expulsion From China
Ursula Gauthier, a French journalist, is being accused of inciting "the outrage of the Chinese people" with an article on Beijing's relationship with Uighurs.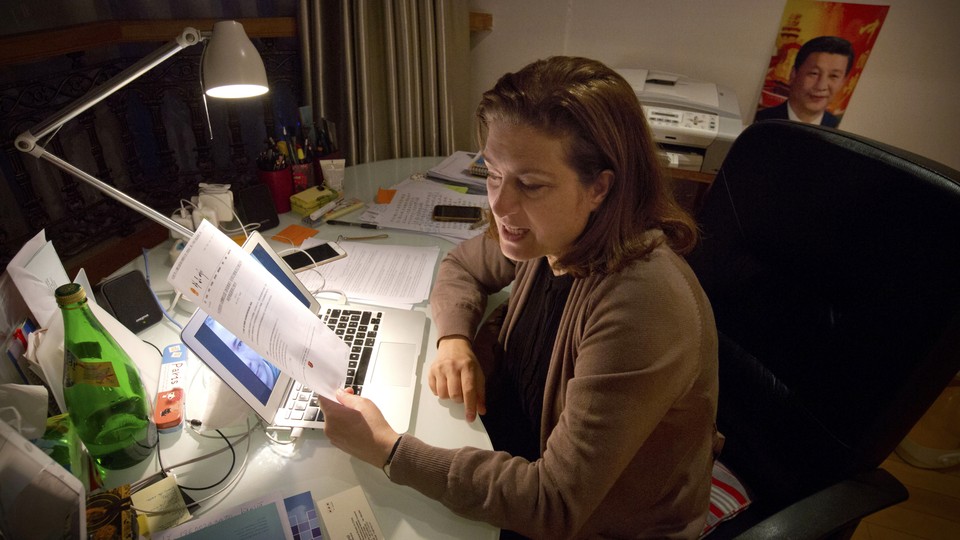 A French journalist has managed to incite "the outrage of the Chinese people" with an article on Beijing's relationship with Uighurs, according to the Chinese Foreign Ministry, and will effectively be expelled from China as a consequence.
In the article in question, which was published in the French weekly L'Obs on November 18, Ursula Gauthier called into question the Chinese government's motives for linking the Paris attacks with violence in China's Xinjiang region. She maintained that violence in Xinjiang had "nothing in common" with the kind of attacks Paris had witnessed just days earlier—a view the Chinese government called sympathetic to terrorism.
At issue is Beijing's complicated relationship with the Xinjiang autonomous region. The Chinese government views the sometimes violent unrest among ethnic Uighurs as the work of Islamist separatists. But the Uighurs say Beijing restricts their movement, adding they are frustrated by the economic development brought about by settlement by Han Chinese.
Beijing maintains the violence in Xinjiang is a symptom of global terrorism, but many human-rights groups and scholars have a different view. According to The Washington Post these groups and scholars believe that "what's happening in China's far northwest is less about global jihad than China's suppression of its Uighur population."
This is the line that Gauthier took in her report as well. She focused on a September 18 knife attack perpetrated on ethnic Han miners in Xinjiang, and revealed that Chinese media did not report the attacks until after the Paris attacks two months later. That's when the official report depicted the Chinese struggle against violence in Xinjiang as being part of a global battle against terrorism. Gauthier's article questioned this narrative.
The announcement that Gauthier's press credentials will not be renewed is the culmination of a monthlong onslaught in the Chinese media against her. According to The New York Times, "her article was denounced in editorials in the state-owned news media and publicly rebuked by a government spokeswoman, and she was subjected to a torrent of online criticism that was often vulgar."
Gauthier has called the accusations against her "absurd" and says she believes her expulsion is "only meant to deter foreign correspondents in the future in Beijing." The Foreign Correspondents' Club of China said in a statement it is "appalled" by the decision of the Foreign Ministry, and called the accusation that Gauthier supports terrorism "a particularly egregious personal and professional affront with no basis in fact."
Gauthier, who has reported from Beijing since 2009, told the AP on Friday she is "prepared to leave China"—if and when she does she will be the first foreign journalist expelled from the country since Al Jazeera's Melissa Chan in 2012.