A Papal Message of Peace
Pope Francis called for an end to the conflict in Syria and elsewhere in his traditional Christmas Urbi et Orbi address.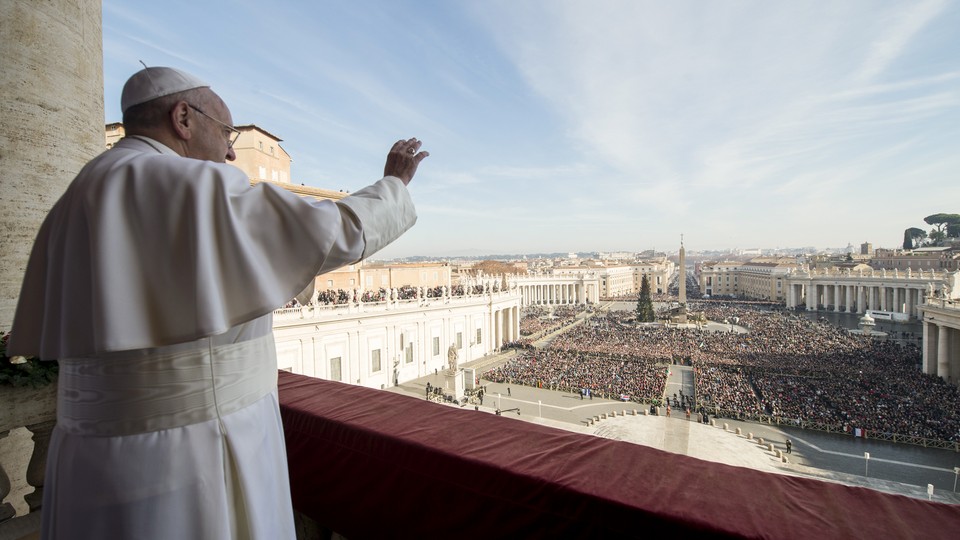 Pope Francis used his Christmas message to call for peace in parts of the world ravaged by violence and terrorism.
Addressing the crowd at the Vatican from the balcony of St. Peter's Basilica with his third Urbi et Orbi remarks on Christmas Day, Francis called for peace in Syria, which is in the midst of a brutal civil war; Libya, which has been in turmoil since the ouster of Muammar al-Qaddafi; Iraq, Yemen, and sub-Saharan Africa. He said the atrocities in those places "reap numerous victims, cause immense suffering and do not even spare the historical and cultural patrimony of entire peoples." That's an apparent reference to the Islamic State's destruction of historic sites that it controls.
"My thoughts also turn to those affected by brutal acts of terrorism, particularly the recent massacres which took place in Egyptian airspace, in Beirut, Paris, Bamako, and Tunis," Francis said.
The pope also referred to tensions in the Holy Land, where, he said, "tensions and violence persist, and peace remains a gift to be implored and built."
"May Israelis and Palestinians resume direct dialogue and reach an agreement which will enable the two peoples to live together in harmony, ending a conflict which has long set them at odds, with grave repercussions for the entire region," Francis said.
As John Allen over at Crux, the Boston Globe's website that covers the Catholic Church, notes: Francis has taken a personal interest in the Israeli-Palestinian conflict. In June 2014, he invited their then-presidents to a prayer at the Vatican; also attending was the Orthodox Patriarch of Constantinople.
The pope, an outspoken advocate for refugees and migrants fleeing into Europe and elsewhere, also urged the world to be more welcoming to the newcomers. Europe is divided over the more than one million people who have entered the continent this year. The pope said many of the newcomers are "fleeing extreme poverty or war, traveling all too often in inhumane conditions and not infrequently at the risk of their lives."
"May God repay all those, both individuals and states, who generously work to provide assistance and welcome to the numerous migrants and refugees, helping them to build a dignified future for themselves and for their dear ones, and to be integrated in the societies which receive them," he said.
Francis prayed for peace in the Democratic Republic of Congo, Burundi, and South Sudan, as well as Ukraine, and hoped that Colombia continues its "commitment to working for the desired peace."