A Fake Bomb at 30,000 Feet
For the third time in just over a month, an Air France flight was diverted over a potential threat.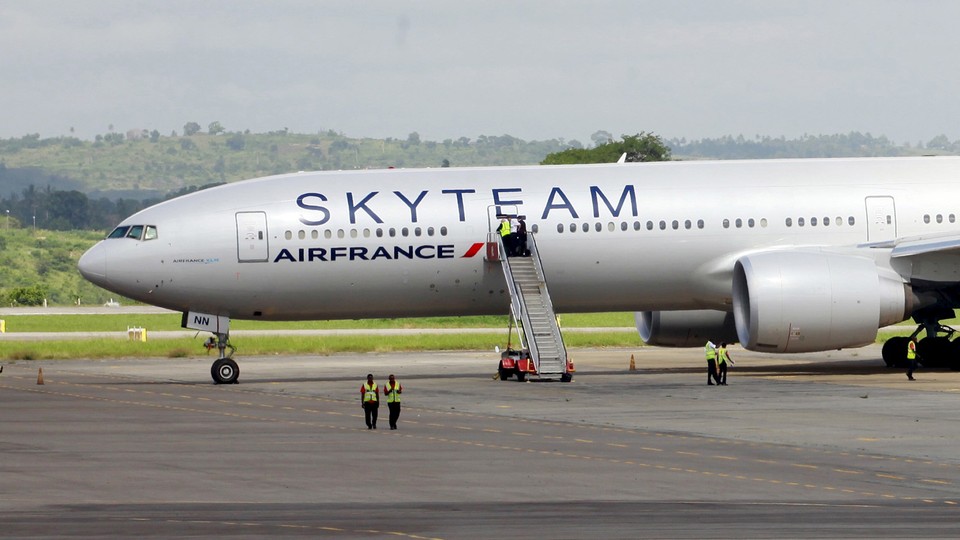 An overnight Air France flight carrying 459 passengers from Mauritius to Charles de Gaulle airport in Paris was diverted on Sunday after a passenger discovered a suspicious device in the lavatory. "The passenger notified the crew, who alerted the captain, Kenyan officials said, and the plane then diverted from its flight path and made an emergency landing in the Kenyan coastal city of Mombasa," The New York Times reported.
"The plane just went down slowly, slowly, slowly, so we just realized probably something was wrong," one passenger told the AP. After the plane landed in Kenya, the passengers evacuated using emergency slides. Security forces on the ground later determined the device to be a fake bomb.
Later on Sunday, Air France CEO Frederic Gagey told reporters in Paris that the scare had been a "false alarm" and that the object had been paper and cardboard rigged with "something like a kitchen timer." He added that there had been no explosives attached, reiterated that security measures had not failed, and that a thorough investigation would be conducted.
This is the third Air France flight to be diverted in just over a month. "Two Air France flights from the U.S. to Paris were diverted on November 18 after bomb threats were received," the AP noted. "No bombs were found on the planes from Los Angeles and Washington, D.C."
Sunday's scare comes just one month into France's three-month state of emergency following last month's attacks in Paris and some six weeks after what many believed to be an ISIS bomb brought down a Russian plane in Egypt. One Kenyan official said that six passengers were being questioned about the episode.