Who Were the Paris Attackers?
French investigators are hunting for an apparent eighth perpetrator as more details about the terrorists become public.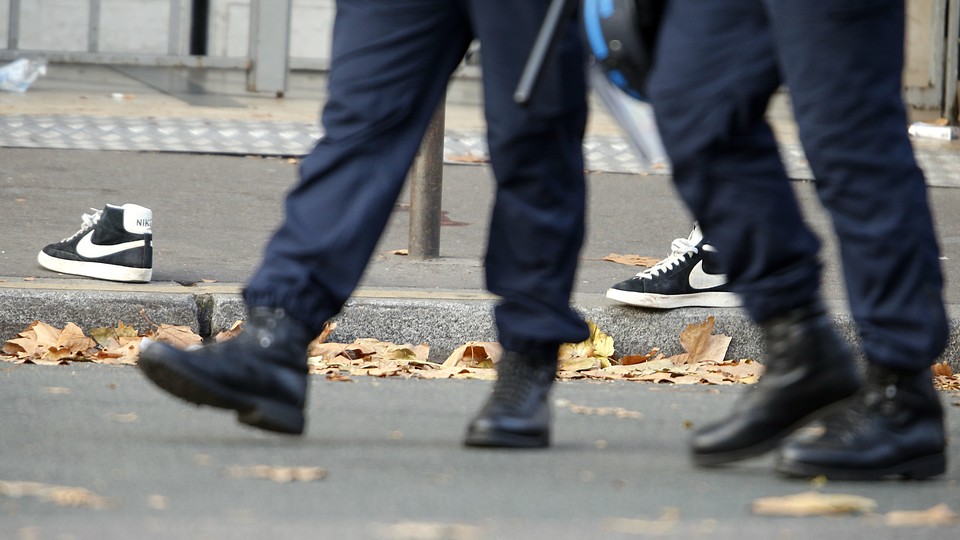 Updated at 9:23 p.m.
French authorities launched a manhunt for a possible eighth participant in the terrorist attacks that struck Paris on Friday, killing 129 people and wounding more than 350 others. Investigators also began releasing information about some of the seven known attackers, as police and intelligence agencies try to piece together the details behind one of the deadliest attacks in Western Europe since the end of World War II.
France's Police Nationale issued a nationwide alert Sunday for Salah Abdeslam, a 26-year-old man from Brussels, who they said was "likely to be involved" in the Paris attacks.
In the chaotic initial hours of the attacks, reports from police officials suggested the involvement of eight perpetrators, seven of whom had detonated suicide belts. Paris prosecutor Francois Molins subsequently announced during a Saturday press conference that seven suicide bombers working in three teams had been killed.
The Associated Press reported that Abdeslam eluded capture during an encounter with French law enforcement shortly after the attacks:
Yet police already had him in their grasp early Saturday, when they stopped a car carrying three men near the Belgian border. By then, hours had passed since authorities identified Abdeslam as the renter of a Volkswagen Polo that carried hostage takers to the Paris theater where so many died.

Three French police officials and a top French security official confirmed that officers let Abdeslam go after checking his ID. They spoke on condition of anonymity, lacking authorization to publicly disclose such details.
Abdeslam is one of three brothers who have become the focus of the investigation, Le Monde reported Sunday. According to the French newspaper, Salah's brother Ibrahim detonated his suicide belt on the Boulevard Voltaire during the attacks. Two of the brothers also reportedly rented two vehicles in Belgium that have been recovered in Paris. One of the cars, a Volkswagen Polo, was found near the Bataclan, where three of the attackers killed several dozen concertgoers. A third brother was reportedly among the seven people arrested by Belgian officials in Molenbeek on Saturday in connection with the attacks.
Molenbeek, an impoverished Brussels suburb, has been tied to several perpetrators of recent high-profile jihadist attacks in Belgium and France. Mehdi Nemmouche, who allegedly killed four people at the Jewish Museum of Brussels in May 2014, rented a room in the neighborhood shortly before his attack. Ayoub El-Khazzani, whose attempted attack on a Thalys train near the French town of Oignies in August was thwarted by passengers, also reportedly stayed there for some time.
Le Monde noted that Belgium has contributed the highest proportion of ISIS fighters compared to its population of any Western European country. Amedy Coulibaly and the Kouachi brothers, who killed 17 people at the Charlie Hebdo offices and a Jewish supermarket in Paris in January, reportedly purchased most of their weapons from the Belgian underworld before the attack.
The team that struck the Bataclan concert hall included Ismael Omar Mostefai, a 29-year-old French national by birth who lived in Chartres, and two other suicide bombers that have yet to be identified. Mostefai died when he detonated his suicide belt; French authorities identified him from a single finger found at the scene. According to Sky News, he was "known to security services," but had not been incarcerated or linked to known extremist groups before the attacks. Le Monde reported that Mostefai spent part of 2013 and 2014 in Syria before returning to France. On Saturday, French police arrested seven of his family members and associates in Chartres, including his brother, who apparently surrendered at a police station.
A second team of three suicide bombers also struck the Stade de France during an exhibition soccer match between France and Germany. The bombers reportedly tried to enter the stadium itself but were thwarted when event security discovered one of their suicide vests. The bombers included 20-year-old Bilal Hadfi, a resident of Belgium who reportedly fought alongside ISIS in Syria, and two unidentified others.
According to Le Monde, investigators found a Syrian passport belonging to a man named Ahmad al-Mohammed near one of the unidentified bombers' bodies outside the stadium, then retraced the passport's progress through Europe:
Greek authorities recorded that the man crossed through the island of Leros on October 3 after passing through Turkey. He subsequently entered Serbia through the border crossing at Presevo, where he made his asylum request before joining a Croatian refugee camp at Opatovac on October 8 and then heading to Hungary.
French Minister of Justice Christiane Taubira told reporters that the passport itself was a fake, casting doubt on whether its bearer was a genuine refugee or even the person named in it.
The third team used Kalashnikov rifles to fire upon restaurants and cafes in the 10th and 11th arrondissements from one or more cars. Details about the team are scarce: Ibrahim Abdeslam, who detonated his suicide vest on the Boulevard Voltaire, is its only known member. Le Monde suggested that his brother Salah might have joined him in this attack, along with one or more others.
All of the unnamed attackers' backgrounds also remain murky. The Paris prosecutor's office said Sunday it had identified four of the seven suicide bombers so far. The AP reported that three of the seven suicide bombers were French nationals.
We will be updating this story as we learn more.