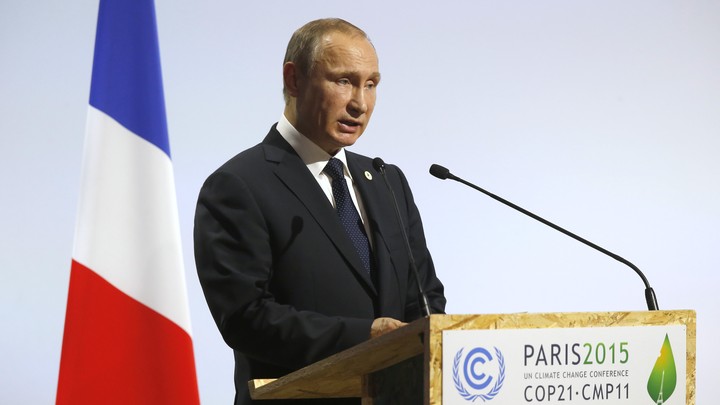 Updated on November 30 at 2:41 p.m. ET
President Vladimir Putin is accusing Turkey of shooting down a Russian warplane last week so it could protect its oil trade with the Islamic State. The comments, made in Paris on the sidelines of the climate-change talks, come hours after Turkey's prime minister refused to apologize for the action.
The escalating rhetoric is likely to hinder attempts to forge a joint coalition against the Islamic State.
"We have every reason to believe that the decision to shoot down our aircraft was dictated by the desire to ensure the safety of supply routes of oil to Turkey, to the ports where they are shipped in tankers," Putin said Monday.
Turkey denies it buys oil from the Islamic State, but several news reports suggest Turkey tolerates some level of oil smuggling from its southeastern borders with Iraq and Syria. (For an assessment of these claims, read this.) Syrian President Bashar Assad, Putin's ally in the Syrian civil war, has also been accused of buying oil from the Islamic State, a group that his forces are ostensibly fighting. Putin's remarks did not touch on that claim, but they are likely to inflame already high tensions with Turkey.
Earlier in the day, Ahmet Davutoglu, the Turkish prime minister, defended his country's decision to shoot down the Russian warplane that was carrying out airstrikes against Syrian rebels.
"No country can ask us to apologize [for the incident] because [we were] doing our job," he said. "Our action was a defensive action."
His comments were made at a news conference in Brussels with Jens Stoltenberg, the secretary-general of NATO, the alliance of which Turkey is a member. Turkish media quoted Stoltenberg as saying: "Turkey has the right to defend itself and [its] airspace."
As my colleague Marina Koren reported last week, Turkey said it shot down the Russian plane after the aircraft violated Turkish airspace and ignored 10 warnings to leave. The pilot was killed by rebels as he parachuted to safety. His body was flown home to Russia on Monday. The co-pilot was rescued in a Russian special-forces operation.
It later emerged the plane was in Turkish airspace for 17 seconds. At the time, Putin called the incident "a stab in the back, carried out by the accomplices of terrorists." Russia demanded an apology and announced measures, including economic steps, against Turkey. Putin and Recep Tayyip Erdogan, the Turkish president, are not expected to meet in Paris, where they are attending the UN climate summit, though Erdogan said he was "saddened" by the incident.
Putin, in his comments Monday, also said he regretted the chill in relations with Ankara.
"I think that this is regrettable for all of us," he said. "And for me personally it's a real pity, because I myself did much to build up relations with Turkey over the course of a long period of time."
Last week's incursion was not the first made by a Russian aircraft into Turkish airspace, but the dispute over the downed airplane threatens to undermine fragile attempts to build a global coalition against the Islamic State, with other world leaders getting involved in the rhetoric. Russia is targeting rebel groups, including the Islamic State, that are opposed to Syrian President Bashar Assad. The U.S. and its allies, including Turkey, are also operating against the Islamic State, but they support the relatively moderate, anti-Assad rebel factions. It was one of those groups, a Turkmen rebel organization, that the Russian plane was targeting last week.
But after the November 13 attack on Paris, Francois Hollande, the French president, has been trying to bring together a coalition, which includes Russia, the U.S., Turkey, and others to fight the Islamic State, which claimed responsibility for the attack that killed 130 people. The downing of the Russian airplane complicates those efforts.
Still, Putin, who met with President Obama in Paris on Monday,  said he will continue to work toward a global coalition against the Islamic State.
"We talked about the tactics of our joint action on this political track, and overall, in my opinion, there is an understanding about where to go from here," he said.
Obama is scheduled to meet with Erdogan on Tuesday.
We want to hear what you think about this article. Submit a letter to the editor or write to letters@theatlantic.com.