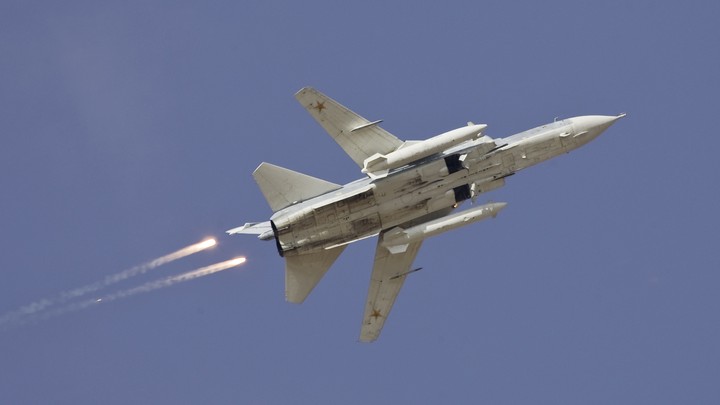 Updated on November 24 at 3:03 p.m. ET
Turkey has shot down a Russian warplane near the Syrian border after the aircraft violated its airspace and ignored repeated warnings, according to the Turkish military.
The Russian Defense Ministry said Tuesday that one of its jets had crashed in northwestern Syria "presumably as a result of shelling from the ground," The New York Times reported. Later, Russian President Vladimir Putin, who is in Sochi meeting with Jordanian King Abdullah II, said at a press conference that the warplane was struck by air-to-air-missiles launched by Turkish fighter jets, The Guardian reported.
The Turkish military said its forces issued 10 warnings to the jet, a Sukhoi SU-24, after it entered its airspace near the Turkey-Syria border, according to CNN. Turkish military then "responded" when the warplane ignored the warnings. It also released radar images of what officials say shows the Russian aircraft flying over the country's southern tip.
This is the first time a Russian or Soviet military aircraft has been shot down by a NATO member since the 1950s.
Putin called the downing of the plane "a stab in the back, carried out by the accomplices of terrorists." He said the warplane did not violate Turkey's airspace.
The warplane's two pilots were able to eject themselves from the aircraft before it crashed. They came under fire by a Syrian rebel group, and both were killed as they parachuted the ground, Reuters reported.
The downing of the warcraft will likely further escalate tensions between Turkey and Russia. Moscow's recent intervention in Syria has aggravated Ankara; Russian air strikes have targeted Turkish-backed rebel groups who are fighting against the Assad government, which Turkey opposes, and Russian warplanes in Turkish skies at least twice last month without permission.
NATO has called an emergency meeting, requested by Turkey. "The aim of this extraordinary NAC meeting is for Turkey to inform allies about the downing of a Russian airplane," a NATO spokesperson told the AP.
Russia's foreign minister Sergei Lavrov has canceled a planned visit to Turkey on Wednesday. Russia's ambassador to Turkey was summoned to the offices of Turkey's foreign ministry, according to Russian news agency Sputnik.
Reuters reports that Syrian fighters forced a Russian helicopter to make an emergency landing in Syria's Latakia province on Tuesday, and then destroyed it with an anti-tank missile, according to the Syrian Observatory for Human Rights. The rebel group released a video showing the helicopter go up in flames.
In his remarks Tuesday, Putin mentioned a deconfliction agreement Moscow signed with Washington after Russian forces began bombing extremists in Syria last month in order to avoid dangerous clashes in a shared airspace.
"Taking into account that we signed an agreement on deconflicting with the U.S., and as we know Turkey was among the ones that has joined the U.S. coalition," he said, referring to the U.S.-led mission of several nations that carries out near daily strikes against Islamic State targets in Iraq and Syria. Turkey joined in the effort in late August.
President Obama said Tuesday at a press conference with French President Francois Hollande that the incident "points to an ongoing problem with the Russian operations" in Syria, which have focused on rebel groups battling Syrian military forces, and not on the Islamic State, the group that the Russians said prompted them to intervene.
"Turkey, like every country, has a right to defend its territory and airspace," Obama said. "I think it is very important for us to right now make sure that both the Russians and the Turks are talking to each other, and find out exactly what happened and take measures to discourage any kind of escalation."
We want to hear what you think about this article. Submit a letter to the editor or write to letters@theatlantic.com.