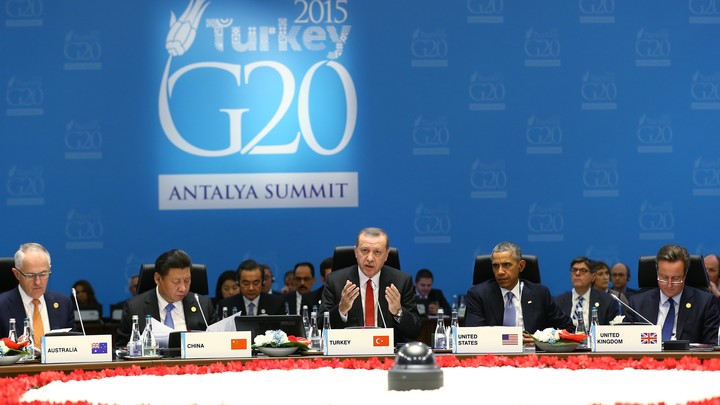 The annual Group of 20 summit usually focuses on economic issues. Then the Paris attacks made the event a crucial opportunity for world leaders to discuss plans to defeat ISIS and continue to accommodate the refugees flooding out of Syria.
In late 2014, as Turkey outlined its priorities for the G20 presidency, Prime Minister Ahmet Davutoğlu advocated a focus on a results-oriented presidency and "concrete deliverables." The tenth annual meeting of the G20, held in Antalya on November 15 and 16, was to be the crowning moment of this plan. According to the official schedule of the summit, key working sessions are focused on the global economy, financial regulation, employment, and more.
But the violence that left at least 129 dead and more than 350 others injured has changed the tone and focus of the talks. Antalya, the resort town where the summit is being held, is just a few hundred miles away from the border that Turkey shares with Syria. This border makes Turkey vulnerable to attacks by ISIS — the group is the leading suspect in the bombing attacks that struck Ankara in October. It also makes Turkey a key player in the ongoing Syrian refugee crisis.
The UN High Commissioner for Refugees estimates that Turkey hosts over one million Syrians, and it is approximated that 30 percent of these people live in just 22 government-run camps. Turkey claims they have spent $6.5 billion hosting this huge population—and the country has been praised for what they've been able to accomplish. However, integrating this influx of non-Turkish speaking migrants is an economic and cultural challenge.
Fears that ISIS terrorists might pose as refugees to gain access to Turkey, Western Europe, and beyond was reignited after the Paris attacks when a Syrian passport was found near the body of one of the attackers. French authorities have not confirmed whether this passport is genuine.
So while Turkey planned to discuss terrorism and the refugee crisis during a working dinner on Sunday night, these two topics became decidedly more front and center at the meeting. After meeting with Turkish President Tayyip Erdogan, President Obama reaffirmed the U.S.'s commitment to fighting ISIS and solving the crisis in Syria.
"We will redouble our efforts, working with other members of the coalition, to bring about a peaceful transition in Syria and to eliminate Daesh as a force that can create so much pain and suffering for people in Paris, in Ankara, and in other parts of the globe," he said. Daesh is an acronym for ISIS's name in Arabic, and the name is becoming increasingly popular with world leaders.
However, CBS reports that beyond assurances like this, there is little evidence of concrete plans for how world leaders aim to eliminate ISIS. Figuring out how to defeat such an enemy is both a tactical and geopolitical challenge.
Turkey itself, for example, has a complicated relationship with ISIS. The root of this lies in Turkey's even more complicated relationship with the Kurds, and their historical claim for independence. Over the summer, Turkey launched airstrikes against the PKK, a Kurdish separatist group considered to be a terrorist organization by Turkey and Western allies, while at the same time announcing that Turkey would finally join the U.S. in the fight against ISIS.
But another group of Kurdish militants, the YPG, have been instrumental in providing the U.S. with intelligence for strikes against ISIS inside Syria. This partnership has been a boon for the YPG, as they've been able to occupy a swath of territory along the Turkish border with Syria. One theory for Turkey's sudden interest in joining the fight against ISIS is that the government felt a need to "check in on" Kurdish territorial claims in the area. One condition for Turkish participation with the U.S. was a so-called "buffer zone"—an ISIS- and Kurd-free area in Syria along the Turkish border.
On migration, the summit comes at a pivotal time for international consensus. According to Reuters, the G20's participants will publish a communique on Monday declaring that the refugee crisis is a global problem. Both Turkey and Europe have been pushing for the statement, but the public will have to wait until Monday to see exactly what this statement contains.
As the debate over migration and safety heats up in Europe, President of the European Commission Jean-Claude Juncker reminded the leaders not to conflate refugees with terrorists. "We should not mix the different categories of people coming to Europe. The one responsible for the attacks in Paris … he is a criminal and not a refugee and not an asylum seeker," he said ahead of the summit.
French President François Hollande cancelled his trip to Antalya after the attacks. Instead, he will stay in Paris to oversee the ongoing state of emergency and pay tribute to victims with three days of mourning. Finance Minister Michel Sapin and Foreign Minister Laurent Fabius are representing the country instead.
We want to hear what you think about this article. Submit a letter to the editor or write to letters@theatlantic.com.
Tajha Chappellet-Lanier is a journalist based in Washington, D.C. She has worked for NPR and the editorial board at
USA Today
.