Why Sweden Tweaked Its Migrants Policy
The country announced temporary border controls Thursday in an effort to stem the influx of people arriving at its borders.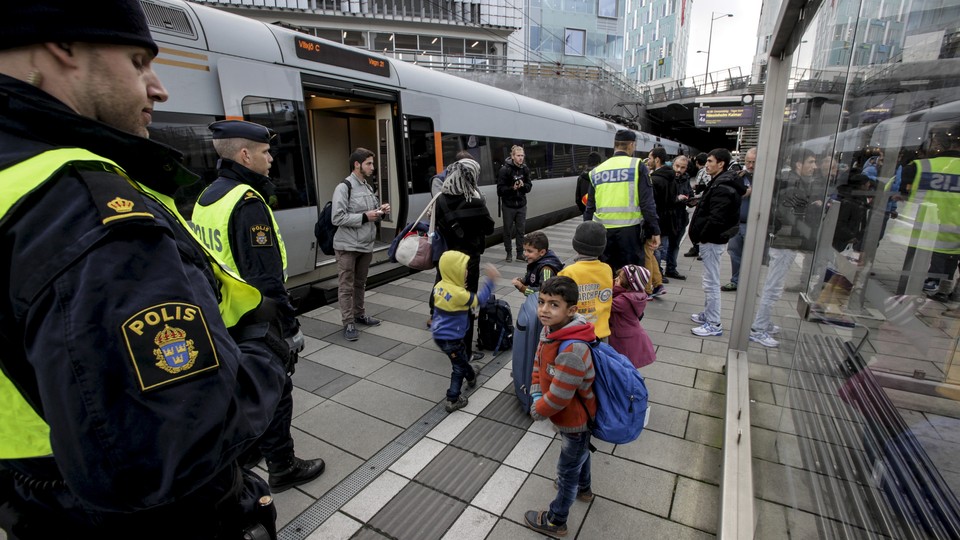 The fragmented European response to the migrant crisis splintered further Thursday when Sweden announced it would impose temporary border controls, a move that goes against European Union's open-border policy.
Swedish officials say the checks, which will last  for 10 days, will help them register the thousands of asylum-seekers entering the country, according to the BBC. Officials stressed the checks were put in place to maintain order and maintain security, and said anyone requesting asylum would not be turned back. They also said the controls are in line with EU rules.
EU law allows people to move freely without passports within the internal borders of the Schengen area, which comprises of 26 European countries, including Sweden. Stefan Lofven, the prime minister of Sweden, said Thursday the most severe migrant crisis since World War II has created a dire need for "another system" of intra-bloc travel. Donald Tusk, the president of the European Council, agreed.
"I have no doubt without effective control of our external borders, the Schengen rules will not survive," he said Thursday.
Sweden, a country of 9.6 million, is taking in more asylum-seekers per capita than any other European nation. About 10,000 asylum-seekers arrive in Sweden each week, and the country has run out of short-term space to house them, according to The Guardian. Nearly 200,000 migrants are expected to arrive there this year.
Sweden's border policy is one effort of many in a months-long frazzled and uncoordinated European response to a historic influx of migrants and refugees, many of whom are fleeing war and poverty in the Middle East, Africa, and elsewhere. European and African leaders met in Malta this week to discuss the crisis, but the fruits of the meeting have already been labeled as falling short of what's needed. European leaders on Thursday signed an aid deal worth $1.9 billion with African leaders that would help in repatriating migrants who are not granted asylum in European nations. (About 150,000 people from African countries have crossed the Mediterranean this year.) But Macky Sall, the president of Senegal, said the agreement could still "be improved" and argued "you cannot insist on Africans being readmitted to their countries of origin when you are welcoming Syrians and others."
European nations have largely acted alone in attempting to manage the crisis. Hungary—the major transit country for people trying to reach Germany, Sweden, and other, richer nations— constructed razor-wire fences along its borders with Croatia and Serbia last month. Slovenia, to which thousands flocked when Hungary became nearly inaccessible, began building its own barrier with Croatia on Wednesday. Germany, which openly welcomed Syrian refugees in August despite EU rules, announced this week it would send more Syrian refugees back to the first EU country they entered in cases when that is a "realistic possibility." Berlin excluded Greece, the first point of entry for most asylum-seekers, from the measure, a decision that has riled the Hungarian government. And Finland's interior ministry said recently that due to a surge in the number of asylum-seekers, authorities "are no longer able to provide them with as high-quality reception services as before" and "are prepared to resort to tent and container accommodation."
EU leaders did mostly come together on plan in September, agreeing to distribute 160,000 migrants across the bloc. But the progress on that has been meager, with only 130 resettled so far.
Swedish authorities have already begun monitoring trains and ferries arriving from mainland Europe. Fredrik Bengtsson, spokesman for the Swedish Migration Agency, told the BBC the organization was transporting people at border by bus to its offices for registration, but "once they get there quite a lot don't enter and get registered but disappear."