A Plane Crash in South Sudan
At least 25 people are dead after the Soviet-built cargo plane crashed shortly after takeoff.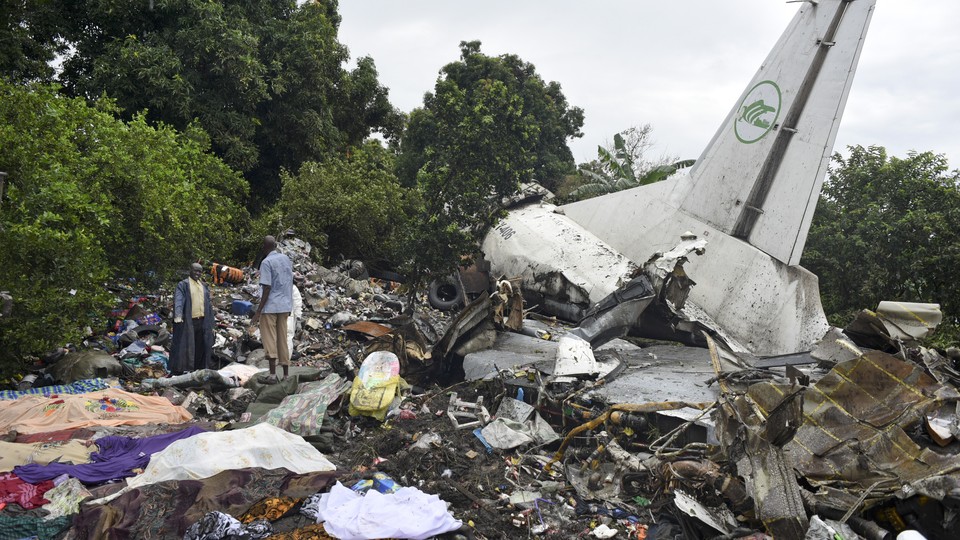 A Soviet-built cargo plane has crashed shortly after takeoff in South Sudan, killing at least 25 people.
Ateny Wek Ateny, a spokesman for the president of South Sudan, said the Antonov An-12 plane had just taken off from Juba airport and was headed to the Paloich oil fields in Upper Nile state.
The number of fatalities in unclear, with various media reports citing between 25 and 41 dead. Reuters reported that three people survived, including a child.
Ateny told Reuters the plane was carrying 18 people, including the six foreign crew, according to official documents. Asked about the higher toll, he said: "This is the number given to us by the (control) tower." He said the crew comprised five Armenians and a Russian.
The Associated Press reports that one of its reporters at the scene of the crash saw bodies, including those of women and children. Here's more:
Parts of the plane were scattered in a bushy area on banks of the Nile with a few homes nearby. Packages of cheap sandals, cigarettes, beer and crackers were strewn amid the wreckage. The white tail section protruded from the brush.

Bashir Yashin, who saw the plane come down, said it seemed as though initially the plane might crash into a market area before the pilot apparently diverted it. Another witness, Angelo Kenyi, said a child, who looked no more than a year old, and an elderly woman were pulled from the fuselage.
The aircraft, which had been flying since 1971, was being operated by Allied Services Limited, a logistics company based in South Sudan, the BBC reported. It was owned by Asia Airways, a Tajik company.