Sierra Leone's Long Road to Becoming Ebola-Free
The World Health Organization declared the West African nation clear of the disease on Saturday.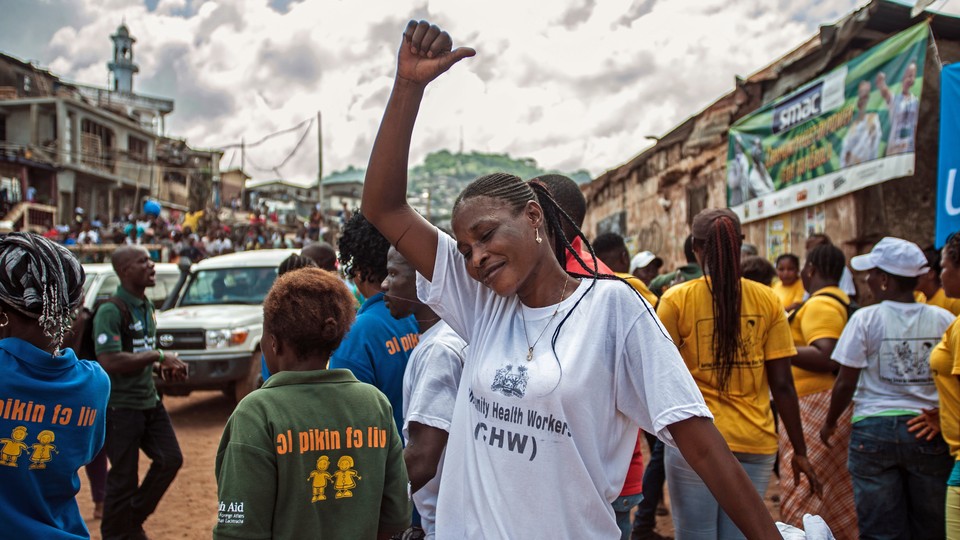 More than 19 months since the first case of the world's worst Ebola outbreak was reported in West Africa, Sierra Leone has been declared free of the disease.
The World Health Organization said Saturday that 42 days—the length of two incubation cycles of the deadly virus—had passed since the last person confirmed to have the disease cleared a second consecutive blood test.
"The Ebola outbreak has decimated families, the health system, the economy, and social structures," said Dr. Anders Nordström, the WHO representative in Sierra Leone, in a statement. "All need to recover and heal."
In Sierra Leone, 8,704 people were infected and 3,589 died of the disease. About 4,000 survived. More than 12,000 children were orphaned as a result of the outbreak, according to a report by the British charity Street Child. The average age of orphans was nine.
The virus killed thousands more in Liberia and Guinea, the other nations hardest-hit by the epidemic. Liberia was declared Ebola-free in September; Guinea saw three new confirmed cases of Ebola in the last week of October.
Sierra Leone now enters what WHO calls "enhanced surveillance"—a period of 90 days during which its staffers will remain on the ground, providing health services as needed.
Thousands of people gathered in the streets of the capital city of Freetown just before midnight Friday in anticipation of the announcement. WHO had said Tuesday that the decisive blood test had come back negative in September, and if no further cases were reported, Saturday would mark the end of Sierra Leone's battle with Ebola.
The BBC's Tulip Mazumdar described the scene:
Women's groups came together to organise a march through the city centre; the final point was a 600-year-old cotton tree which sits on a huge roundabout. Usually, the area is jammed with cars, but last night it was packed with people. Some held up candles, others jumped around dancing and a military band led the procession through the city.

There were waves of celebrations, and then silence as names of some of the dead were beamed on to a screen. Health workers in particular were honoured for their bravery and sacrifice, they were some of the first to die when Ebola struck.
And Lisa O'Carroll and Umaru Fofana, for The Guardian:
A speech by Yusuf Kamara, a healthcare worker who lost 16 members of his family and survived the disease himself, brought tears and a standing ovation. "For us, Ebola is not over. We need your help to treat the many, many health problems we still suffer from. And remember those who died at the hands of Ebola, and especially the children who have been affected by this outbreak," he said.
The first diagnosis of Ebola in Sierra Leone was confirmed in May 2014 in a rural part of the country, and a surge of cases followed in June. WHO has traced the sudden spike to the May 10 funeral of a traditional healer who had treated Ebola patients from Guinea:
That funeral sparked a chain reaction of more cases, more deaths, more funerals, and more cases in multiple transmission chains. Local epidemiologists eventually traced 365 Ebola-related deaths to that single funeral, which also seeded cases reported in Liberia.
By mid-July, dozens of people were dying each week in Sierra Leone. Sheik Humarr Khan, the country's only expert on viral hemorrhagic fevers, died of the disease after treating patients. In August, President Ernest Bai Koroma declared a national state of emergency. Whole villages were quarantined. A new law threatened anyone found to be hiding a patient with up to two years in jail.
By winter, the disease had spread to cities. Nearly 400 new cases were reported in the first week of December alone, three times as many as in Liberia and Guinea combined, according to WHO.
Liberia, Guinea, and Sierra Leone had never seen a case of Ebola until the outbreak began in March 2014—the worst since the virus was first discovered in what is now known as the Demo­crat­ic Re­pub­lic of Congo in 1976. The disease crippled the countries' already fragile health infrastructures, weakened by years of political instability and war. Transmission of the virus was poorly understood by the local populations, and public-health workers rushed to draft guidelines. Volunteers went door-to-door to hand out pamphlets about practicing good hygiene, and worked with cell-phone companies to send text messages in local languages.
Local and foreign medical groups set up treatment centers across the region that would quickly become overwhelmed with patients. They advised citizens on how to safely bury their dead; local tradition calls for family members to wash and touch the bodies of their loves ones, but people infected with Ebola are most contagious when they're dead. Some people avoided seeking treatment or threatened physicians with knives and stones, fearing that medical workers were the ones spreading the virus.
There is no known cure for Ebola. The disease is fatal in patients 60 percent of the time when it is caught early, and 90 percent when it is discovered too late. At the height of the epidemic, the most health workers could do was alleviate patients' symptoms, track transmission chains in an attempt to contain the virus, and wait for the outbreak to peter out. Many breathed a sigh of relief in Sierra Leone on Saturday, but they remain aware of the threat of a potential resurgence. Liberia was first declared Ebola-free in May, but the virus returned two months later, forcing the country to start over on a difficult journey plagued by false starts.
There have been 28,571 confirmed cases in Liberia, Sierra Leone, and Guinea since the outbreak began last year, according to the latest estimates. Of those, 11,299 have died.