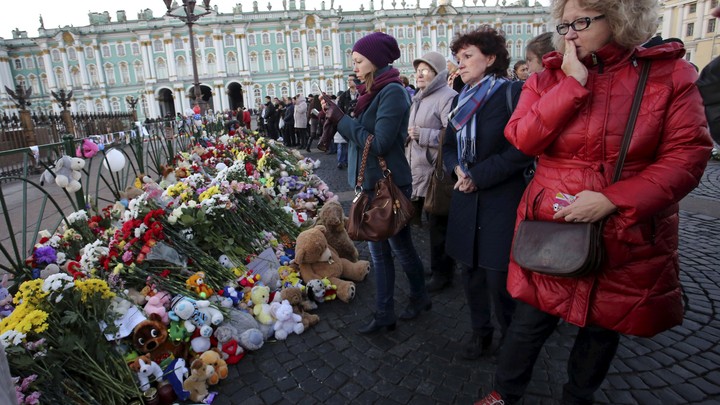 One week after a passenger plane crashed in Egypt, the investigation into the worst civil-aviation disaster in Russian history has become a multinational effort.
Russian and Egyptian investigators are working together to pull information from the plane's black boxes. The United States is combing through its own intelligence reports and satellite data. The United Kingdom must be too, since on Wednesday it became the first world power to publicly suggest terrorism. It went further on Thursday, when British Prime Minister David Cameron said the crash was "more likely than not" caused by a bomb. President Obama followed him later that day, saying that "it's certainly possible that there was a bomb on board."
The cause of the crash of Metrojet Flight 9268 has not yet been officially determined. Moscow has dismissed reports of a terroristic act as speculation. So has Cairo. But the international response—the hurried independent attempts by uninvolved nations to figure out what happened—makes sense in a world where the worst outcome affects not only Russia and Egypt, but also dozens of other nations. A branch of the Islamic State based in the Sinai Peninsula, where Flight 9268 fell, has claimed responsibility for the crash. If that is confirmed, the crash would be the worst terrorist attack on civil aviation since 9/11—and the first by the world's most violent jihadist organization.
Funerals for the victims began Thursday. Most of the passengers were Russian, flying home from vacation at the Red Sea resort in Sharm el-Sheikh. All 224 on board perished. In the days after the crash, mourners placed flowers, toys, and candles in St. Petersburg's central square and at Pulkovo Airport, where the plane was due to land.
The latest development in the crash came Friday, when unnamed European investigators who analyzed the plane's black boxes told French media that the sound of an apparent explosion can be heard on the recordings.
Also on Friday, Russian President Vladimir Putin suspended all flights to Egypt, despite Russian officials' insistence that it's too early to know whether terrorism was the cause.
Others have taken similar precautionary steps. On Wednesday, Cameron suspended flights to and from Sharm el-Sheikh for 24 hours and flew a team of British aviation experts to the city's airport to inspect its security measures. About 1,500 British tourists are expected to return home from the southern Sinai city on Saturday, now that flights have resumed, according to The Guardian. Ireland has instituted a ban on flights to and from Sharm el-Sheikh and in Sinai airspace, in place "until further notice." Several major European airlines have said they will not fly to the city until a cause is determined.
The Egyptian government has remained resolute in its insistence that a bomb did not bring down the jetliner, calling terrorism theories "premature" and "unwarranted," according to The New York Times. "The fragile state of Egypt's economy makes any conclusion of terrorism extraordinarily costly," explained David D. Kirkpatrick in the Times on Friday. "Sharm el-Sheikh had been a bright spot for the nearly moribund Egyptian tourism industry at a time when a deep deficit in its balance of trade has forced Egypt to the brink of a currency crisis." Egypt is a popular wintertime tourist spot for Russians; 3 million visited Egypt last year, according to the Associated Press.
Egypt's foreign ministry announced Friday that the country's Civil Aviation Authority would hold a press conference on the plane crash on Saturday. It has since been postponed.
We want to hear what you think about this article. Submit a letter to the editor or write to letters@theatlantic.com.