Is It Speculation or 'More Likely Than Not' That a Bomb Brought Down a Russian Plane?
Russian and Egyptian officials say it's premature to draw conclusions about what happened to Metrojet Flight 9268.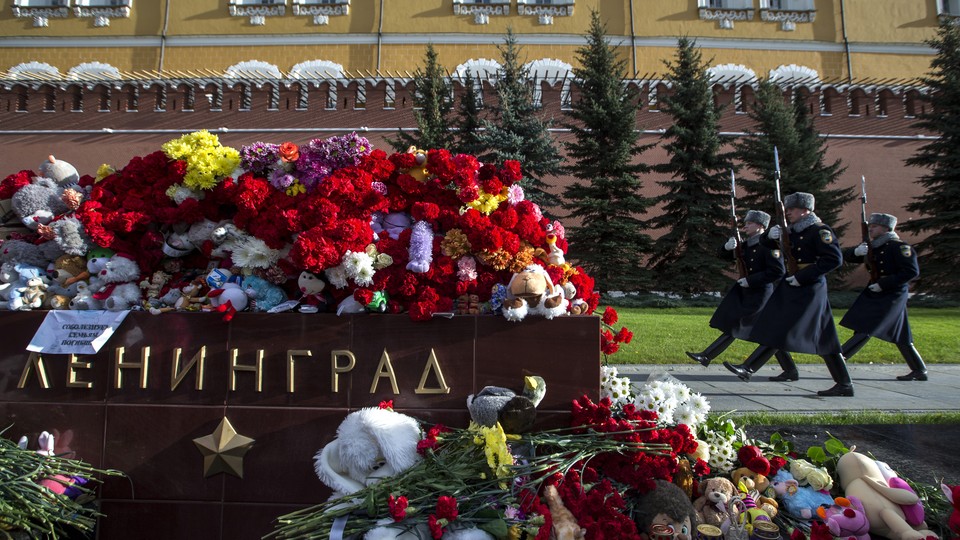 Updated on November 5 at 6:43 p.m.
Russian and Egyptian officials have labeled as speculation reports that a bomb brought down the passenger jet that crashed in Egypt's Sinai peninsula last weekend, killing 224 people.
Metrojet Flight 9268 crashed on October 31 shortly after takeoff from the Egyptian Red Sea resort of Sharm el-Sheikh en route to St. Petersburg, Russia. Initial claims of responsibility by a group linked to the Islamic State were dismissed by Egyptian and other officials.
Speculation about what brought down the plane began almost as soon as it crashed. A senior airline official said it could have only been brought down by external force. Russian officials called the remarks premature. But speculation about the crash mounted Wednesday when Britain suspended flights to and from Sharm el-Sheikh, citing concerns over security. And as my colleague Marina Koren reported, several American news organizations cited unnamed U.S. officials as saying U.S. intelligence agencies have reached "the tentative conclusion that the Islamic State's Sinai affiliate planted an explosive device on the plane."
President Obama said during a radio interview Thursday night that "I think there is a possibility that there was a bomb on board and we're taking that very seriously."
"We're going to spend a lot of time just making sure our own investigators and own intelligence community find out what's going on before we make any definitive pronouncements," he said. "But it's certainly possible that there was a bomb on board."
Earlier on Thursday, Philip Hammond, the U.K. foreign secretary, told the BBC there was a "significant possibility" the plane had been brought down.
Hammond said airlines would begin flying thousands of Britons in Sharm el-Sheikh home starting Friday.
"We're spending today with the airlines, with the Egyptian authorities, putting in place short-term emergency measures that will allow us to screen everything going onto those planes, double-check those planes, so that we can be confident that they can fly back safely to the U.K.," he told the BBC.
Prime Minister David Cameron said the crash was "more likely than not" caused by a bomb, and said he planned to call Russian President Vladimir Putin to discuss the crash.
In Moscow, Dmitry Peskov, a Kremlin spokesman, said it was premature to focus on one theory alone when the investigation into the crash hadn't been completed.
"One cannot rule out a single theory, but at this point there are no reasons to voice just one theory as reliable—only investigators can do that," he said.
In Cairo, Hossam Kamal, the Egyptian Civil Aviation Minister, said the investigation team lacked the "evidence or data confirming this theory."
The investigation into the crash is being led by Egypt. Officials from Russia and experts from other countries and organizations are assisting.
Sergey Neradko, the head of Russia's federal aviation agency, said investigators had retrieved data from the cockpit flight recorder. He said the voice recorder was damaged, but data would be recovered soon. The two recorders—the so-called black boxes--will allow investigators to determine what caused the flight to crash.
Neradko said a group of experts were examining the plane was brought down by a terrorist attack. The "group will look for traces of explosives on the plane's remains, luggage, cabin baggage, and bodies of passengers," he said.