How a Nightclub Fire Brought Down a Prime Minister
Romanian premier Victor Ponta stepped down as massive anti-corruption protests developed in the wake of a deadly accident.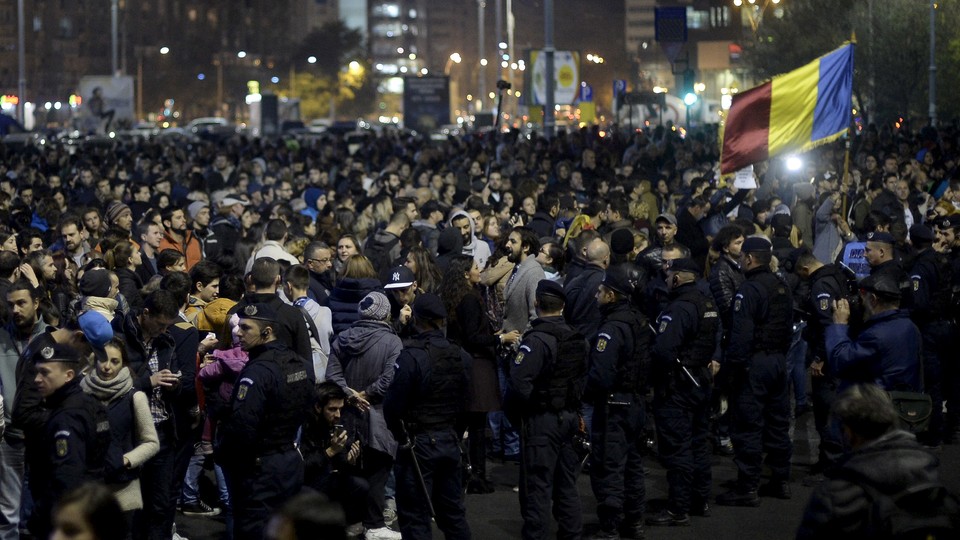 On Wednesday, less than a week after 32 people died in a massive fire at a nightclub in Bucharest, Romanian Prime Minister Victor Ponta resigned from office.
That a deadly conflagration could hasten the downfall of a sitting head of government (along with the mayor of Bucharest and the country's interior minister) seems remarkable and unlikely, but the tragedy that drew 20,000 protestors to the streets of Bucharest on Tuesday was an extension of a greater national frustration.
As hospitals continue to treat hundreds of people injured in the fire, many have pointed to the incident as evidence of government corruption and incompetence. Collectiv, the nightclub where the fire occurred, was permitted to host a large, indoor concert that featured pyrotechnics despite having only one exit. As the BBC noted, protestors on Tuesday "chanted 'shame on you' and 'assassins,' and carried banners reading 'corruption kills.'"
In a Facebook post on Tuesday night, Romanian President Klaus Iohannis offered his approval of the demonstrations.
It is a street movement that comes from the desire of people to have their condition and dignity respected. I understood that they ask and expect, rightly so, for someone to assume political responsibility.
Hours later, Ponta, who had been in office since 2012 and had previously been accused of graft, resigned.
"I have the obligation to acknowledge that there is legitimate anger in society," he said in a statement. "People feel the need for more, and it would be wrong of me to ignore this."
An interim prime minister will be named by the Romanian president before a new government is formed.
Friday's fire began when sparks from a fireworks display on a stage at a heavy metal concert made contact with flammable foam decor. Nearly 200 people were injured, and half were hospitalized. Three of the club's owners were questioned by investigated by prosecutors on Monday.