'A Nice Little Place With Cheap Beer': Where ISIS Attacked
Defiance, mourning, and shock in the Parisian neighborhoods targeted by terrorists last week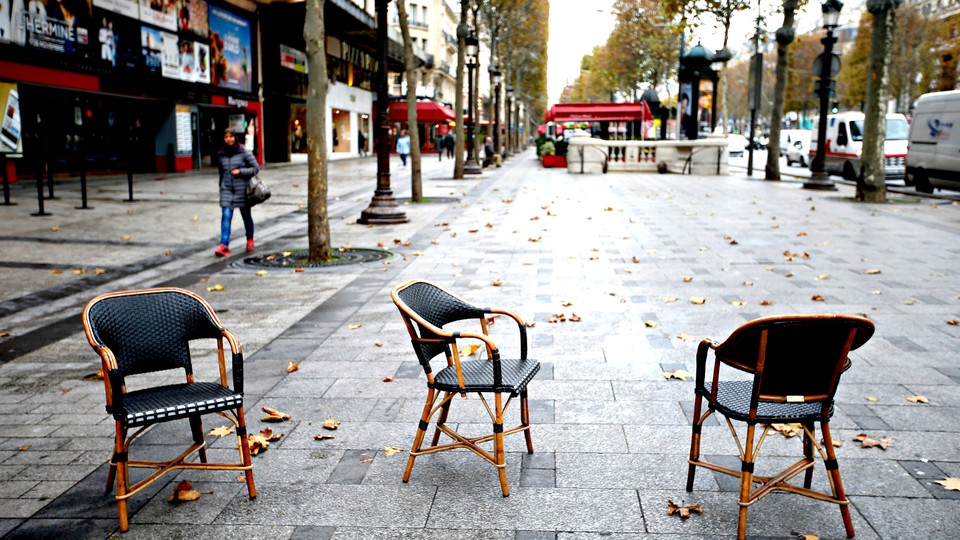 PARIS—"I never thought having a drink on a café terrace would be an act of resistance," said the woman at the table next to me, smiling. "But I think I could get used to it."
We were sitting just around the corner from the Petit Cambodge restaurant and the Carillon bar, where at least 12 people were shot dead on Friday night. The site itself was piled with flowers and candles, surrounded by a dense crowd either silent or hugging each other in tears. Barely more than 100 feet away, however, the café terraces were packed with customers chatting and laughing.
This wasn't indifference, however. It was defiance.
In Paris, café terraces are the new front line. Other than the attempts at the Stade de France, Friday's attacks didn't target iconic sites or major landmarks. They attacked the places where locals carry out their everyday lives, places where they enjoy themselves, places they go without thinking. When a club and concert venue, a pizzeria, two café-bars, and a restaurant are targets for murderers, choosing to stay indoors could be seen as giving in.
Instead, the Twitter hashtag #occupyterrasse was trending Sunday night, with people sharing photos of themselves smiling and raising a glass. "What else am I supposed to do?" asked my neighbor, stooping to prop up her bag of groceries. "These people won't stop me having my normal routine. I don't even feel brave."
Indeed, visiting the attack sites, what was striking was their normality. Except for the Bataclan, with its gaudy paint job, the cafés and restaurants the terrorists struck are places you might walk past without giving a second glance. They were still unquestionably places at the heart of a community. Asking my Parisian friends if they knew of or ever visited the places that were attacked, the answer was clear: Yes, we knew them all. Yes, we went to them all the time.
The Petit Cambodge's reputation for good, affordable food regularly had people queuing out the door on Friday nights. The Carillon, the bar opposite, was a nice little place with cheap beer, one friend told me. It attracted everyone from neighborhood old-timers to hipsters, who would spill out to smoke in front. A 15-odd-minute walk south, the Belle Équipe, another attack site, is a pretty but unremarkable café on a nice street—France's Prime Minister Manuel Valls lives round the corner—run by three women. The Bataclan, site of the worst of Friday's carnage, is a charming old theater that's long been run as a club and concert venue. Hosting parties and gay nights as well as live music, it's known locally for having a great program—one whose quality arguably exceeds that of its sound system.
"Why here?" everyone is asking themselves, looking around at places that were the unremarked backdrop of so many lives. It is a horribly surreal experience to see bullet holes riddling shop windows around somewhere as ordinary-looking as the Casa Nostra pizzeria; the sidewalk where at least five people were killed is now strewn with sand. Daesh, as the terrorist group ISIS is being referred to here, claims that it has struck at symbols of French perversity, but as you would expect from murderous zealots, their definition of the perverse (pizza?) seems preposterously broad.
The zone where the attacks took place is nonetheless a highly distinctive, specific one. This fast-changing part of Paris is a sort of unofficial buffer area, wedged between the long-expensive, gay-friendly Marais district and the poorer Chinese and North African communities of Belleville. It's at the forefront of what the Libération newspaper calls hipsterisation avancée, but it doesn't necessarily appear so to an outsider's eye. Certainly there are expensive little boutiques and gluten-free bakeries sneaking in here and there, and attractive youngish people hanging around. But the overall feeling is nonetheless still that of a quartier populaire—a working-class neighborhood with shabby but likable corner cafés, laundromats, cheap grocery stores, and a crowd on the streets that's as diverse as anywhere in in the city. Like much of Paris, it doesn't have the best reputation for street safety, but it feels great. Alive, authentic, dense. It's everything you might hope Paris to be.
"It's changing fast and rents are going up, but I promise you, it's not all graphic designers and keyboard players in a band here," the filmmaker Flora Desprats-Colonna, who grew up and lives nearby and is a regular at the Carillon, told me. "In my building I also have cleaners, shop assistants, social workers. There is a real mix, and generally I think we all get on. I think the terrorists attacked here because we are all mixing together. They don't like that."
This could be true. The area isn't on the standard tourist trail, nor is it identified with a single group (like Marais is), but it is cosmopolitan and extremely mixed.
Indeed, among the locals I spoke to, there was a pervasive resistance towards anyone who might reject the mixing that goes on in the quarter—including France's extreme right. "We are all a bit worried that Marine Le Pen will try to profit from this, to make us hate and fear Muslims," a student named Alex, who I met laying a flower outside the Casa Nostra pizzeria (and who preferred not to use his last name), told me. "The reality, in fact, is that we are all neighbors and living together okay. And we are all victims of this attack together also."
So far, this is an attitude echoing across French media. As Didier Péron put it in Monday's Libération:
By daubing French society in its own blood, Daesh hopes and schemes that it succumbs to a madness symmetrical to their own, pushing it to extremes.
In some ways, that sense of community may have helped spare some lives. As Desprats-Colonna told me, people were contacting and warning each other through social media throughout Friday's attacks.
"When we first got news of the attacks, I got straight on Facebook to see if anyone I knew was at Le Bataclan," she said. "Some friends of my boyfriend were in there, and they sent us messages saying that they were sheltering from the shooters. Another friend of mine had a flat looking directly at the theatre. She wrote on my wall to say that a squad was on the roof and that to be safe that's where people should head. Otherwise they might have been afraid of finding more terrorists on the roof. People still had their phones, so we were able to pass this information on to people in the theatre, who were then able to escape to safety."
Desprats-Colonna's friend managed to escape, albeit wounded. The feeling that comes from knowing that so many others didn't still hung in the air, and despite the busy café terraces, there was an inescapable sense of dignified sadness. Paris is always a more polite city than it's given credit for, but on Sunday, people in the streets went the extra mile to be helpful, friendly, gracious. In dazzling autumn sunshine it was easy to remember why so many people fall in love with the city.
Still, the air of calm is all too easy to puncture. In the evening, a ripple of panic spread across the Place de la République when people thought they heard gunshots or explosions nearby. With one gunman still at large, crowds poured down the Canal Saint Martin, through an area now riddled with makeshift memorials. My friend and I joined a group sheltering in an apartment building's passageway, where a kind young woman invited us up to her third-floor flat. As helicopters circled above, rumors came fast: there's a shooting near the Pompidou Centre, police are chasing the final assailant.
I will never forget the contagious sense of terror for that unsure 15 minutes. From the doorway, I saw people of all sexes and ages and just about every race that Paris is home to, sprinting down the street, fleeing in fear, crying. But it turned out to be a false alarm, one that people recovered from fast, as café shutters were rolled up again and doors unlocked.
---
This article appears courtesy of CityLab.