The Paris Attacks: The Latest
The death toll from last week's attacks rises to 130 and France confirms a three-month state of emergency.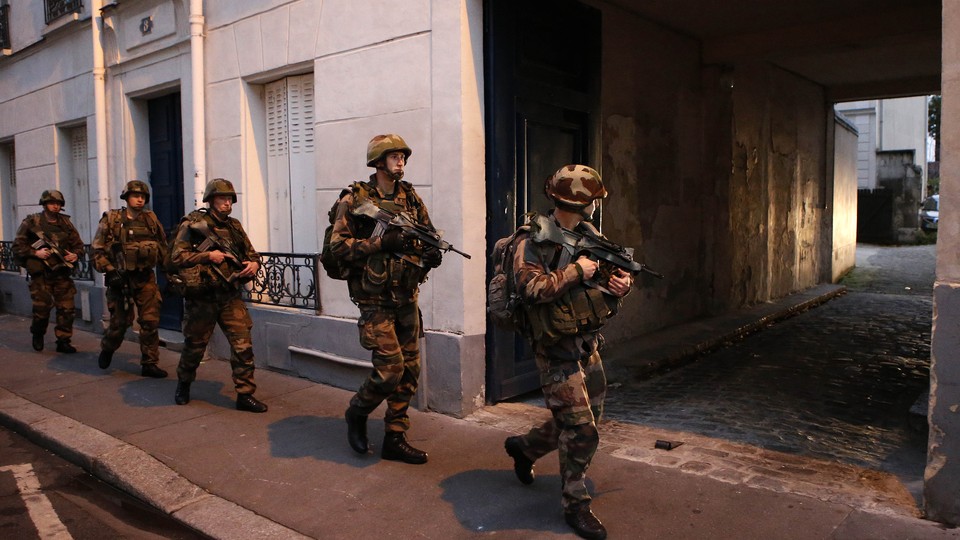 Updated on November 22 at 4:58 p.m. ET
What we know so far:
—One week after the deadly attacks in Paris, France's Prime Minister Manuel Valls announced that the death toll has gone up to 130. Another 367 people were injured.
—The upper house of the French parliament confirmed that the country's state of emergency will be extended for another three months. The measure will grant authorities expanded police powers and at what some say is a big cost to civil liberties in France.
—On Friday, French officials announced that a third body was found in the north Paris apartment where authorities conducted a raid on Wednesday. The two others two killed in the raid were Abdelhamid Abaaoud, who is credited with organizing last week's violence, and Hasna Ait Boulahcen, who killed herself and a police dog with a suicide vest during the raid. Eight other people were also arrested.
—In a statement on Friday afternoon, Francois Molins, the Paris prosecutor, announced that two of the three suicide bombers who attacked the Stade de France passed through Greece in October and had their fingerprints captured.
—On Thursday, Belgian Prime Minister Charles Michel pledged $427 million to fighting Islamist violence in the country. Belgium, which has faced some criticism for failing to crackdown on extremists in the country, has also introduced a sweeping series of anti-terror laws including increased detentions and enhanced surveillance. By Thursday evening, nine people had been arrested in raids across Brussels that were connected to last week's attacks.
—French Interior Minister Bernard Cazeneuve says 115,000 security personnel have been mobilized after Friday's attacks. Separately, French air strikes in Syria have targeted the Islamic State, and President Francois Hollande has called for constitutional amendments that he said would make it easier to respond to terrorist attacks.
---
A raid early Wednesday by French security forces on an apartment St. Denis, a historic northern suburb of Paris, ended in the deaths of three people, including Abdelhamid Abaaoud, the alleged organizer of the Paris attacks, and Hasna Ait Boulahcen, who blew herself up with a suicide vest. Eight people were arrested in the operation, but other suspects remain at large.
The death of Abaaoud was announced just as the lower house of French parliament voted to extend the country's state of emergency. After passed through the upper house on Friday, France's emergency powers will now remain in effect for another three months.
Of Wednesday's raid, Francois Molins, the Paris prosecutor, said security forces had "neutralized a terrorist team planning a new attack." He added three of the eight arrested were yet to be identified, but declined to name any of the others.
In the aftermath of Friday's attack, Paris has mobilized 115,000 security forces, carried out multiple raids, and conducted airstrikes over Raqaa, the Syrian city that serves as the Islamic State's de facto capital. The militant group claimed responsibility for the attacks on a stadium, a concert hall, and restaurants and bars.
On Wednesday, the French government said all 130 victims of the attack had been identified. Marisol Touraine, the health minister, said 195 people were still hospitalized; three of them were in critical condition and 41 in intensive care, she said. The number of people injured in the attacks has been increased to 368, from 352.
"We are at war," French President Francois Hollande said in a televised address after Wednesday's raid.
He called for an international coalition against the Islamic State, which he called a global threat. Hollande said he would travel to Washington and Russia next week to meet his American and Russian counterparts to discuss a "large coalition" to fight the Islamic State.
The attacks have increased fears in Europe that militants might be using the refugee crisis to enter the continent. Indeed, Abaaoud, the target of Wednesday's raid, was a known militant who was believed to have been in Syria. It is unclear how he made his way to Paris.
But Hollande said France would still admit the 30,000 Syrian refugees it had committed to accepting under an EU plan agreed to in September.
"Our country has the duty to respect this commitment," he said, noting that many of those fleeing the Syrian civil war were being "tormented" by the Islamic State. Not everyone in Europe—or indeed the United States—feels that way as the humanitarian crisis spawned by Syria's civil war is fast giving way to fears of infiltration by extremists.
In Germany, Chancellor Angela Merkel defended a decision to cancel a soccer match on Tuesday between Germany and the Netherlands in Hanover. The match, which she was scheduled to attend, was called off just 90 minutes before kickoff. Initial reports had said a bomb had been found at the venue, but local German officials denied that.
"These are difficult decisions, possibly the most difficult decisions between freedom and security," Merkel said Wednesday. "But yesterday it was taken in favor of security, and that's right."
On Monday, in a rare address to a joint session of parliament, French President Francois Hollande sought a series of steps that he said would strengthen France in the wake of the attacks. They include: a three-month extension of the country's state of emergency, which was imposed Friday even as the attacks were unfolding; a constitutional amendment that he said would make it easier to combat terrorism; the power to strip the French citizenship of dual nationals convicted of terrorism; more effective border controls for the European Union; and increased funding for the military, police, and security forces.
On Tuesday, France also sought a never-before-used clause in the Treaty on European Union that would oblige other member states to provide it with "aid and assistance by all means in their power." All of the bloc's 28 member states agreed to the request.
After a meeting with Hollande on Tuesday, John Kerry, the American secretary of state, said the U.S. and its allies would strengthen their response to the Islamic State, vowing the militant group that controls large parts of Iraq and Syria will "feel greater pressure." He said he and Hollande discussed steps to be "more effective" against the Islamic State. One thing those steps will not include: ground troops—President Obama ruled out their deployment on Monday.
But Kerry did say negotiators were closer to a cease-fire in Syria that would stop the fighting between government troops and rebel groups. The faster that happens, "the faster the violence can taper down and we can isolate Daesh and Al Nusra, and begin to do what our strategy has always set out to do."
Daesh is the Arabic acronym for the Islamic State; Al Nusra is al-Qaieda affiliate in Syria.
French officials have identified the men who carried out the attacks:  Samy Amimour, a 28-year-old Frenchman charged in a terrorism investigation in 2012, blew himself up in the Bataclan music hall, the prosecutor's office said. Salah Abdeslam, a 26-year-old from Belgium who is still at large; his brother Ibrahim, who detonated his suicide belt on the Boulevard Voltaire;  and Ismael Omar Mostefai, a 29-year-old Frenchman who was involved in the Bataclan attack. News media have identified an additional suspect as Bilal Hadfi, another of the stadium attackers.
French officials have also identified a suicide bomber who blew himself up near Stade de France, the national stadium, as Ahmad Al Mohammad, 25. His fingerprints match those of someone who entered Europe through Greece last month, they said, and a Syrian passport was found near his body. But the Guardian reported Tuesday that Serbian police have arrested a man with the same details as those found on the passport in Paris.
On Sunday, French police released a photo of a suspect they believe to be one of three of suicide bombers who blew themselves up outside the Stade de France. They asked for public help identifying the man, urging those with information to contact law enforcement.
The attacks are the worst violence on French soil since World War II, and the worst in Europe since 2004 when coordinated blasts on Madrid's commuter train system killed 191 people. They also came 10 months after two Islamist gunmen killed 11 people at the offices of the Paris-based Charlie Hebdo, the French satirical magazine. Attacks around Paris that followed that massacre killed an additional five people.
France was already on high alert following those attacks when the events of Friday night unfolded. There were attacks on two restaurants in the 10th arrondissement (at least 12 dead in gun attacks) and two on restaurants in the 11th arrondissement (at least 24 dead). The national stadium, where France was playing Germany in a soccer match, was also attacked (at least three attackers dead), as was the Bataclan concert venue, which was packed with fans of Eagles of Death Metal, a rock band from California (at least 80 dead).
The band itself is safe, and in a note posted on Facebook on Wednesday, said its members were "bonded in grief with the victims, the fans, the families, the citizens of Paris, and all those affected by terrorism." The band also said it was suspending its performances until further notice.
We will be updating this story as we learn more.