How the Paris Attacks Are Changing the EU's Debate on Refugees
The reaction to the deadly siege may further complicate an already fragile European plan for handling thousands of asylum-seekers.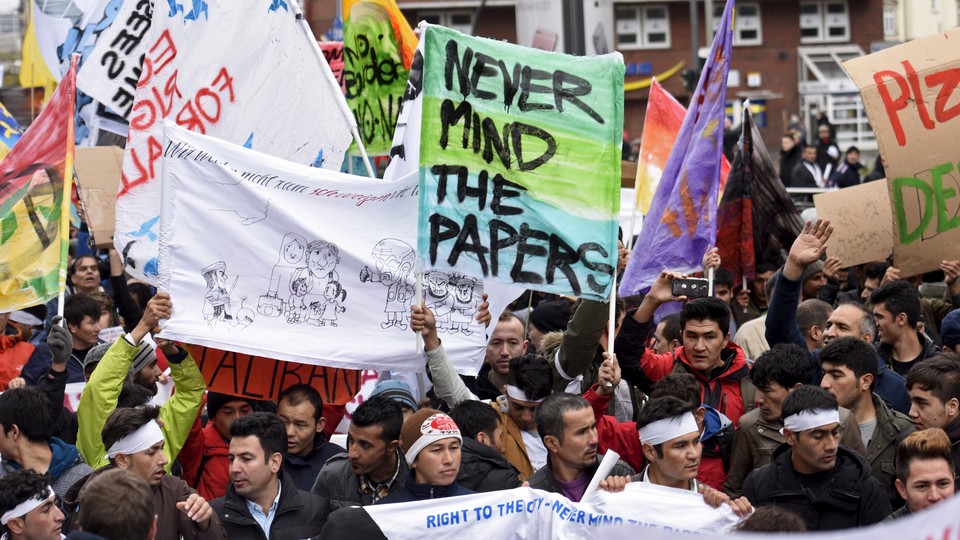 The revelation that one of the suicide bombers who carried out Friday's attacks on Paris entered Europe last month through the Greek island of Leros has complicated the increasingly fragile European plan to handle an historic migrant and refugee crisis.
More than 700,000 people have entered Europe this year from the Middle East, Africa, and elsewhere. Ahmed al-Mohammad, the suicide bomber, was one of them. He entered Leros in early October, and then crossed into Serbia a few days later. This scenario has increased concerns that terrorists affiliated with the Islamic State can, with ease, infiltrate European borders by posing as refugees.
Konrad Szymansk, Poland's European affairs minister, said Saturday the country will not take its share of refugees and migrants without "security guarantees," but did not say what such guarantees would entail.
"The [Paris] attacks mean the necessity of an even deeper revision of the European policy toward the migrant crisis," he said.
Robert Fico, the prime minister of Slovakia, echoed Szymanski's remarks.
"We have been saying that there are enormous security risks linked to migration," he said Saturday. "Hopefully, some people will open their eyes now."
Under a new European Union program established in September, Poland and Slovakia reluctantly agreed to accept a certain number of asylum-seekers. Slovakia, the Czech Republic, Hungary, and Romania voted against the quota system, but were overruled by their fellow member states.
The head of the European Commission on Sunday warned against such thinking.
"We should not mix the different categories of people coming to Europe," Jean-Claude Juncker told reporters. "I would invite those in Europe who try to change the migration agenda we have adopted—I would like to remind them to be serious about this and not to give in to these basic reactions that I do not like."
France, Belgium, and Italy have all increased security at their borders since the attacks, which killed at least 129 people and injured hundreds Friday night.
There has been little consensus within the EU on how to handle the migrant and refugee crisis, and reaction to the Paris attacks will likely further splinter the bloc's response. Under current EU law, people are allowed to move freely without passports within the internal borders of the Schengen area, which comprises 26 European nations. Days before the attacks in Paris, the president of the European Council warned that, without "effective" border control, this system "will not survive."
French President François Hollande appeared to echo those views on Monday.
"If Europe doesn't control its external borders it is the return of national borders of walls and barbed wire as we've seen today," he told a joint session of parliament. "This would mean the dismantling of the European Union."
Member states have largely acted alone in attempting to manage the flood of people entering their borders. Germany, which once welcomed Syrian refugees, said last week it would send some back to the first EU country they entered. Hungary—the major transit country for people trying to reach Germany, Sweden, and other, richer nations—constructed razor-wire fences along its borders with Croatia and Serbia last month. Slovenia began building its own barrier with Croatia last week. Finland has run out of room in its refugee centers, and Sweden has imposed temporary border controls so authorities could keep up with new arrivals.
In the United States, several Republican governors said after the Paris attacks that they won't accept any of the 10,000 Syrian refugees the federal government has pledged to take in next year, citing national-security concerns. Arab-American leaders and refugee advocates criticized the announcements as alarmist. As my colleague David Graham wrote Monday, "there's no magic formula for striking the right balance of security and humanitarianism, but the process for [resettling] Syrian refugees is hardly cursory—in fact, until the Paris attacks, there was a great deal of criticism arguing it was far too strict."
Some U.S. Republican presidential candidates said Syrian refugees must be heavily screened before they are resettled on American soil. Former Florida Governor Jeb Bush said Sunday "we should focus our efforts as it relates to refugees on the Christians that are being slaughtered."
President Obama criticized that suggestion on Monday.
"That's shameful," he said at the G20 summit in Turkey. "That's not American, that's not who we are. We don't have religious tests to our compassion."
More than 3 million Syrians have fled their home country since the start of the civil war in 2011.