Anger in New Zealand's Parliament
Several female legislators were thrown out of the House chamber Wednesday for protesting the prime minister's remarks invoking rape.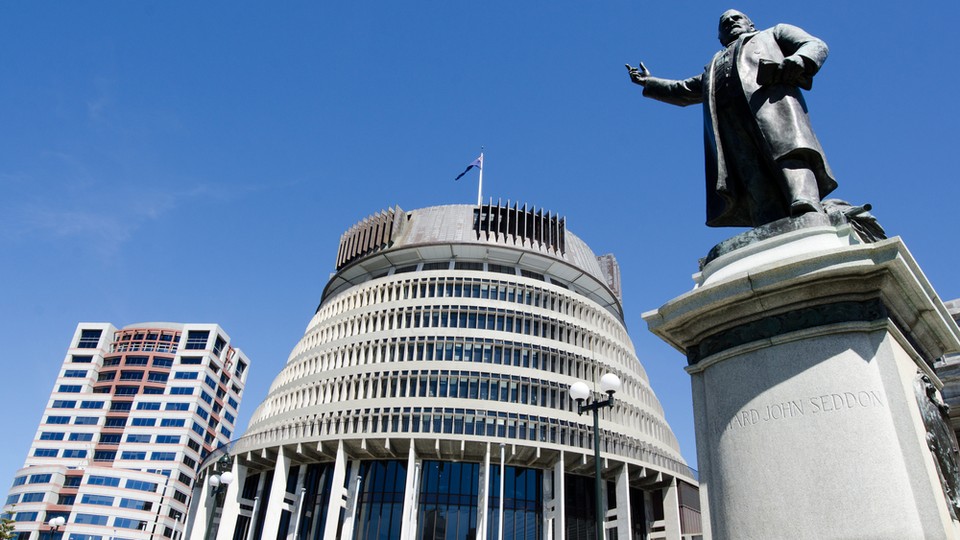 After New Zealand's prime minister invoked rape in an angry parliamentary debate over the fate of New Zealanders detained at an Australian migrant-detention facility, female legislators responded by revealing that they were victims of sexual assault—and were then kicked out by the chamber's speaker.
Prime Minister John Key's comments were made Tuesday, during a debate over the issue of New Zealanders—some with criminal records—being detained on Christmas Island, a remote Australian territory. Some have lived in Australia for years, but face deportation because of a change in Australian immigration policy. The opposition Labour and Green parties asked the prime minister about what will happen to the detainees. Key pounced on the question, accusing the parties of "backing the rapists."
Watch Key's comments that resulted in the furor:
"These are the people that the Labour party are saying are more important to support than New Zealanders who deserve protecting when they come back here," Key said, later telling a Labour member: "If you want to put yourself on the side of sex offenders, go ahead my son, but we'll defend New Zealanders."
About three-quarters of Labour MPs and several Green MPs walked out of parliament after Key's remarks, The Guardian reported.
On Wednesday, female members joined together to directly protest Key's remarks, taking turns sharing their stories and requesting an apology from the prime minister.
It started with Metiria Turei, the co-leader of the Green party.
"As a victim of sexual assault, I take personal offense to the prime minister's comments and ask that you require him to withdraw and apologize," she said.
House Speaker David Carter told her that because the prime minister had not spoken Wednesday, he could not ask him to address Turei's request.
Jan Logie of the Green Party spoke next, asking "as a victim of sexual assault and as an advocate for survivors" that Key's words be expunged from the record.
Carter cut her off. "What happened yesterday happened yesterday. Yes, collectively it wasn't addressed well at the time, but time has passed."
More MPs followed, including Labour's Poto Williams and Green's Catherine Delahunty, whose microphone was turned off after she said she was a victim of sexual assault. Carter said the legislators were "flouting the rules" of parliament by claiming to make points of order, and that any who made similar statements would be ordered to leave the House. Despite the warning, female MPs continued to stand. Green MP Marama Davidson was then thrown out, followed by Williams. The Guardian reports at least eight other female MPs, along with four male MPs, then chose to leave the chamber.
Watch what happened here:
Outside the chamber, Logie told The New Zealand Herald that it was the first time she had spoken out loud about her sexual assault.
"It's deeply disappointing that the speaker and the prime minister do not take the concerns of sexual survivors seriously. It's completely unacceptable to trivialize the concern and experiences of so many New Zealanders in the way that has happened today."
MPs acknowledged that Carter was bound by House rules, but criticized the eviction of female MPs from the chamber. "What message does that send to young women?" Labour's Clare Curran told the Herald.