Myanmar's First Free Election in 25 Years
Aung San Suu Kyi's National League of Democracy appears to have won in a landslide. But...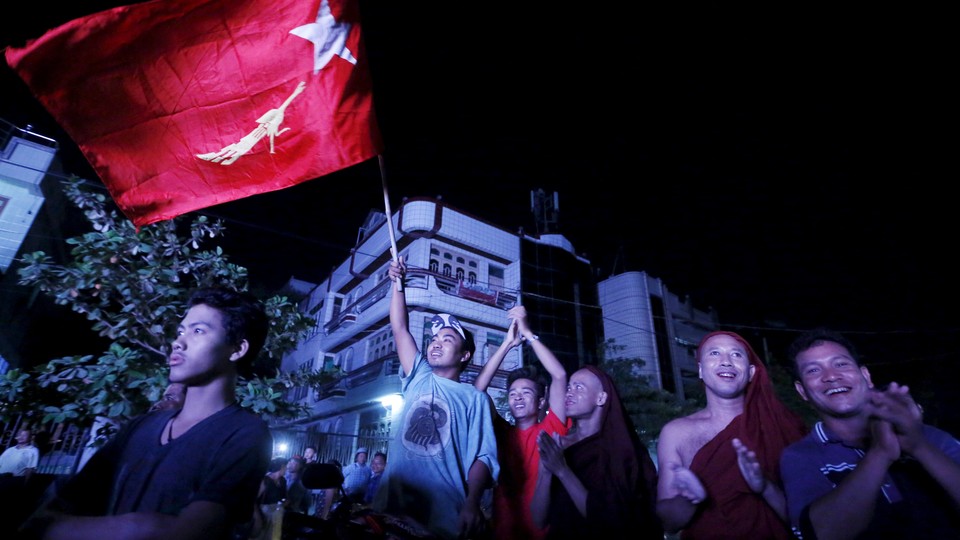 On Wednesday, Myanmar's president, Thein Sein, congratulated Aung San Suu Kyi, whose National League for Democracy (NLD) appears to be close to an absolute majority in the country's first free elections in 25 years.
The story of a country long closed off from the world taking a step toward a more open society is a nice one, but in Myanmar's case, it's neither tidy nor certain. This paragraph in Reuters's report of the incoming election results sums up some of the quirks (to put it mildly) of Myanmar's historic election.
Results so far gave Suu Kyi's party 179 of 216 seats declared out of the 330 seats not allocated to the military in the lower house. Under the junta-crafted constitution, a quarter of the seats in both chambers are unelected and reserved for the armed forces.
(Thousands of Myanmar's Muslim Rohingya minority were also kept from voting.)
Despite Sein's stated commitment to accept the election results, history suggests that Myanmar's military, which has ruled in some form or another since the 1960s, may not allow Suu Kyi and the NLD to take control of the country's legislative and executive branches.
For her efforts to bring democracy to her country, Suu Kyi languished under house arrest for the majority of the years between 1989 and 2010. Her NLD won a sweeping victory in the 1990 elections, the results of which were nullified by the military. She became one of the world's most celebrated political prisoners and was awarded the Nobel Prize in 1991.
While her party may have triumphed in this week's elections, the country's military has barred her from becoming president because her children are British nationals. She has reiterated that this prohibition will not stop her "from making all the decisions." But the extent to which she will be able to rule or to effectively enter a power-sharing agreement with her former captors remains unclear.
In the meantime, Suu Kyi and the opposition have agreed to hold reconciliation talks at some to-be-determined point in the near future. She also invited the leader of the army to join the talks, but he has apparently not responded yet.