'A Drop in the Ocean': The Transfer of 30 Refugees From Greece
The relocation of the Syrians and Iraqis to Luxembourg is part of the EU's plan to distribute 160,000 people across the bloc. So far, 116 people have been moved.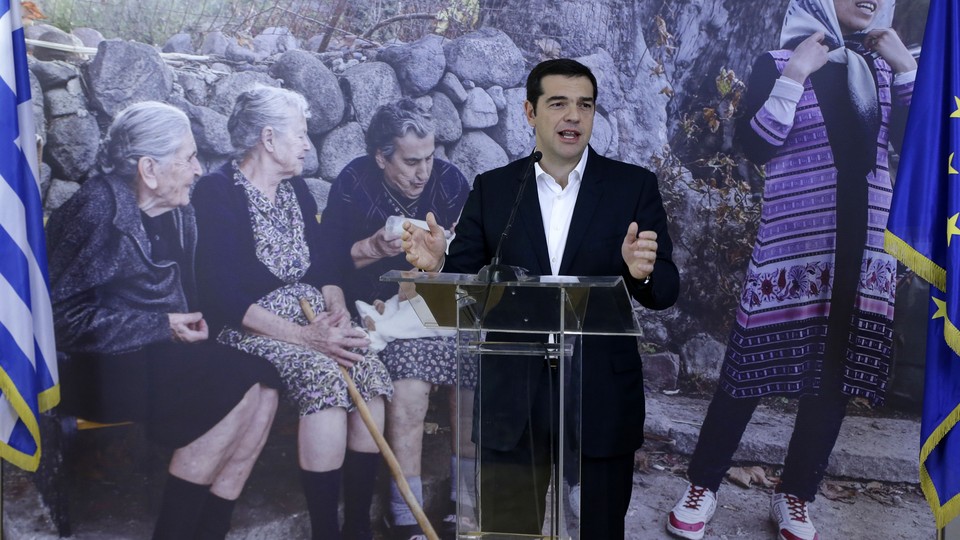 Thirty refugees have been sent from Greece to Luxembourg as part of the European Union's plan to relocate 160,000 people across the bloc.
Alexis Tsipras, the Greek prime minister, said the refugees—six families from Syria and Iraq—were making a "trip to hope," but pointed out the scale of the issue that Europe is dealing with.
"Thirty in the face of thousands who have fled their homes in Syria and Iraq is a drop in the ocean, he said. "But we hope that this becomes a stream, and then a river of humanity and shared responsibility, because these are the principles upon which the European Union was built."
Indeed, an estimated 608,000 people—nearly two-thirds of them Syrian—have crossed the Mediterranean to Greece in order to seek a better life in Europe.
The Guardian reports that with Wednesday's transfer of 30 people from Greece, in all, 116 migrants and refugees have been relocated across Europe. Previously, 86 were moved from Italy to Sweden and Finland.
The EU's plan to relocate 160,000 people was agreed to in September—but not without exposing deep divisions within the bloc. Germany, the largest recipient of the migrants and refugees, has an open-door policy for Syrians fleeing the civil war in that country, but it wants other member states to do more. EU members, like Hungary and other Central European states, have been less welcoming, erecting fences to slow the flow of the newcomers.
Europe is in the midst of the most severe migrant and refugee crisis since World War II. The Syrian civil war, which has created 4.2 million refugees, and unrest in Afghanistan, Iraq, Eritrea, and elsewhere have accelerated the flow of people into Europe. The UN High Commissioner for Refugees estimates that 218,953 migrants and refugees reached Europe by sea in October alone; 216,054 arrived all of last year.
In Luxembourg, the BBC reported, the 30 refugees who were relocated Wednesday will first be registered and then spend about three months in temporary housing, while authorities help them to find permanent homes, schools, and jobs.