Mali Mourns After Hotel Attack
Security forces are searching for suspects in Friday's deadly shooting in Bamako.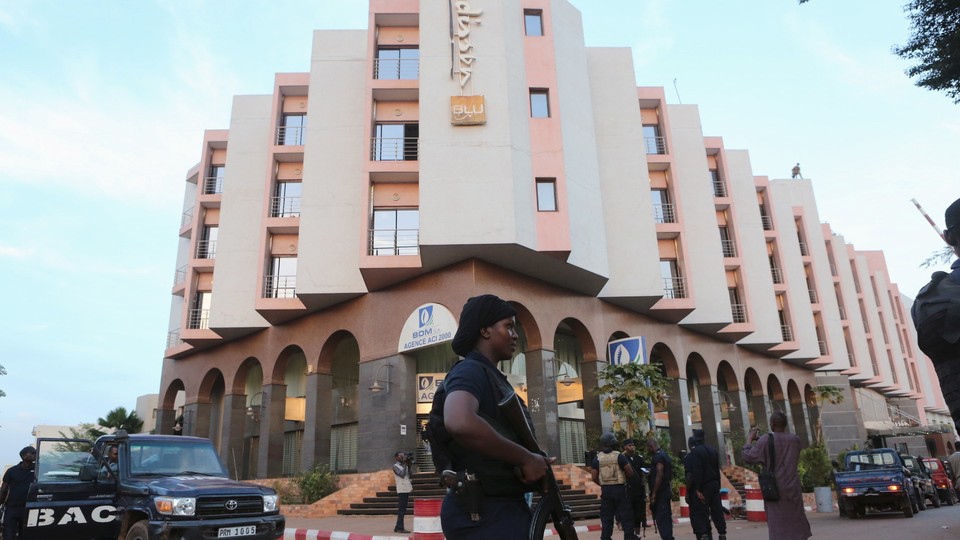 Mali declared a 10-day state of emergency and three days of national mourning on Saturday after attacks on a hotel in the capital of Bamako left at least 19 people dead.
Mali's President Ibrahim Boubacar Keita, speaking outside of the Radisson Blu where the rampage occurred, said the government will increase security, but the country "will not shut down because of this attack."
"Paris and New York were not shut down and Mali won't be," he said. "Terrorism will not win."
Gunmen stormed the hotel Friday morning around 7 a.m. local time, opening fire on hotel patrons.
"These people started shooting," a hotel employee told CNN. "They were shooting at everybody without asking a single question. They were shooting at anything that moved."
Many of the specifics surrounding the attacks remain unknown. News outlets report the number of victims is between 19 and 21. Twelve foreign nationals are among the victims, including two Belgians, three Chinese, six Russians, and one American citizen, the BBC reported. The Radisson Blu Hotel is popular with international travelers staying in Bamako, according to The New York Times.
The American was identified by her family as Anita Datar, an international aid worker from Maryland. One of the Belgian victims was Geoffrey Dieudonne, a Belgian diplomat. The Chinese victims were identified as senior executives of a state-owned rail construction company. The Chinese embassy in Mali said that there were four other Chinese citizens staying at the hotel, but that they were rescued by French special forces. The Russian victims were all employees of the airline Volga-Dnepr, according to the Russian Foreign Ministry. Six other Volga-Dnepr employees at the hotel were rescued.
The number and identities of the assailants is not yet known. Two were killed when Malian special forces stormed the hotel to free trapped guests, according to the United Nations Stabilization Mission in Mali. Malian security forces are searching for three suspects connected to the attacks, the BBC reports. Rezidor Group, the hotel management company, said there were two attackers, while eyewitness accounts suggest up to 13.
Al-Mourabitoun, a terrorist group linked to al-Qaeda, claimed responsibility for the rampage in a recording submitted to Al Jazeera, but the claim has not been verified. Another group, al-Qaeda in the Islamic Maghreb, also took responsibility. The competing claims illustrates Mali's complex history with terrorism. At least five major terrorist groups are active in the country, according to NBC News.
World leaders quickly condemned the attacks. President Obama said Saturday that the attack "only stiffens our resolve to meet this challenge." Russian President Vladimir Putin urged global cooperation in the fight against terrorism. Chinese President Xi Jinping called for an increased focus on security "outside China's borders."