Hostage Crisis in Mali: What We Know
Gunmen killed at least 18 people, and took more than 100 hostages, at a luxury hotel in the capital city of Bamako.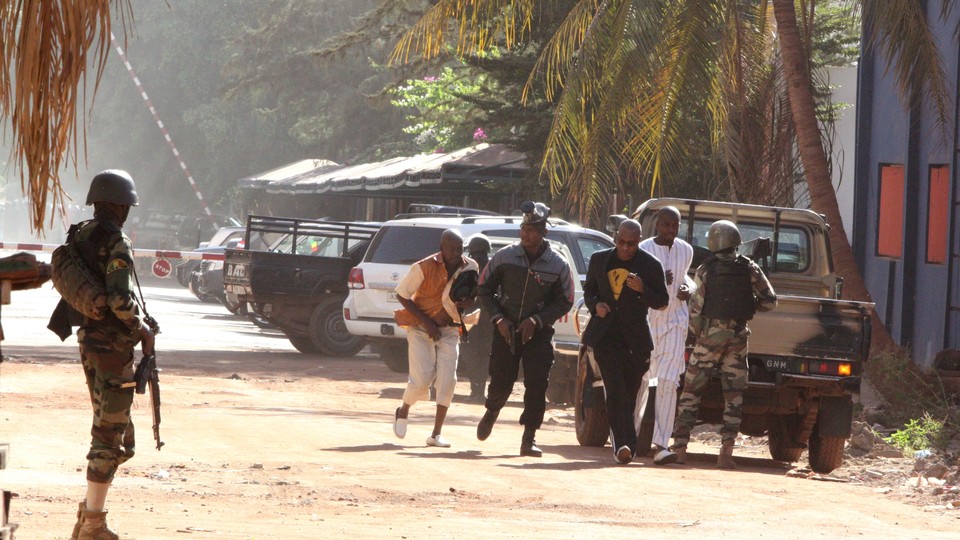 Updated on November 20 at 3:49 p.m. ET
On Friday, gunmen in Mali killed at least 18 people and took more than 100 guests and staff members hostage at a luxury hotel in the capital city of Bamako.
Here's what we know so far:
— "The attackers, carrying AK-47s, arrived around 7 a.m. in a vehicle or vehicles with diplomatic plates," one United Nations spokesman told CNN. It's still unknown how many attackers were involved or if the gunmen are still inside the hotel.
— Al-Mourabitoun, a terrorist group linked to al-Qaeda, has claimed responsibility, however, the claim could not immediately be verified.  Some hostages who were able to prove their Muslim faith were reportedly released.
— Of the confirmed dead, two were said to be Malian nationals while the other was French. In subsequent reports, an official with the Belgian regional parliament was also said to have died. The others have yet to be identified and the death toll may be as high as 27.
---
A rescue operation involving Malian troops as well as American and French special security forces ended a hostage crisis at the Radisson Blu hotel in Bamako, the capital city of Mali, on Friday. Gunmen killed at least 18 people and took more than 100 guests and staff members hostage.
There are some conflicting reports about the number of casualties with some officials listing the death toll as high as 27.
It's also not known if all of the attackers were caught or killed.
"Two members of the Malian security forces were wounded by shots fired from the seventh floor of the hotel and were taken away by ambulance," one local reporter on the scene told The New York Times. Malian army commander Modibo Nama Traore told the AP that the hostages were being freed "floor by floor." The Malian military added that at least two gunmen have been killed.
The hotel is said to be popular among foreign tourists and business travelers in the ountry. Twelve members of an AirFrance crew that were staying at the hotel are among those reported safe. As a precaution, the airline canceled all flights to the former French colony. According to Reuters, several Chinese tourists and a few members of a Turkish Airlines crew were among those trapped inside the hotel before being rescued.
Mali has been in a protracted battle against terrorism since 2012 when the northern part of the country was taken over by Islamist insurgents aligned with al-Qaeda. French troops intervened and eventually won back the territory.
Malian President Ibrahim Boubacar Keita, who was attending a regional summit in Chad, returned back to Bamako as the incident unfolded. French President Francois Hollande also pledged his country's support.
We will be updating this story as we learn more.