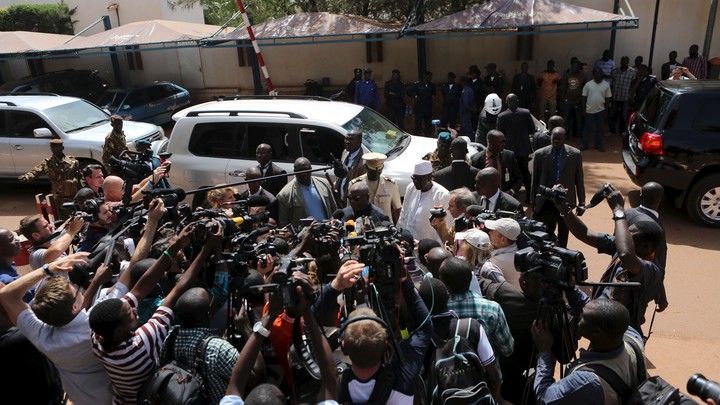 Mali will begin three days of national mourning on Sunday at midnight local time following a shooting attack at a hotel in the capital of Bamako that left at least 19 people dead.
Mali's President Ibrahim Boubacar Keita announced the mourning period on Saturday, a day after gunmen stormed the Radisson Blu hotel, which is popular with travelers and tourists, and opened fire. The victims include six Russians, three Chinese, two Belgians, one American, one Israeli, one Senegalese, and several Malians.
"Mali will not shut down because of this attack," Keita said. "Paris and New York were not shut down and Mali won't be. Terrorism will not win."
Neighboring Guinea joined Mali in its mourning on Sunday. President Alpha Conde said his country will also observe three days of mourning, and urged citizens to be vigilant about reporting suspicious activity to police.  
Mali has declared a 10-day state of emergency while police search for suspects in connection to the attack. Malian Army Major Modibo Nama Traore told the AP Sunday that security forces are looking for "more than three" people connected to the attacks. News outlets reported that two attackers were killed when special forces stormed the hotel to rescue trapped patrons.
Traore said that the assailants used Kalashnikov assault rifles in the attack.
"We didn't see the jihadists until they started firing on us," a hotel guard told the AP. "We weren't concentrating and we didn't expect it." Inside the hotel, the assailants fired "at anything that moved," according to one employee, who spoke with CNN.
French President Francois Hollande condemned the shooting Friday, calling the assailants "terrorists." France currently has about 1,000 troops stationed in Mali, a former colony, as part of a counterterrorism effort.
President Obama said on Saturday that the attack "only stiffens our resolve to meet this challenge." Meanwhile Russian President Vladimir Putin urged global cooperation in the fight against terrorism, and Chinese President Xi Jinping called for an increased focus on security "outside China's borders."
The Vatican said Sunday that Pope Francis, who is scheduled to travel to Kenya, Uganda, and the Central African Republic later this week, "is appalled by this senseless violence."
Two groups—Al-Mourabitoun, which has ties to al-Qaeda, and al-Qaeda in the Islamic Maghreb—have taken responsibility for the attack, but their claims have not been verified.
Many of the specifics surrounding the attackers, including the number involved and their identities, remain unclear.
A coalition of separatist groups in the north of Mali has claimed that the shooting attack was an attempt to thwart an ongoing peace process between the groups and the Malian government. The Coordination of Azawad Movements signed a peace agreement with the Malian government in June after almost one year of talks in Algeria.
"The jihadis are in different groups but their goal is the same, and that's to hinder implementation of the peace accord," said Sidi Brahim Ould Sidati, a representative of the coalition.
The AP and CNN reported that the Radisson hotel was scheduled to host the latest meeting between both sides.
We want to hear what you think about this article. Submit a letter to the editor or write to letters@theatlantic.com.
Tajha Chappellet-Lanier is a journalist based in Washington, D.C. She has worked for NPR and the editorial board at
USA Today
.