A Deadly Landslide in Burma
Dozens were buried under rubble near a jade mine in the northern state of Kachin this weekend.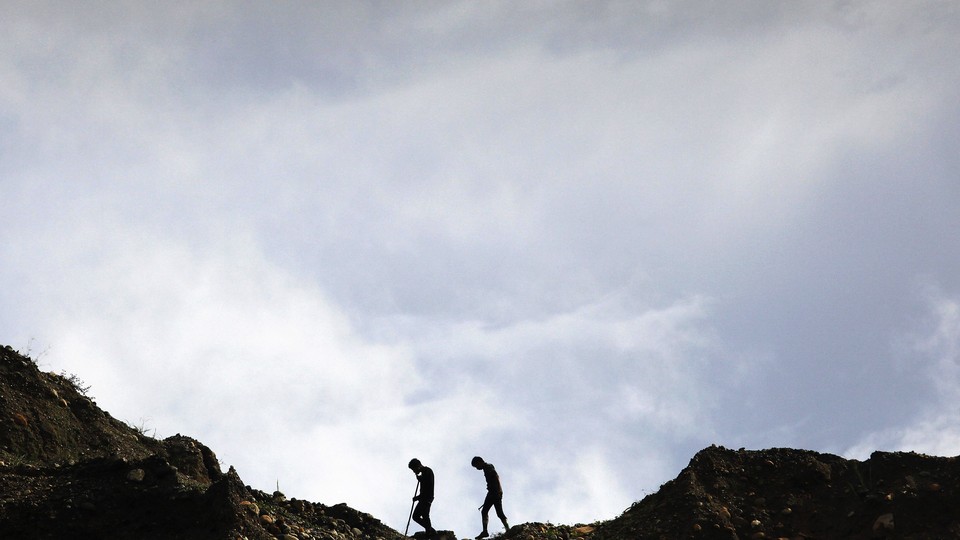 At least 90 people were killed in a landslide near a jade mine in northern Burma, also known as Myanmar, in the early hours of Saturday.
The victims were reportedly searching through a pile of waste material in Hpakant, looking for pieces of jade to sell, when it collapsed, burying them, the BBC
reported
. Nearly 100
remain missing
, and volunteers, police, and others searched for more victims in the rubble on Sunday.
The mountain of soil, discarded by a mining company, was
about 200 feet tall
, according to
The Global New Light of Myanmar
, an English-language newspaper in the country. The landslide buried 70 huts, in which miners were sleeping.
Local resident Seng Mai told The Wall Street Journal that he watched as rescue teams dug bodies from the heap and transported them to the town's morgue.
"Local people are helping to pull the bodies out and also to bring the villagers away from the landslide area," he said. "There has been a huge number of deaths."
Hpakant is located in the state of Kachin, which is home to some of the highest-quality jade in the world, according to Global Witness, an advocacy group. The region produced $31 billion worth of jade in 2014—the equivalent of almost half the Burma's GDP—"but hardly any of the money is reaching ordinary people or state coffers," and is managed by the country's elites and companies, the group
said
in a report released last month.
The Associated Press's Esther Htusan
describes
how the jade mining industry has changed Hpakant in particular:
After Myanmar's former military rulers handed over power to a nominally civilian government five years ago, resulting in the lifting of many Western sanctions, the already rapid pace of mining turned frenetic. No scrap of ground, no part of daily life in Hpakant is left untouched by the fleets of giant yellow trucks and backhoes that have sliced apart mountains and denuded once-plush landscape.

In the last year, dozens of small-scale miners have been maimed or lost their lives picking through tailing dumps.
Burma's jade industry is poorly regulated, and in Kachin, often complicated by the government's decades-old battle against the Kachin Independence Army, a rebel force that seeks independence for the Christian minority in the predominantly Buddhist country.