Sinjar Reclaimed
Kurdish Peshmerga fighters wrested control of the Iraqi town from the Islamic State.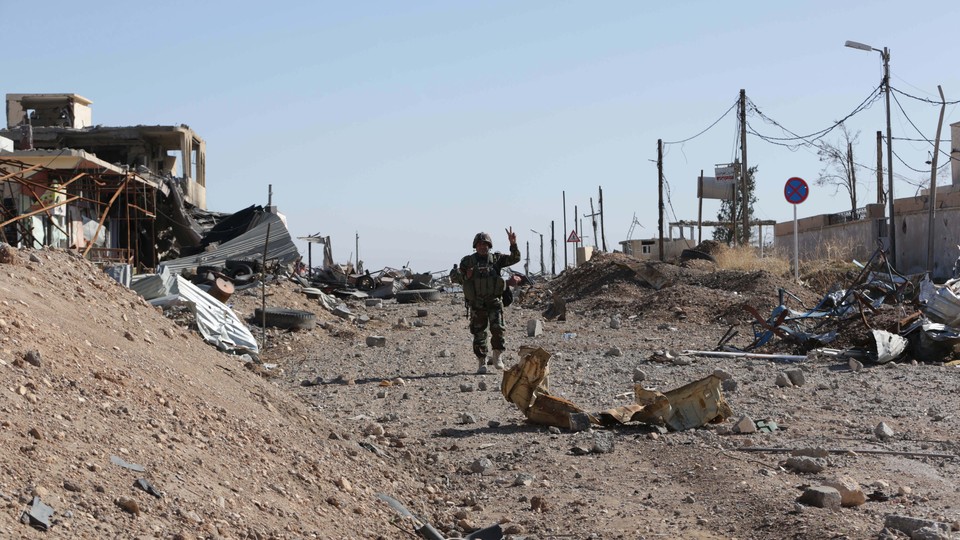 Kurdish Peshmerga fighters have taken control of Sinjar from the Islamic State, which captured it last year and set off a campaign of horror against the Iraqi town's Yazidi minority.
Masoud Barzani, the president of the Kurdistan Region of Iraq, announced Sinjar's capture  at a news conference on Friday.
"Sinjar is very important because it has become a symbol of the injustice against the people of Kurdistan," Barzani said, according to remarks provided by the Kurdistan Region Security Council.
There were no definitive accounts of casualties on either side.
I warmly thank the US and other coalition countries for their air strikes in support of the #peshmerga forces to liberate #Sinjar. 2/2

— Masoud Barzani (@masoud_barzani) November 13, 2015
As we reported Thursday, Peshmerga, backed by U.S. airstrikes, and joined by Yazidi fighters, began an offensive to reclaim Sinjar from the Islamic State.
But the campaign was complicated by the presence of Kurdish fighters from the Syrian branch of the Kurdistan Workers' Party (PKK). The PKK and Barzani's troops were operating in different theaters and made competing claims. Some of that tension appeared to spill over into Friday's announcement:
President @masoud_barzani: Aside from the Kurdistan flag, no other flag will rise in Sinjar. This was a Peshmerga-led operation.

— KR Security Council (@KRSCPress) November 13, 2015
But that statement could also be a reference to the Iraqi government in Baghdad. Both the central government as well as the Barzani's autonomous Kurdish government claim Sinjar.
In August 2014, Sinjar became the focus of international attention when the Islamic State captured the town and began a campaign of atrocities—including rape and enslavement—against the Yazidis. Tens of thousands of Yazidis fled from the town into nearby mountains.