A Shooting in Jordan
A policeman shot and killed five people—two Americans, two Jordanians, and a South African—at a training center near Amman.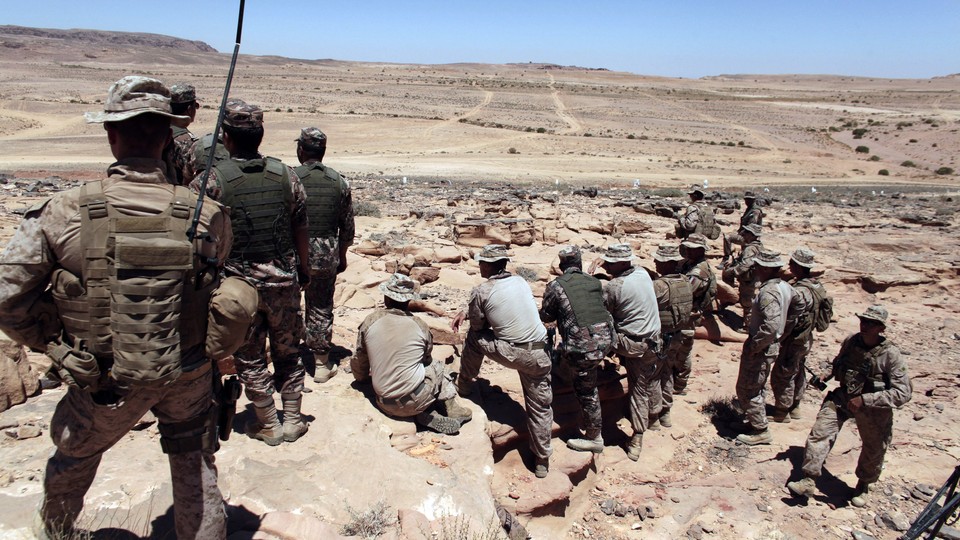 Updated on November 9 at 3:42 p.m.
A Jordanian policeman shot and killed five people—two Americans, a South African, and two Jordanians—at a training center near Amman, state-run Al-Rai newspaper reported.
The newspaper quoted Mohammed al-Momani, the minister of state for media affairs, as saying the policeman opened fire at the facility before being shot and killed. Two Jordanians who were wounded in the shooting died later, Momani said. Two American trainers and two Jordanians were injured.
The BBC reports the shooting occurred at the Jordan International Police Training Center, a facility that is funded by the U.S. It trains mainly Palestinian and Iraqi officers.
An investigation is underway to determine the motive for the killings, the newspaper reported.
The Associated Press reports "the attacker was a police captain who worked as a trainer at the facility." He was married and had two children.
The Wall Street Journal reported that at least one of the slain Americans was an employee of DynCorp International Inc., a major contractor for the Pentagon and State Department.
At the White House, President Obama said the U.S. will "be working closely with the Jordanians to determine exactly what happened."
Jordan, a key American ally in the Middle East, is one of two (the other is Egypt) Arab countries that have peace treaties with Israel. It also is part of the U.S.-led coalition against the Islamic State.