Targeting the Islamic State's Executioner
The Kuwaiti-born Briton dubbed Jihadi John was the target of a U.S. airstrike in Syria. It's unclear if he was killed.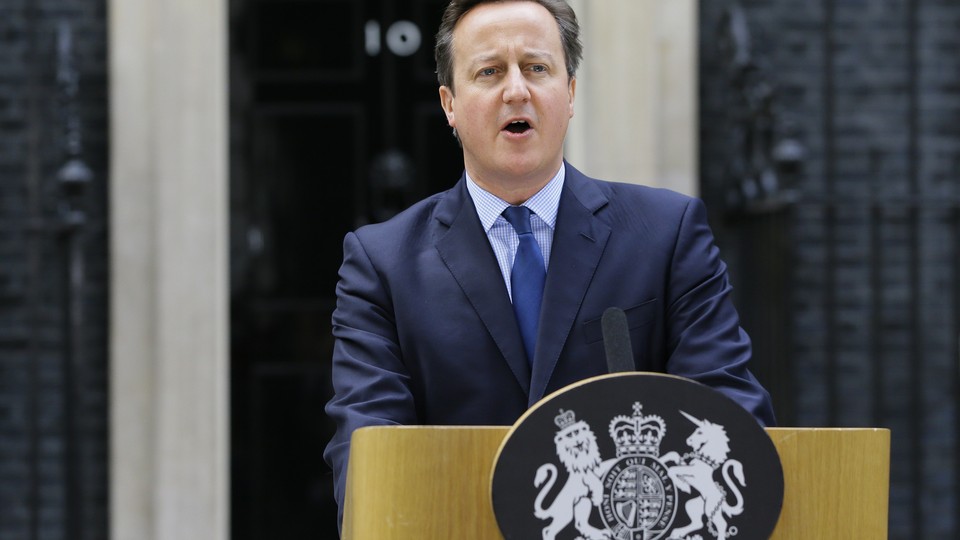 Updated on November 13 at 12:22 a.m.
A Pentagon spokesman says the U.S. is "reasonably certain" that Mohammed Emwazi, the Islamic State member better known as Jihadi John, was killed in a drone strike in Syria.
"We know for a fact that the weapons system hit its intended target and that the personnel who were on the receiving end of that weapons system were in fact killed," Colonel Steve Warren, a Pentagon spokesman, said at a news conference. "We still have to finalize the verification that those personnel were specifically who we thought they were."
Emwazi is the British-accented masked man seen in several Islamic State videos executing the group's hostages. The Defense Department, in a statement Thursday, said Emwazi, a Kuwaiti-born Briton who earned the monicker Jihadi John, had been targeted by a U.S. airstrike on Raqqa, Syria.
Warren said Friday the attack was carried out by a drone using a Hellfire missile.
Earlier, the BBC quoted an unnamed U.S. military source as saying there was a "high degree of certainty" Emwazi was killed in Thursday's strike near Raqqa.
Emwazi can be seen in the videos showing the killings of Steven Sotloff and James Foley, the American journalists; Abdul-Rahman (Peter) Kassig, the U.S. aid worker; David Haines and Alan Henning, the British aid workers; Kenji Goto, a Japanese journalist, and other hostages released by the Islamic State as part of its chilling propaganda efforts.
Speaking outside Downing Street on Friday, British Prime Minister David Cameron called the strike an "act of self-defense," adding it was the "right thing to do."
"We have been working with the United States literally around the clock to track him down," Cameron said. "This was a combined effort, and the contribution of both our countries was essential. Emwazi is a barbaric murderer."
Cameron added it was still uncertain whether Emwazi was killed, but said the strike "will demonstrate to those that would do Britain, our people and allies harm we have a long reach, we have unwavering determination and we never forget about our citizens."
Emwazi is one of many Western-raised Muslims who joined the Islamic State, the group that now controls large parts of Syria and Iraq. As my colleague Adam Chandler reported in February:
While Emwazi was born in Kuwait, his middle-class background and academic success—he reportedly graduated from the University of Westminster with a degree in computer programming—position him within a seemingly counterintuitive frame for a foreign ISIS recruit. As Karen Tumulty notes on Twitter, "'Jihadi John' from an upscale family, as was Osama bin Laden. Both contradict thesis that radicalization about economic frustration."

How Emwazi, 27, transitioned from a student in a Western capital to a force of malice in an Islamic terror group in the Middle East will be the subject of analysis and conjecture as Western governments continue to grapple with ISIS's surprising ability to recruit on a global scale.
Reactions to the airstrikes were mixed.
Diane Foley, James Foley's mother, told ABC News:
Diane Foley: "Huge effort to go after deranged man when can't make half that effort to save hostages while young Americans still alive"

— Jon Williams (@WilliamsJon) November 13, 2015
Bethany Haines, the daughter of David Haines, told ITV News:
After seeing the news that 'Jihadi John' was killed I felt an instant sense of relief, knowing he wouldn't appear in anymore horrific videos.

He was only a pawn in Isis's stupid game but knowing it's over that he's finally dead still hasn't sunk in.

As much as I wanted him dead I also wanted answers as to why he did it, why my dad, how did it make a difference?
Stuart Henning, Alan Henning's nephew, said on Twitter:
Mixed feelings today wanted the coward behind the mask to suffer the way Alan and his friends did but also glad it's been destroyed 💣

— Stuart henning (@Skyblublood) November 13, 2015
But Warren, the Pentagon spokesman, defended the administration's targeting of Emwazi.
"I mean this guy was a human animal," he said. "Killing him is probably making the world a little bit better place."