Convictions in Jerusalem
Two Israeli minors have been convicted in last year's abduction and murder of a Palestinian teenager.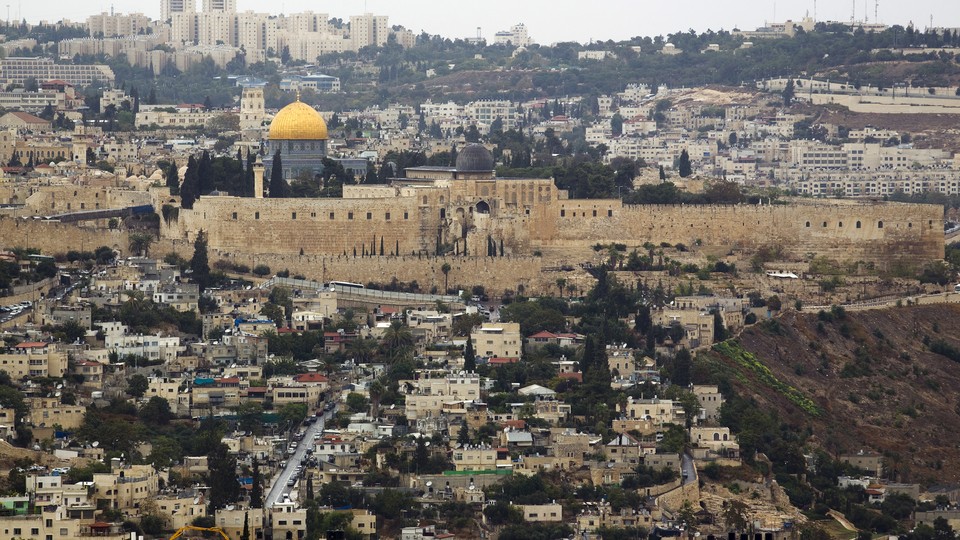 A court in Jerusalem has convicted two Israeli minors in the killing of a 16-year-old Palestinian boy last year.
The minors, whose names were not released because of their age, were found guilty on Monday of the murder of Mohammed Abu Khdeir, who was abducted outside a mosque near his home, driven to a forest, and burned alive in July 2014. The slaying came a day after funerals for three Israeli teenagers, whose killings a month earlier in the West Bank were claimed by Hamas, the Islamic militant group. Khdeir's death was suspected to be a revenge attack.
The court delayed a verdict for the alleged ringleader of the trio involved in Khdeir's death, according to the Associated Press. Yosef Haim Ben David, 31, entered a last-minute insanity plea.
"My blood is boiling," Hussein Abu Khdeir, Khdeir's father, told reporters. He said the last-minute insanity plea made a "joke of the court."
More from the AP on the decision:
In his ruling, Judge Jacob Zaban determined that Ben David and the two minors snatched Abu Khdeir off an east Jerusalem sidewalk in July 2014 and burned him alive in a forest west of the city.

The judge found that Ben David drove the car while the two youths beat Abu Khdeir unconscious in the back seat. Once they reached the forest, one accomplice helped Ben David douse Abu Khdeir with gasoline. Then Ben David lit the match, according to Zaban.

…

During the trial, one of the convicted Israeli minors claimed he did not realize the three of them would kill Abu Khdeir, while the other said he took part in strangling the Palestinian youth in the car and pouring gasoline on his motionless body. Ben David did not testify.
Forensic analysis of Khdeir's body, which was found hours later, discovered soot deposits in his lungs, suggesting he was still breathing when he was set on fire. Within days of the crime, the three suspects confessed to police.
Khdeir's death prompted riots by Palestinians in Jerusalem. Israel police clashed with hundreds of protesters at his funeral, sending tear gas and rubber bullets into the crowds.
Days later, Israel launched a military operation against Hamas, which controls the Gaza Strip. Hamas responded with rocket attacks. The resulting 50-day conflict led to the deaths of 2,200 Palestinians, mostly civilians, and 73 Israelis, mostly soldiers.
The Jerusalem court will issue a verdict for Ben David in December, according to the AP.