'It's Best That We Don't Shoot First and Aim Later'
President Obama pushed back forcefully against questions of America's strategy to counter the Islamic State in the wake of the Paris attacks.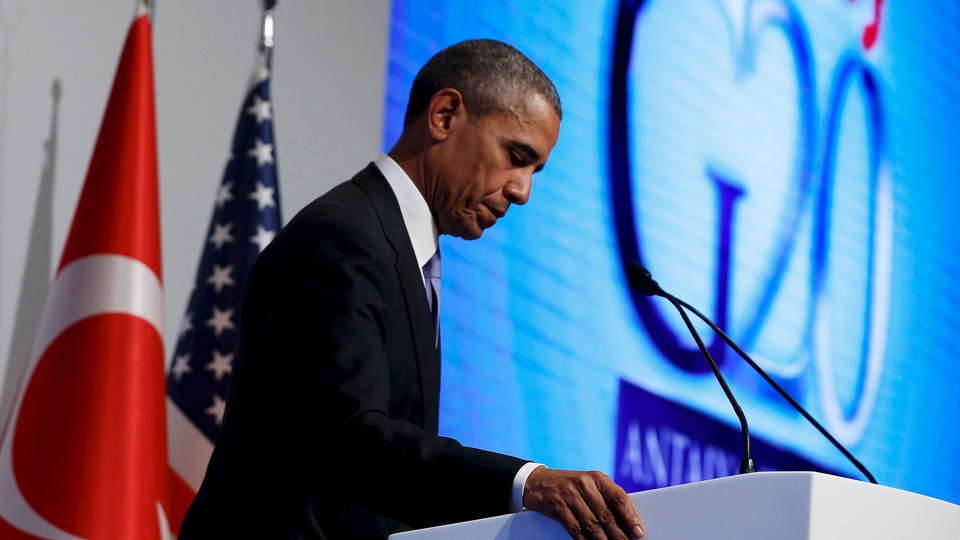 President Obama chafed as reporters questioned him repeatedly about America's strategy to counter the Islamic State, in his first expansive remarks after the Paris attacks.
Speaking after the G20 summit in Turkey, Obama was asked whether he had underestimated the Islamic State, if the post-attack calls for more troops would alter his thinking on Syria, and if the violence in Paris had proven that success against Islamic State forces had been elusive.
In the president's view, the answer to all these queries is 'no.' Instead, he reiterated that what happened in Paris would not lead to a shift in American policy or a scaling up of forces in Syria.
It is not just my view but the view of my closest military and civilian advisers that that would be a mistake because we would see a repetition of what we've seen before, which is if you do not have local populations that are committed to inclusive governance and who are pushing back against ideological extremes, that they resurface, unless we're prepared to have a permanent occupation of these countries.
He also chastised his critics for offering no alternatives and "talking as if they're tough" in suggesting that the United States offer up more troops to fight.
Nevertheless, Obama is encountering pushback from within his own party as well. On Monday, Senator Dianne Feinstein, the leading Democrat on the Senate Intelligence Committee, told MSNBC's Andrea Mitchell that, "ISIL is not contained. ISIL is expanding. They've just put out a video saying it is their intent to attack this country."
Feinstein added she believes that more than the 50 special operations soldiers currently in Syria are needed to "really make a difference on the ground."
Despite this sentiment, which was echoed much more muscularly by a range of 2016 presidential candidates, the president was most effective when making clear the cost of escalation. "This is not an abstraction," he said. "When we send troops in, those troops get injured. They get killed." He added:
Every few months I go to Walter Reed and I see a 25-year-old kid who is paralyzed or who has lost his limbs. And, some of those people I have ordered into battle. So, I can't afford to play some of the political games others make.
The events in Paris have inspired renewed criticisms not only of Obama's strategy in battling ISIS, but also his aversion to labeling terrorism an upshot of Islamic extremism. Obama addressed the latter by invoking his predecessor, George W. Bush, whom he praised for famously saying in the days after September 11, 2001, that terrorism was a distortion of Islam.
Obama also directly addressed remarks and pledges made by some Republican governors and presidential candidates to block the settlement of either Syrian or non-Christian refugees in the United States, calling them "shameful."
"That's not American. That's not who we are," he said. "We don't have religious tests to our compassion."