An ISIS Recruiting Ring in Europe
European officials say more than a dozen suspected jihadist recruiters with Islamic State links were arrested in a security sweep on Thursday.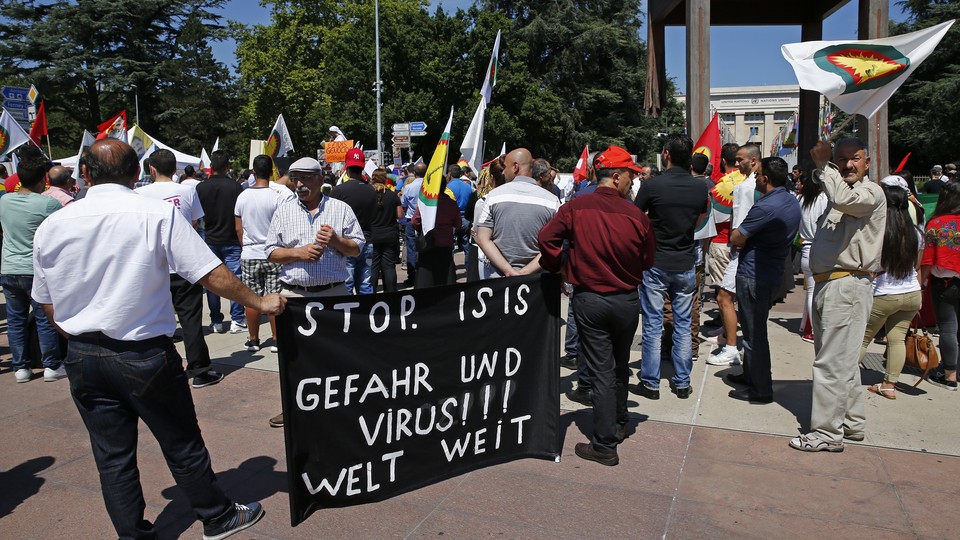 On Thursday, while Kurdish troops were launching an American-backed offensive against ISIS to deprive the terrorist group of territory in northern Iraq, European security forces reportedly launched a raid to deprive the Islamic State of recruits.
More than a dozen people were arrested in four European countries in a coordinated sweep that stemmed from a four-year-long investigation into an ISIS-linked group called Rawti Shax. "This is the most important international police operation in Europe in 20 years," Giuseppe Governale, Italy's anti-terrorism chief, said at a press conference in Rome.
Officials accuse the men of successfully recruiting at least five Europeans to travel to Syria and Iraq to fight with ISIS and seeking to recruit others to do the same. The men were also thought to be involved in a plot kill or kidnap European diplomats in an effort to free Rawti Shax's leader, Mullah Kreka, a cleric who is in prison in Norway.
The geographic scope of the countries involved is staggering: Arrests were made in Great Britain, Finland, Norway, and Italy. Nearly all of the 17 men for whom arrest warrants were issued are Kurdish Sunnis. It's unclear how many men were actually arrested in total on Thursday—figures from Italian and Eurojust officials differ slightly.
The arrests also come as ISIS reportedly threatens to launch attacks inside of Russia for its airstrikes against the group—and others—in Syria on behalf of President Bashar al-Assad. Russia is not officially part of the U.S.-led, anti-Assad coalition that is conducting airstrikes in both Iraq and Syria.
According to the monitoring group SITE, ISIS released a Russian-language video on Thursday promising that, "Soon, very soon, the blood will spill like an ocean" in Russia. As we noted earlier, last week ISIS took responsibility for the bombing of Russian airliner that killed more than 200 tourists in Egypt late last month. Those claims haven't been independently confirmed.