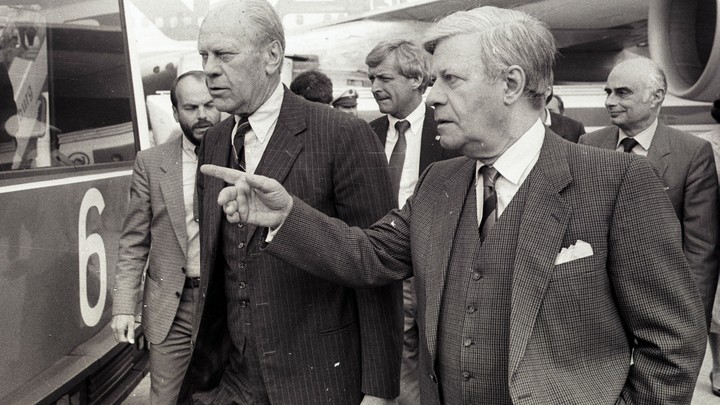 Former West German Chancellor Helmut Schmidt died Tuesday in Hamburg. The 96-year-old leader, who served as premier from 1974 until 1982, is credited with turning Germany into a Cold War leader and shepherding the country through a recession to become an economic power.
Schmidt remains one of the most popular and well-regarded German politicians. At least some of this is owed to his reputation as a pragmatist. As a moderate leader of the left-leaning Social Democratic Party, he pushed for free-market principles and battled a wave of far-left terrorism by the Red Army Faction.
Schmidt also courted better relations with Moscow and East Germany while aligning more muscularly within NATO and Europe. He was said to speak English better than Henry Kissinger, seemed to hate Jimmy Carter, and remained wary of Ronald Reagan.
Some of Schmidt's popularity is also owed to his legendary capacity to be blunt-spoken and to dispatch his acerbic wit. A few of his mentions in The Atlantic archives involve him calling the American raid that killed Osama bin Laden "a violation of international law" and predicting vicious, ethnic clashes in the United States by the middle of the century.
Deutsche Welle relates one moment of relative restraint when German television asked him to comment on Chancellor Angela Merkel's leadership during the European financial crisis. "It would take me a while to come up with a diplomatic answer," Schmidt said.
Schmidt was also an exceedingly complicated man. He joined the Hitler Youth and fought with the Nazis during World War II, all while harboring the secret his grandfather was Jewish.
"The author of books on defense, politics and economic policy, he played the piano well enough to record Mozart concertos," notes Michael Getler at The Washington Post. "He was a serious smoker, the most celebrated of Germany's 600,000 'schnupfers,' or snuff-takers, and also unable to resist colas and sticky buns."
Helmut Schmidt was the only man in Germany to whom smoking bans didn't apply. He was allowed to smoke anywhere, anytime.

— Mathieu von Rohr (@mathieuvonrohr) November 10, 2015
Perhaps Schmidt's last tweet sums it all up: "So much excitement about a nicotine patch. As if we did not have more pressing problems."
We want to hear what you think about this article. Submit a letter to the editor or write to letters@theatlantic.com.
Adam Chandler
is a former staff writer at
The Atlantic
. He is the author of
Drive-Thru Dreams: A Journey Through the Heart of America's Fast-Food Kingdom
.