The Flourishing Black Market in Syrian Passports
Two men—a dead suicide bomber and a man in a Serbian migrant center—carried the same Syrian passport with the same details.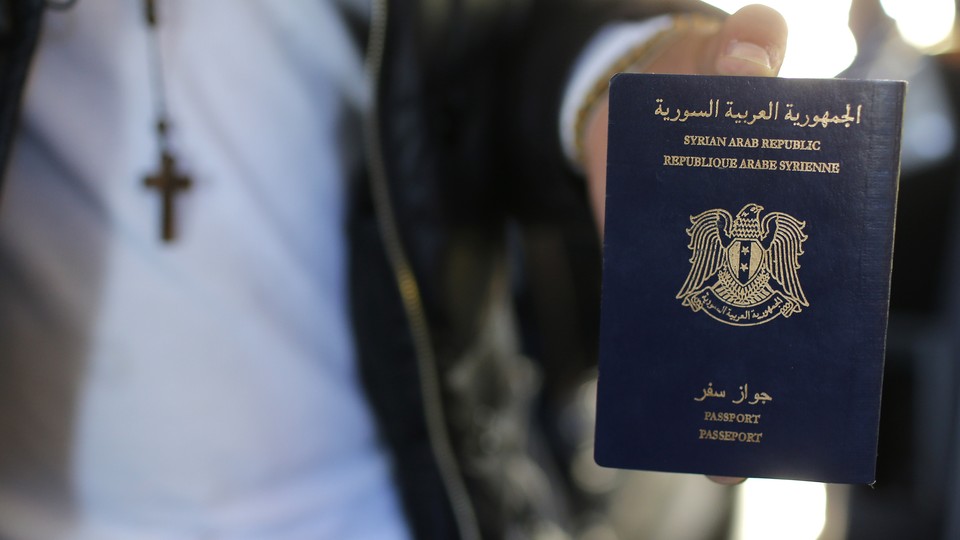 Who was Ahmad al-Mohammad?
Was he one of the suicide bombers in Friday's attacks on Paris who was found with his passport near his body? Or was he a man with the same name—and same passport details—who was arrested Saturday at a Serbian refugee center?
It may turn out neither man was named Ahmad al-Mohammad, and, in fact, there may be several others in Europe with the same name and identical passport details. Indeed, Agence France-Presse reported Wednesday that Ahmad al-Mohammad was born in 1990, served as a soldier in the Syrian army, and died months ago. The passport, AFP reports, bore his details.
The Syrian civil war, and the refugee crisis it has created, has spawned a black market in fake Syrian passports. These documents are highly sought after by Syrian refugees desperate to leave their country, migrants from other nations hoping to enter Europe posing as Syrians, and, apparently, militants who use them to enter Europe for operations such as the attacks on Paris last Friday.
Indeed, even before Friday's attack, Frontex, the European Union's border agency, had warned of the proliferation of fake Syrian passports, pointing out that many who possessed them were economic migrants rather than Syrians fleeing civil war.
"There are people who are in Turkey now who buy fake Syrian passports because they know Syrians get the right to asylum in all the member states of the European Union," Fabrice Leggeri, the head of the agency, told Europe 1, a French radio station, in September.
"People who use fake Syrian passports often speak Arabic," he added, in comments translated by Agence France-Presse. "They may come from North Africa or the Middle East but they have the profile of economic migrants."
But Ewa Moncure, a spokeswoman for the agency, told NPR later that month that most of those who sought the documents were in fact victims of the Syrian Civil War. She said:
Well, they are coming from a war-torn country. Probably many had to leave their homes rather quickly. Maybe some didn't have passports, and obtaining a Syrian passport right now—it's probably extremely difficult. Many Syrians whom we are seeing in—for example, in Greece right now—have been living … either in Syria but also in camps in Turkey, Lebanon, or Jordan, and they are coming from these camps. These are people who've been on the move, sometimes for several years. These are people who some of their children were born outside Syria.
Indeed, as Turkey's disaster and emergency-management department reported in 2013, only 30 percent of Syrians who entered the country had valid passports. The conflict has only gotten worse since then, creating, in all, more than 4 million refugees, half of whom live in Turkey. This summer, as Europe loosened its rules for Syrian refugees, Syrian passports became a valuable commodity because its holders were automatically accorded protected status.
"Any Arab resident dreams of living in a European country, and they are taking advantage of this wave of forging to get fake documents and pretend they are Syrians," a Turkish middleman told The Wall Street Journal.
Journalists across Europe have highlighted the ease with which false Syrian passports can be obtained.
The Telegraph reported that for migrants looking to enter Europe, a "quick tap on their smartphone takes them to The Travellers' Platform, a Facebook page that provides the answers to all their needs." The cost of a false passport and a trip from Turkey to Greece: about £2,000 ($3,000).
The quality of those passports vary. Some are printed on actual Syrian passports that were stolen, making them seem more authentic. The holders of poorer quality fakes are often stopped in Europe, but are sometimes met by sympathetic officials. One refugee who managed successfully to enter Europe recounted to Reuters the experience of his friend who tried using a bad fake ID to board a plane in Greece.
"The airport lady said to them, literally, 'Try again,'" he said.
Leggeri, the head of Frontex, said in September that there was no evidence fake passports had been used by potential terrorists to enter Europe.
But Sky News reported as far back as February that foreign fighters "seeking to join Islamic State are using black-market Syrian passports to enter through Turkish border checkpoints." They now appear to be using them to enter Europe.
A commander for the Islamic State told the Journal that Iraqi and Palestinian militants with the group had used Syrian passports to travel through Turkey. They were taught the dialect of the Syrian town or region listed on their passport, he said, in case they were questioned.
One of those men seems to have crossed into Europe and, eventually, France where he blew himself up on Friday. It's unclear if we'll ever know who he was.