The Economic Impact of the European Refugee Crisis
The EC says 3 million people could arrive in Europe by the end of 2017, and add about 0.25 percent to the bloc's GDP.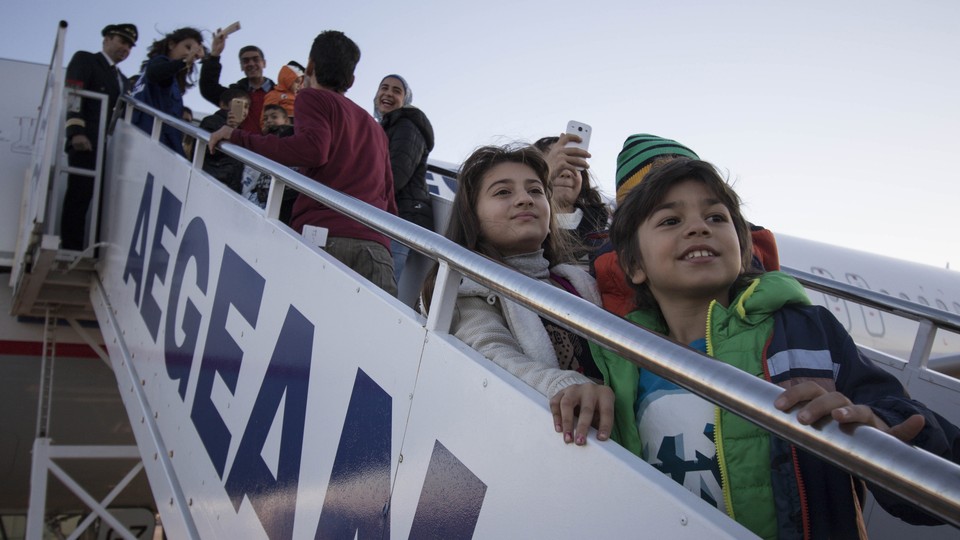 Three million refugees and migrants could arrive in Europe by the end of 2017, the European Commission says in its economic forecast for the fall of 2015.
The report says the newcomers will have a "relatively small" economic impact in the medium term, with GDP rising between 0.2 percent and 0.3 percent above the baseline by 2020. But, the EC notes, that could vary by country—with destination countries—such as Germany—seeing a more significant impact than transit countries. Here's more:
The impact from higher public spending and a larger labour force with a skillset similar to the existing one in the EU is expected to: − contribute to a small increase in the level of GDP this year and next, compared to a baseline scenario, rising to about ¼% by 2017. This however is less than the rise in the underlying population, implying a small, negative impact on GDP per capita throughout the period; and − strengthening the outlook for employment (which is expected to improve gradually to about 0.3% more employed persons by 2017), in part from a wage response.
The EC reports points out that, typically, non-EU migrants typically receive less in individual benefits than they contribute in taxes and social contributions. And their employment is the most important factor of net fiscal contribution.
The influx—excluding failed asylum applications—will increase the EU's population by 0.4 percent, the forecast says.
The report further says:
For Member States with an ageing population and shrinking workforce, migration can alter the age distribution in a way that may strengthen fiscal sustainability—yet, if the human potential is not used well, the inflow can also weaken fiscal sustainability. Moreover, while migration flows can partly offset unfavourable demographic developments, earlier studies have shown that immigration could not on its own solve the problems linked to ageing in the EU.
Economic models examining the integration of 3 million extra people over the next two years notwithstanding, Europe is deeply divided over how to handle the most severe refugee crisis since World War II. More than 760,000 refugees and migrants have entered the EU in the first nine months of this year, but the bloc has only agreed on relocating 160,000 of them. Of these, as we reported Wednesday, 116 have been sent to their new homes.
About 1.2 million people have sought asylum in the EU since the start of 2014. Many of them are people fleeing the Syrian civil war, and unrest in Afghanistan, Iraq, Eritrea, and elsewhere. Others, however, are economic migrants, and will likely be turned away by Europe.