Cliché of the Moment: 'Boots on the Ground'
Since when did footwear decide whether or not America is at war?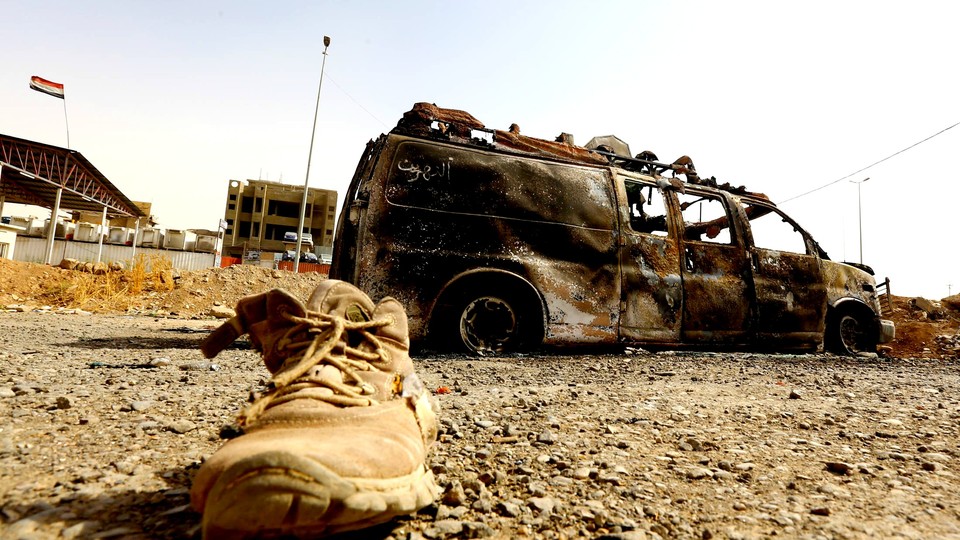 Last week's announcement that the United States would be sending roughly 50 Special Operations Forces to Syria to help fight ISIS—after President Barack Obama's repeated promises not to put American "boots on the ground" there—commenced a delicate rhetorical minuet for White House spokesman Josh Earnest. Wasn't it the case, wondered more than one reporter at his press briefing on October 30, that 50 special operators stationed on Syrian soil were indeed "boots on the ground"? And if so, hadn't Obama broken his promise?
Q: [Obama has] consistently said he's not going to put boots on the ground, Josh. You don't deny that. He's consistently said that that would not be a part of this strategy.

MR. EARNEST:  … [T]he only quote that you've read to me is a quote from 2013 that was a direct question related to what we were prepared to do to ensure that our concerns about the Assad regime and the need for a regime change were implemented. And the fact is the president said we're not going to implement a military strategy to take down [Syrian President] Bashar al-Assad. What we want to do is we want to build the capacity of local forces to make sure that they can be focused on ISIL. And that's the strategy that the president has been focused on here.  

And when the president has talked about combat situations, the president has been quite clear that he does not contemplate a large-scale, long-term ground combat operation either in Iraq or in Syria. That was his policy at the beginning of our counter-ISIL operations and it's our strategy today.
Earnest went on to detail how the president had been "quite clear" about situations "where combat boots have been on the ground inside of Syria," including during a failed mission to rescue hostages in 2014, and a raid in May that killed an ISIS leader. In this sense, Obama's initial statement in August 2013 regarding U.S. military action in Syria—"in no event are we considering any kind of military action that would involve boots on the ground"—was rendered inaccurate not by the upcoming deployment announced last week, but by previous actions revealed after the fact in recent months.
Obama referred to one of these earlier missions when NBC's Lester Holt asked him on Tuesday whether he had "broken [his] promise about boots on the ground." The president responded: "Keep in mind that we have run Special Ops already. … We have been opportunistic where necessary. And really, this is just an extension of what we were continuing to do. We are not putting U.S. troops on the frontlines fighting firefights with ISIL. … I've been consistent throughout that we are not going to be fighting like we did in Iraq, with battalions and occupations. That doesn't solve the problem."
The boots/no-boots discussion may have become particularly convoluted in the past week, but the phrase was common enough to attract the attention of the late New York Times "On Language" columnist William Safire back in 2008. A few days after Obama was elected president for the first time, Safire noted that the campaign had focused "on timetables or benchmarks for ultimate withdrawal of U.S. 'boots' from Iraq." He continued:
Infantry footwear has been slogging though mud for centuries, but boots on the ground is a relatively new expression. Earliest citation that Matthew Seelinger, chief historian of the Army Historical Foundation, can find is in an April 11, 1980, article in The Christian Science Monitor. During the Iranian hostage crisis, plans for a rescue operation were made in the Carter administration, and there were worries that the Soviet Union would intervene. "Many American strategists now argue that even light, token U.S. land forces—'getting U.S. combat boots on the ground' "—as the four-star general Volney Warner put it—"would signal to an enemy that the U.S. ... can only be dislodged at the risk of war." The vivid figure of speech soon triumphed over the formal "infantry in the field."
Seven years after Safire wrote this, 3,500 U.S. soldiers are back in Iraq. Like their counterparts en route to Syria, those soldiers have an "advise and assist" mission aimed at building up local forces, not a "combat mission" aimed at fighting ISIS directly. And yet, to further confuse matters, they may engage in combat occasionally—for example of the kind involved in a joint U.S.-Kurdish raid to free ISIS hostages in the Iraqi town of Hawija two weeks ago, in which the U.S. military suffered its first combat death in Iraq since 2011. Remarking on that incident, Secretary of Defense Ashton Carter said, "I expect we'll do more of this sort of thing. It doesn't represent us entering the combat role."
In other words: The nature of the overall mission, and to some extent the size of the force, seem to be the key variables at issue when White House officials discuss whether or not the administration is putting "boots on the ground" in the fight against ISIS.
But this is something of a departure from the definition the U.S. military uses, as Joseph Trevithick recently reported for the website War Is Boring.  
CENTCOM has clear rules that outline the health requirements for any of its personnel heading to the Middle East—referred to as its "area of responsibility." … [CENTCOM's health policy states]: "For medical purposes, the definition of a deployment is travel to or through the USCENTCOM area of responsibility (AOR) with expected or actual time in country (a.k.a. "boots on ground") for a period of greater than 30 days, excluding shipboard operations ..."
A CENTCOM spokesman clarified to Trevithick that "the 'deployment' definition is a generic term. ...  The 'boots on ground' qualifier was added to exclude travel time to and from CENTCOM area of responsibility (AOR)." Which means you're not "boots on the ground" if you're stuck somewhere en route to Syria. The spokesman further clarified that, for CENTCOM's medical purposes at least, those considered "deployed" include military personnel operating against ISIS who are "in-place 30 days or more." It applies whether these personnel have a combat mission or not.
How important is it, ultimately, to determine whether U.S. soldiers stationed in a war zone are considered "boots" only when they're part of a combat mission, or while actually in combat as part of an advisory mission, or anytime they're in the theater? After all, whether or not last week's announcement means "putting boots on the ground" in Syria, and whether that's for the first time or the third, they're going to Syria and "putting themselves at great risk," as Earnest admitted.
The president and the press may therefore be parsing the nuance of an irrelevant question. And yet the parsing itself speaks to what seems to me the relevant question in an era when the United States can kill from afar at minimal risk to U.S. citizens: How do we know when we're at war? Why, when the U.S. has been bombing Syria for more than a year, is it the nature of the "boots" that is somehow the determining factor? As Helene Cooper recently detailed in The New York Times, in the past year "American pilots have assumed a huge bulk of the war effort [against the Islamic State]. They have conducted more than 4,700 airstrikes since August 2014 ... and provided air support for Iraqi security forces and Kurdish pesh merga fighters on the ground."
In a sense, Obama is right that he has been consistent. The U.S. military's ground presence in Iraq and Syria has been restricted over the past year. But America has nevertheless been waging a war this whole time.