A Canadian Cabinet for 2015
Prime Minister Justin Trudeau named the most diverse government in his country's history.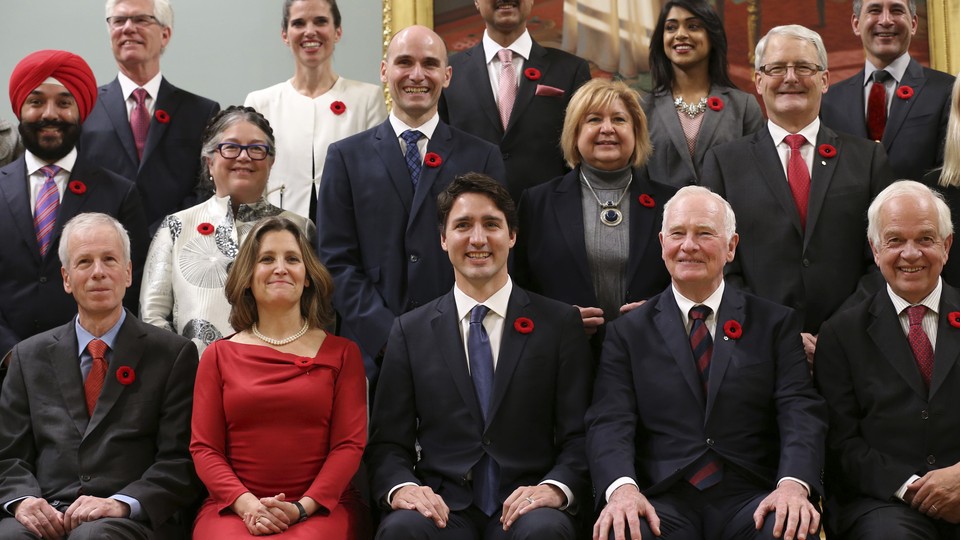 Canadian Prime Minister Justin Trudeau named the most diverse government in his country's history on Wednesday, the first to feature an equal number of men and women, saying he wanted to "present to Canada a cabinet that looks like Canada."
The new cabinet was unveiled publicly as Trudeau and his ministers gathered at Rideau Hall in Ottawa for their formal swearing-in. Among its 30 ministers are two aboriginal politicians, two persons with disabilities, and three Sikhs. The cabinet is smaller than its 39-member predecessor and younger overall than past Canadian governments.
Leading the Canadian defense ministry is Harjit Sajjan, a first-time member of parliament representing South Vancouver. A Sikh whose family emigrated from India to Canada when he was five years old, Sajjan worked as a detective in the Vancouver Police Department before joining the Canadian military. There he rose to the rank of lieutenant colonel and served a tour in Bosnia and three tours in Kandahar, Afghanistan.
Sajjan's appointment would be significant under normal circumstances, but it seemed especially symbolic after an election campaign that challenged Canada's multicultural identity. Former Canadian Prime Minister Stephen Harper and other Conservatives wielded the use of the niqab during Canadian citizenship ceremonies and the Syrian refugee crisis as wedge issues as he sought a fourth term. But he was defeated in a Liberal landslide that resulted in Canada's most diverse parliament yet.
Jody Wilson-Raybould, the new justice minister, is one of eight aboriginal MPs in the new parliament. Hailing from the Kwakwaka'wakw people of coastal British Columbia, Wilson-Raybould served as a Crown prosecutor before becoming a prominent indigenous leader in the province. In 2009, she was elected regional chief of the British Columbian Assembly of First Nations. ("First Nations" is the preferred Canadian term for what Americans would call Native American tribes.)
Canadian political observers interpreted her appointment as a sign of the Liberal government's intent to focus on tribal legal issues, particularly Canada's missing indigenous women, after almost a decade of perceived indifference from Harper's government. Wilson-Raybould specifically cited her distaste after a meeting on indigenous issues with Harper in 2013 as a key factor in her decision to run for parliament.
Maryam Monsef, the first Canadian MP born in Afghanistan, was appointed minister for democratic institutions, a position that focuses on parliamentary and electoral reform. Monsef fled her native country as a child after her father and uncle disappeared under suspicious circumstances during and after the turbulence of the Soviet invasion. Canada granted her and her remaining family refugee status and Monsef settled in Peterborough, Ontario, which she now represents in Parliament.
Other cabinet members include Carla Qualtrough, a legally blind paralympian and lawyer who served on the Canadian Human Rights Commission, as minister of sport and people with disabilities; former journalist Chrystia Freeland as international trade minister; Inuk legislator Hunter Tootoo as fisheries minister, a portfolio of significant importance for Canada's Inuit community; and Jane Philpott, the first medical doctor to be appointed Canada's minister of health.
The Liberals held only 36 seats in the previous parliament before voters catapulted the party to an outright majority of 184 seats in last month's election. As a result, many of the new ministers are also first-time members of parliament. In addition to the flood of new MPs, Trudeau returned some veteran members to the frontbench, including former Liberal leader Stéphane Dion, who became foreign minister.
Some of the ministries themselves were also renamed to reflect the Liberals' priorities, a common practice in parliamentary governments like those of Canada and the United Kingdom. The minister of the environment is now the minister of the environment and climate change, sparking some discontent among the country's oil and gas industry that had enjoyed favorable treatment under the previous government. The citizenship and immigration minister is now the minister of immigration, refugees, and citizenship; Trudeau pledged during the campaign to resettle 25,000 Syrian and Iraqi refugees by year's end.
Trudeau also fulfilled his pledge to form a gender-equal cabinet by appointing an equal number of men and women—a first in Canadian history. The move sets Canada apart from most other Western democracies, where gender parity in national government is rare. Finland and Sweden have more women than men in their governments, while France and Liechtenstein have an equal amount. The current British cabinet under Prime Minister David Cameron, by comparison, is roughly two-thirds male, while only seven of President Obama's 22 cabinet members are women.
During a Wednesday news conference in Ottawa, a reporter asked Trudeau why he chose to pursue gender parity in his cabinet. "Because it's 2015," he replied.