Brussels on Lockdown
Belgian officials extended the area's terror alert on Sunday as police searched for suspects in the Paris attacks.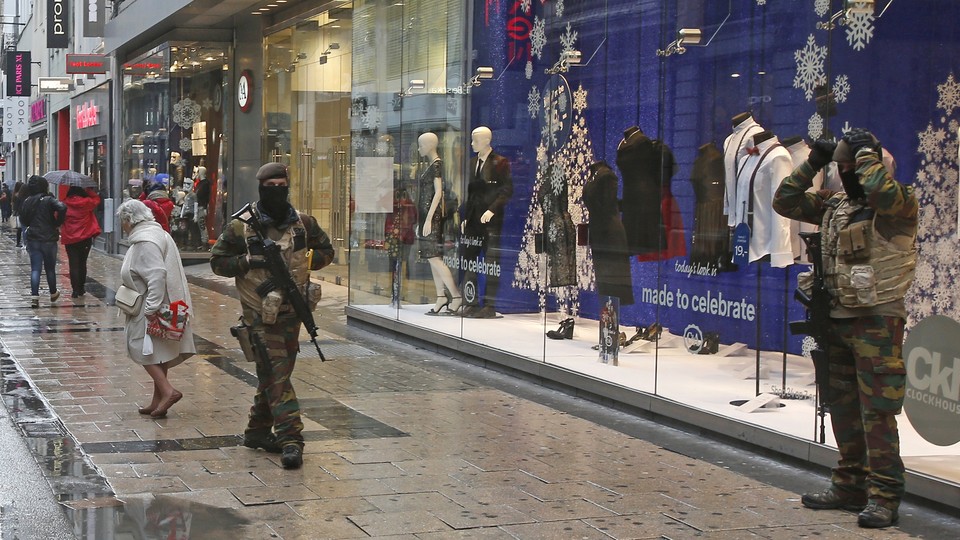 The city of Brussels and its suburbs remain on high alert as police searched for suspects in the Paris terrorist attacks.
Belgian Prime Minister Charles Michel said Sunday that the area would stay at
the highest terror alert level
—level 4, which means a terrorist threat is "imminent and close by"—for now, according to Belgium's national Crisis Center. Schools and universities in the Brussels region will be closed on Monday.
Belgian authorities issued the alert on Sunday. They dispatched heavily armed soldiers to patrol the region and advised citizens to stay away from shops, train stations, airports, and other public spaces. They also closed the Brussels metro, which will not reopen Monday. The Brussels region has a population of about 1 million.
The rest of Belgium will remain at a threat level of 3 ("possible and likely"). Officials had raised the countrywide alert from level 2 to level 3 several days after terrorists killed 130 people at a concert hall, outside a stadium, and in busy streets in the French capital on November 13.
Belgian and French police have carried out dozens of raids in Brussels, Paris, and elsewhere in search of suspects in the deadly siege, the worst violence on French soil since World War II. They are looking for Salah Abdeslam, a 26-year-old Brussels resident who was last seen headed for the Belgian border hours after the siege in Paris. The suspected organizer of the attacks, Abdelhamid Abaaoud, a Belgian citizen, was killed during a French police raid Wednesday in the Paris suburb of St. Denis. Seven assailants died in the Paris attacks, including Abdeslam's brother, Ibrahim, who detonated his suicide belt outside of a cafe.
The threat alert is "unfortunately not" limited to Abdeslam, said Belgian Interior Minister Jan Jambon on Sunday.
"It is a threat that goes beyond just that one person," Jambon told Belgian broadcaster VRT, according to Reuters. "We're looking at more things, that's why we've put in place such a concentration of resources."
Reuters reported that Mohamed Abdeslam, the brother of Ibrahim and Salah, urged Salah in an interview on RTBF television to turn himself in. Mohamed said he believed his brother had a last-minute change of heart in Paris.
Police are focusing on the Belgian district of Molenbeek, a densely populated neighborhood that has become famous for being the home of several terrorist plotters. "I notice that each time there is a link with Molenbeek," Michel said last weekend, after officials determined several of the attackers were from Brussels. Added Jambon back then: "We don't have control of the situation in Molenbeek at present."
Michel said Saturday that the decision to raise the terror alert level for Brussels was taken "based on quite precise information about the risk of an attack like the one that happened in Paris … where several individuals with arms and explosives launch actions, perhaps even in several places at the same time," according to the Associated Press.