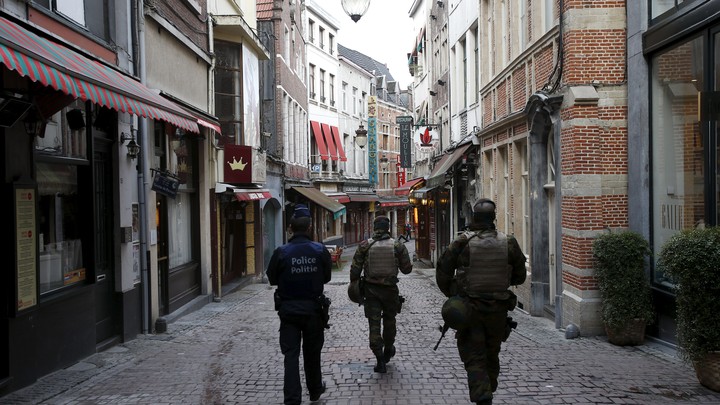 Updated on November 23 at 3:43 p.m. ET
Belgian police have arrested and charged a man in connection with the deadly attacks in Paris, the country's federal prosecutor said Monday.
The man, whose identity was not released, was one of five people arrested in raids on Sunday, the BBC reported. Belgian security forces detained at least 21 people in Brussels and elsewhere in the last 24 hours in a search for suspected extremists that government officials fear could launch a Paris-style attack on the capital city.
Two of the five arrested have been released, officials said, as well as 15 others who were detained and questioned.
Police officers and soldiers conducted 19 raids late Sunday and early Monday in the Brussels region and three in the southern city of Charleroi, according to the Associated Press. Police are searching for suspects with links to the attacks in Paris, which killed 130 people at a concert hall, outside a stadium during a soccer match, and in the streets, where people dined outside cafes and restaurants.
No explosives or guns were found in the raids, officials said. Brussels native Salah Abdeslam, 26, believed to be the only known survivor from the terrorist team that attacked the French capital, was not among those detained. Abdeslam, whose brother blew himself up outside the Stade de France, was last seen crossing into Belgium hours after the attacks.
French police said Monday that a street cleaner has found an explosive belt without a detonator in a pile of rubble in the southern Paris suburb of Montrouge, the Associated Press reported. That location is where Abdeslam's cellphone was used on the day of the attacks, officials said.
Brussels has been at Belgium's highest terror-alert level, which indicates that a threat is "imminent," since Saturday.
"We fear an attack similar to the one in Paris," Prime Minister Charles Michel said Sunday at a press conference, according to The New York Times. "A number of individuals could launch an attack on several locations in Brussels simultaneously."
Michel said the decision to place Brussels on high alert was made after officials reviewed intelligence reports, but has not elaborated on the information.
This weekend, camouflage-clad, heavily armed soldiers patrolled the streets of Brussels, home to the European Union's main institutions. Belgian authorities shut down the city's metro on Saturday. All schools and some businesses were closed Monday. Belgium has warned citizens to stay away from shopping areas, train stations, and other public spaces, and the U.S. Embassy in Brussels has urged U.S. citizens there to stay at home.
"There's no point in hiding it; there is a real threat," Belgian Interior Minister Jan Jambon told Belgian broadcaster VRT on Sunday, according to the Times.
The rest of Belgium remains at an alert level of 3, which means a threat is "possible and likely."
Most of the Paris attackers died in the assault. In the days after, French police carried out dozens of operations in search of additional suspects. The alleged organizer of the attacks, Abdelhamid Abaaoud, 27, was killed when police stormed an apartment in the Paris suburb of St. Denis last week. Abaaoud, a Belgian citizen, had previously traveled to Syria to fight alongside the Islamic State. The terrorist group has claimed responsibility for the attacks.
On Sunday, French police released a photo on Twitter of one of the three suicide bombers who detonated his vest outside the stadium and asked the public for help in identifying him. Officials have identified one of the suicide bombers as Ahmad Al Mohammad, 25. A Syrian passport was found near Al Mohammad's body and his fingerprints were matched to those of someone who entered Europe through Greece last month. But Serbian police arrested a man with the same documents days after the attacks. The discovery illustrates the growing black market in fake Syrian passports, spawned by the Syrian civil war and the resulting refugee crisis.
Jambon said Sunday that Brussels's threat alert is "unfortunately not" limited to Abdeslam, according to Reuters.
"It is a threat that goes beyond just that one person," he said."We're looking at more things, that's why we've put in place such a concentration of resources."
Security forces are focusing on the Belgian district of Molenbeek, a densely populated neighborhood that has become famous for being the home of several terrorist plotters.
"I notice that each time there is a link with Molenbeek," Michel said shortly after the attacks, when officials determined several of the assailants were from Brussels.
We want to hear what you think about this article. Submit a letter to the editor or write to letters@theatlantic.com.