Brussels on High Alert
Belgian officials said Saturday the capital city may be vulnerable to Paris-like attacks.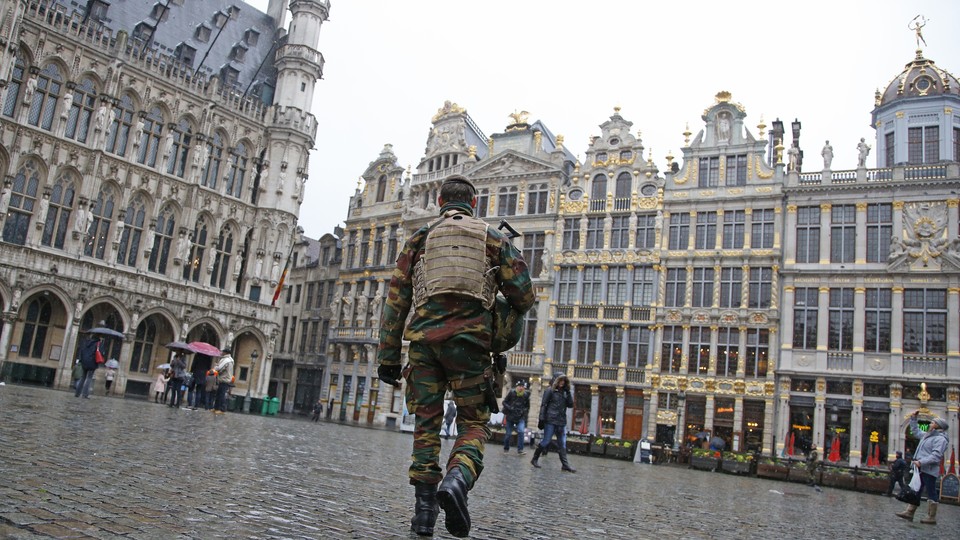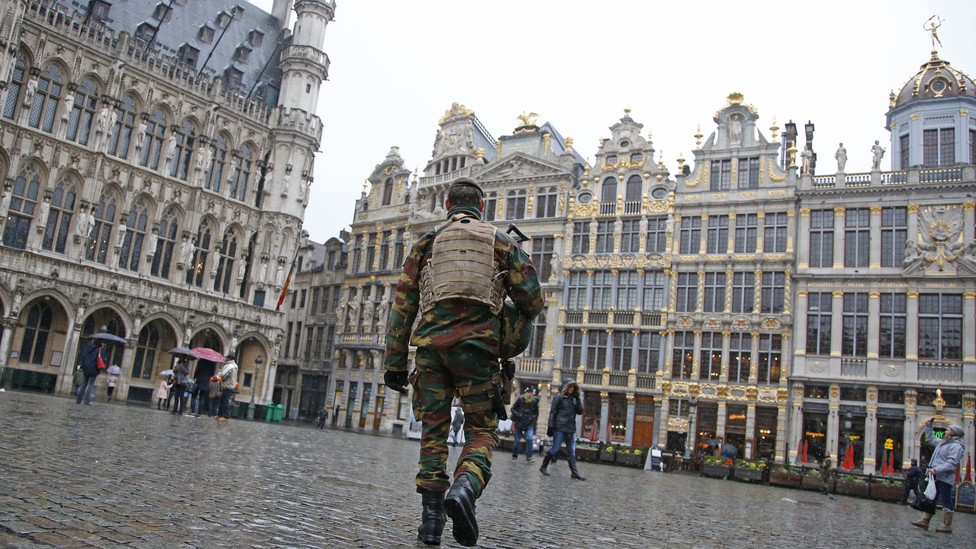 Belgian authorities placed Brussels at the highest state of alert Saturday, warning that the capital city was vulnerable to terrorist attacks, closing public transportation systems, and urging citizens to avoid large crowds.
The country raised its threat level for Brussels from level 3 ("possible and likely") to level 4 ("imminent and close by"), according to Belgium's national Crisis Center. The rest of Belgium remains at level 3. The move comes just over a week after a terrorist attack that killed 129 people in the streets of Paris, plunging France into a nationwide state of emergency and sending French police on an international manhunt for additional suspects. One victim died of injuries on Friday, bringing the death toll of the attacks to 130.
Belgian Prime Minister Charles Michel said Saturday that the decision to raise the terror alert level was taken "based on quite precise information about the risk of an attack like the one that happened in Paris … where several individuals with arms and explosives launch actions, perhaps even in several places at the same time," the AP reported.
Belgian authorities have closed the Brussels metro and warned citizens to avoid shops, concerts, train stations, airports, and other highly populated areas. Heavily armed soldiers patrolled the city streets. The Brussels region has a population of about 1 million.
"We urge the public not to give in to panic, to stay calm," Michel said. "We have taken the measures that are necessary."
The U.S. Embassy in Brussels on Saturday issued a warning to U.S. citizens in Belgium, urging them "to shelter in place and remain at home." "If you must go out, avoid large crowds," the embassy said in a statement on its website.
​The French Parliament on Friday voted to extend the state of emergency in France for three months, allowing law enforcement to carry out arrests and searches.
Belgian and French police have carried out dozens of raids in Brussels, Paris, and elsewhere in search of suspects in the deadly siege on Paris. Abdelhamid Abaaoud, the suspected organizer of the attacks, was killed during a French police raid Wednesday in an apartment in the Paris suburb of St. Denis. Abaaoud, 27, a Belgian citizen, had previously traveled to Syria to fight alongside Islamic State militants.
Another suspect, Salah Abdeslam, 26, remains at large. Abdeslam, who lives in Brussels, was stopped by police and questioned while he was driving to the Belgian border several hours after the attacks. Police, not knowing he may have been involved, let him go. Abdeslam's older brother, Brahim, was one of the suicide bombers, and one of seven attackers who died in the assault.
As my colleague David Graham wrote this week, Belgium, a small nation of about 11 million, has become a major source of violent jihadists, both in Syria and Iraq. The government has acknowledged that hundreds of Belgians have gone to fight with the Islamic State or for other groups in the Syrian civil war.
Belgian authorities will meet Sunday to reassess the threat level. French President François Hollande will meet with British Prime Minister David Cameron in Paris on Monday. Hollande will travel to Washington and Moscow later in the week.