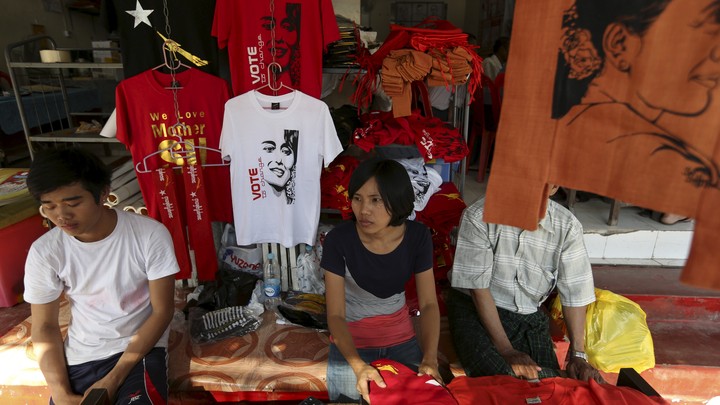 The movement to challenge more than five decades of military rule in Myanmar received a significant boost Friday when results from the country's first free elections in 25 years were released.  
The overwhelming winner was Aung San Suu Kyi, whose National League for Democracy party (NLD) captured an outright majority in the country's parliament and is now free to choose its next president.
The extent of the drubbing by the opposition was a major shock given the entrenchment of the military institution, which still allocated one-fourth of the seats in both chambers of parliament. Suu Kyi, both a Nobel Prize winner and once a longtime political prisoner, has also been constitutionally barred from holding the office of president because her children hold U.K. citizenship.
"Her party's sweep was so thorough that one candidate who died before the vote still defeated his ruling-party rival," The New York Times noted.
Despite a gradual loosening of the military's grip in recent years, concerns remain about whether the junta will truly relinquish power. Suu Kyi's party previously won elections held in 1990, but the results were invalidated and she was placed under house arrest for 15 of the next 21 years.
Ahead of the results, President Obama called Suu Kyi to congratulate her. However, the readout from the call kept a slightly restrained tenor, a nod to the potential uncertainty of a power-sharing dynamic with the military.
"The two leaders discussed the importance for all parties to respect the official results once announced and to work together in the spirit of unity to form an inclusive, representative government that reflects the will of the people," the announcement read.
So far, however, the signs are promising. Earlier this week, Myanmar's military-backed president, Thein Sein, said he would respect the results and the country's army chief, Min Aung Hlaing, offered that the military would "do what its best in cooperation with the new government during the post-election period."
We want to hear what you think about this article. Submit a letter to the editor or write to letters@theatlantic.com.
Adam Chandler
is a former staff writer at
The Atlantic
. He is the author of
Drive-Thru Dreams: A Journey Through the Heart of America's Fast-Food Kingdom
.