A Kurdish Offensive on Sinjar
The Peshmerga, backed by U.S. airstrikes, are hoping to retake the strategic area in northern Iraq from the Islamic State.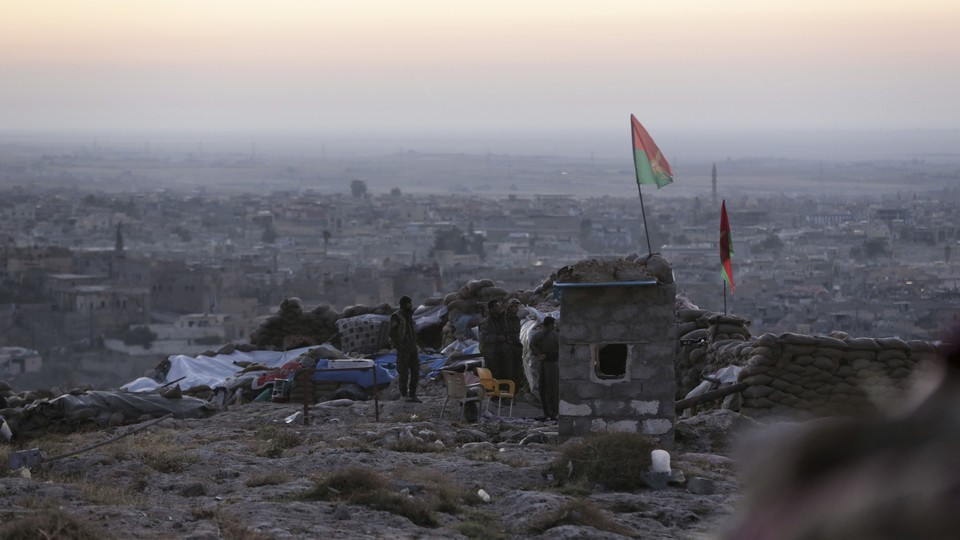 Kurdish Peshmerga, backed by U.S.-led coalition airstrikes, have begun an offensive to retake the strategic town of Sinjar in northern Iraq from the Islamic State, the Kurdistan Region Security Council said Thursday.
This ground offensive includes up to 7,500 Peshmerga. Objectives is to clear Sinjar town from ISIL, take strategic supply routes. 1/2

— KR Security Council (@KRSCPress) November 12, 2015
And establish a significant buffer zone to protect the city and its inhabitants from incoming ISIL artillery. #Kurdistan 2/2

— KR Security Council (@KRSCPress) November 12, 2015
The security council of the autonomous Kurdistan Regional Government in Iraq also said Peshmerga forces now control a stretch of Highway 47 between Sinjar and Syria, as well as a stretch of the highway between the town and Tal Afar, Iraq. It said about 700 Islamic State fighters were in the town, and Highway 47 is one of the militant group's most important supply routes.
In August 2014, Sinjar became the focus of international attention when the Islamic State captured the town and began a campaign of atrocities—including rape and enslavement—against the Yazidi minority who lived there. Tens of thousands of Yazidis fled from the town into nearby mountains. (My colleague Emma Green has written about the Yazidis and their beliefs.)
Yazidi fighters joined the Peshmerga in Thursday's campaign. But The New York Times reported that the Syrian branch of the Kurdistan Workers' Party (PKK) is also taking part in the operation in separate theaters, and made competing claims.
"We have made our plans, but not everything goes according to plan," Major General Aziz Waisi, the commander of the Kurdish Zeravani Force, told the Times. "It is war, we have a determined enemy and there are always surprises from" the Islamic State.
The Islamic State controls large parts of Iraq, including Mosul, the second-largest Iraq city, and large parts of Syria. The U.S. and its allies are conducting operations against the group in both countries.