Why 'Mom' and 'Dad' Sound So Similar in So Many Languages
The story of a strange linguistic coincidence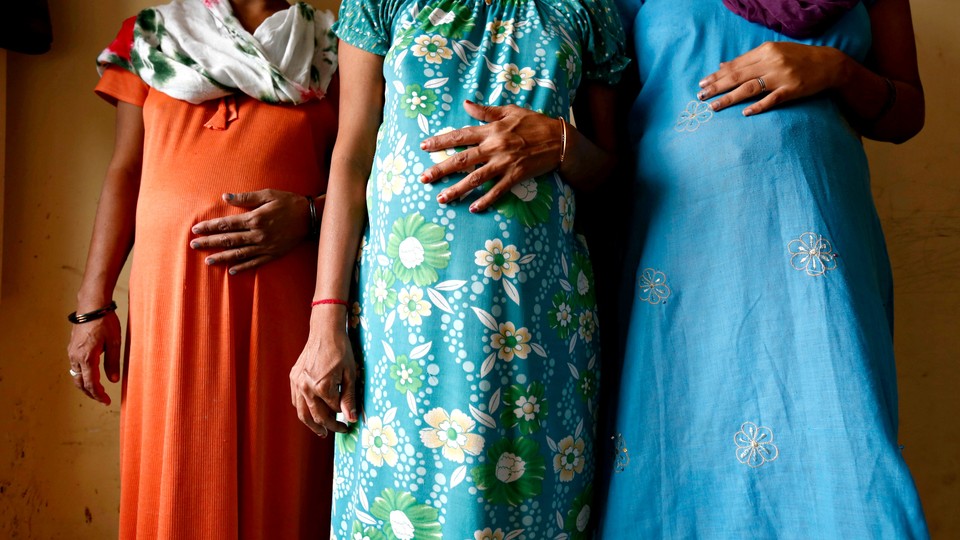 Is there anything inherently "doggy" about the word "dog"? Obviously not—to the French, a dog is a chien, to Russians a sobaka, to Mandarin Chinese-speakers a gǒu. These words have nothing in common, and none seem any more connected to the canine essence than any other. One runs up against that wall with pretty much any word.
Except some. The word for "mother" seems often either to be mama or have a nasal sound similar to m, like nana. The word for "father" seems often either to be papa or have a sound similar to p, like b, in it—such that you get something like baba. The word for "dad" may also have either d or t, which is a variation on saying d, just as p is on b. People say mama or nana, and then papa, baba, dada, or tata, worldwide.
Anyone who happens to know their way around a lot of languages can barely help noticing this eerie similarity. But when it comes to European languages closely related to English, like the Romance and Germanic ones, this isn't so surprising. After all, these languages are children of what was once one language, which linguists call Proto-Indo-European and was likely spoken on the steppes of what is now Ukraine several millennia ago. So if French has maman and papa, and Italian has mamma and babbo, and Norwegian has mamma and papa, then maybe that's just a family matter.
But when we're talking several millennia, even closely related languages have a way of morphing beyond recognition. For example, Welsh is also a child of that language from Ukraine, but neither French nor English has managed to produce words like that town name—Llanfairpwllgwyngyllgogerychwyrndrobwllllantysiliogogogoch—that the newscaster Liam Dutton recently became a viral sensation for pronouncing properly. For a member of the same linguistic family, Welsh has struck out pretty far on its own. Yet "mother" and "father" in Welsh are mam and tad.
Did Welsh pick this up from the English spoken amidst it in Great Britain? Perhaps—but the facts are the same with languages English is spoken much less "amidst." In Africa, Swahili has mama and baba. In the Philippines, Tagalog has nanay and tatay. Fijian has nana and tata. Mandarin, so intimidatingly different from English to the learner, soothes unexpectedly in offering up mama and baba. Chechen in the Caucasus? Naana and daa. Native American languages? Eskimo has anana and ataata; Koasati, spoken in Louisiana and Texas, turns out to have mamma and taata; down further in El Salvador, Pipil has naan and tatah.
It's tempting to imagine this means that the first humans called their parents mama and dada, and that those two warm, hearty words have survived the slings and arrows of human history to remain in use today. But the notion is too good to be true. Over time in language, sounds smush along their way to becoming new ones, and even the meanings people assign to a word drift all over the place.
Take that language in Ukraine that later became most of the languages of Europe. By comparing today's languages and tracing backward, we can determine what a lot of the words in that Ukrainian language were, just as we can look at all of today's mammals and the fossils of their ancestors and know that the first mammal was a rodent-like critter with hair that gave birth to live young. In Proto-Indo-European, the word mregh meant "short." The Greeks' version of that word came to refer to the upper arm, which is short, while in Latin it referred to a pastry that looked like crossed arms; the term then passed into French referring not to arms but shoulder straps. All of those words seeped into English later, such that what started as a word meaning "short" became "brachial" (from Greek), "pretzel" (the crossed arms, from Latin), and "bra" ("shoulder strap" became brassiere). The most direct descendant of mregh in English is "merry," of all things. That which is short is often sweet, such that the word came to mean "short and sweet" and, eventually, just sweet—merry, that is.
Certainly, then, words like mama and dada wouldn't necessarily stay the same, or even close to the same, in languages around the world and over tens of thousands of years. So what happened?
The answer lies with babies and how they start to talk. The pioneering linguist Roman Jakobson figured it out. If you're a baby making a random sound, the easiest vowel is ah because you can make it without doing anything with your tongue or lips. Then, if you are going to vary things at all, the first impulse is to break up the stream of ahhh by closing your lips for a spell, especially since you've been doing that to nurse. Hence, mmmm, such that you get a string of mahs as you keep the sound going while breaking it up at intervals.
Babies "speaking" in this way are just playing. But adults don't hear them that way. A baby says "mama" and it sounds as if he's addressing someone—and the person he's most likely addressing so early on is his mother. The mother takes "mama" as meaning her, and in speaking to her child refers to herself as "mama." Voilà: a word mama that "means" mother. That would have happened with the first humans—but more to the point, it has happened with baby humans worldwide, whatever language they are speaking. That means that even as the first language was becoming countless others, this "mama mistake" was recreating "mama" as the word for "Mom," whatever was going on with words like mregh.
Papa and dada happened for a similar pan-human reason. After babies begin making m with their lips, they pick up making a sound that involves a little more than just putting their lips together—namely, putting them together, holding them that way for a second, and then blowing out a puff of air. That's p—or, depending on your mood, b. Alternatively, babies also start playing with their mouths a little further back from the lips—on that ridge behind the upper teeth that we burn inconveniently by sipping soup when it's too hot. That's where we make a t or a d. The order in which babies learn to make sounds explains why the next closest usual caretaker to mom is so often called papa or baba (or tata or dada).
There's a similarly mundane explanation for another uncanny pattern among certain words. The linguist Johanna Nichols has noted that in Europe and much of northern Asia, the pronouns for "I" and "you" start with m and t—or something pronounced like t on that burnable ridge in the mouth, s—too often for it to be an accident. English-speakers are familiar with French's moi and toi, or Spanish's me and tu. It goes further, with Russian's menja and tebja, Finnish's minä and sinä, and even to Eurasian languages further east, like a language of Siberia called Yukaghir that uses met and tet.
Nichols has proposed that the reason a language like Yukaghir's pronouns for I and you look so much like the mama/tata alternation—as well as why French has moi and toi and English once had me and thou—is because even as these languages have changed over time, the sounds of the words for I and you have been influenced by the way mama and tata differ. The m sound is used for what is closest—mama for Mommy and "me" for the self. The t sound—often learned just after m—is for what's just one step removed from the closest: Daddy hovering just over there, which we can understand would feel like "you" rather than "(Mommy and) me."
This time, however, it isn't the whole world—it's just a part of Eurasia where this distinction happens to have shaped how pronouns sound. Elsewhere, words for "me" and "you" are, for example, Mandarin's wǒ and nǐ or Indonesian's saya and anda.
Otherwise, if we want to know why a word sounds the way it does, there are only glimmers. Indeed, in English, "glimmer" is one of many words starting with gl- that refer to light-oriented things—"glow," "glare," "glitter," "gleam," "glance," "glower." It's also been shown that humans tend to associate tight sounds like ee with smallness and fleetness. The anthropologist Brent Berlin did a neat experiment in which he played 600 students two words from an obscure language of the Amazon, Huambisa, and asked which one referred to a bird (little and flittery) and which referred to a fish. The words were chunchuíkit and máuts. Almost all of the students intuited that chunchuíkit, with its tweety "chui," was the bird.
Ultimately, language is vastly more than things like "Me glimmering, Mom!" No theory will ever account for why the words in a sentence like "He couldn't even get halfway over that wall!" are the way they are. Language is too changeable to allow us that pleasure, standing as we are at the end of a possibly 150,000-year timeline since human speech began.
But we can at least enjoy knowing why we call them the Mamas and the Papas.