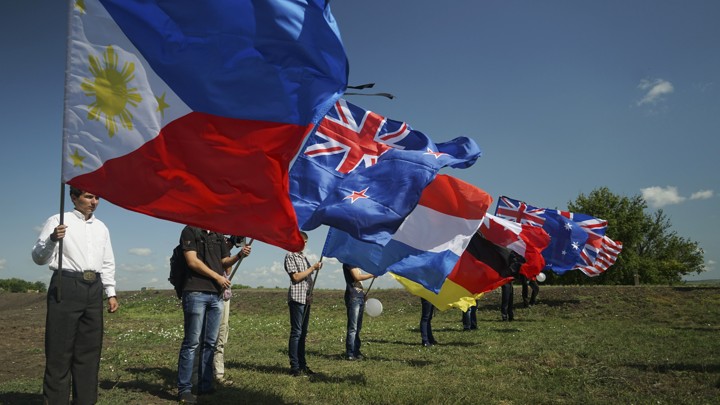 Updated on October 13 at 9:21 a.m. ET
Malaysia Airlines Flight MH17 was downed by a Russian-made surface-to-air missile as it flew over Ukrainian airspace on July 17, 2014, the Dutch Safety Board said in a report released Tuesday.
"The crash of the Malaysia Airlines Boeing 777-200 was caused by the detonation of a model 9N314M warhead, fitted to a 9M38-series missile that was fired from a Buk surface-to-air missile system," the report said.
The area in eastern Ukraine is where pro-Russia rebels are fighting the Ukrainian government. The report did not assign blame to what caused MH17 to crash, killing all 298 people on board. The West and Ukraine have blamed the rebels for the downing of the plane. Russia says the aircraft was brought down by Ukraine.
"The investigation revealed that the missile approached the aircraft almost head-on, in the direction of the upper left-hand side of the aeroplane," the report said. "The warhead exploded to the left of the cockpit. This is evident from the aeroplane's damage pattern, which shows the highest number of impacts on the left-hand side of the cockpit."
The report said that as a result of the impact, the three crew members in the cockpit were killed instantly. "A large number of fragments from the warhead were found in their bodies."  
At a news conference revealing the results of the report, Tjibbe Joustra, the head of the Dutch Safety Board, said: "There was sufficient reason to close the airspace above eastern Ukraine."
MH17, which was traveling from Amsterdam to Kuala Lumpur, crashed in rebel-held territory. Joustra said 160 flights had flown over the area that day, and three other planes were in close proximity to MH17 when it was hit.
"Almost all operators were flying over that area," he said, "because no one thought civil aviation was at risk."
Joustra said the missile was launched from a 123-square-mile area, and the plane's debris scattered over a 19.3-square-mile area. He called the recovery of the debris a "complicated process," adding some parts of the wreckage were recovered as recently as two weeks ago. He left open the possibility that more debris may be found, but added that wouldn't alter the investigation's findings.
Joustra added that the Russian government challenged the report's conclusion that MH17 was hit by a surface-to-air missile. Moscow, he said, believed such a finding couldn't be conclusively made.
You can read the full report here, and watch the board's animated reconstruction of what happened to the flight:
We want to hear what you think about this article. Submit a letter to the editor or write to letters@theatlantic.com.