The U.S. Gives Up on Building New Syrian Rebel Groups
Rather than train its own moderate militias, Washington will focus on assisting existing ones, Defense Secretary Ash Carter said.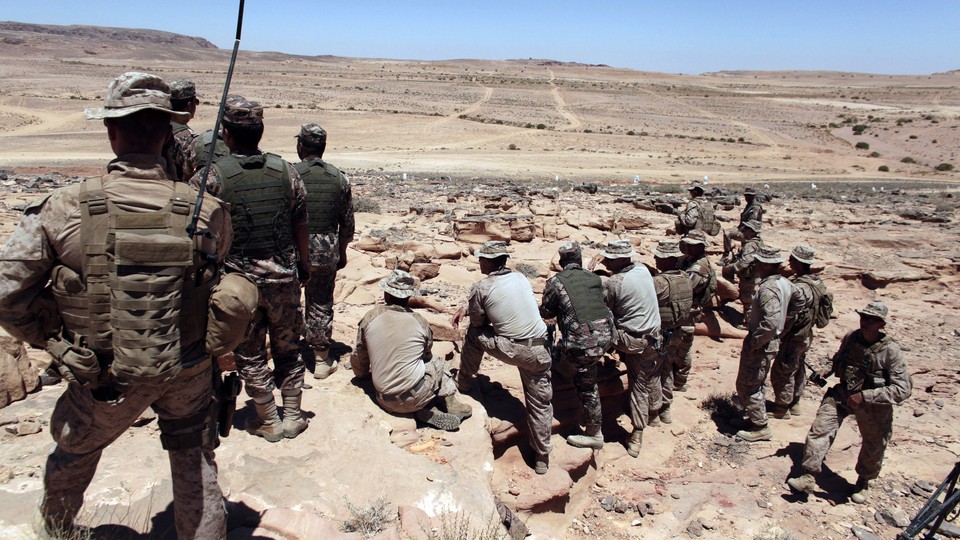 If a training program ends in Syria after training practically no fighters, does it make a sound?
Apparently, it sounds like this: "I was not satisfied with the early efforts in that regard, and so we are looking at different ways to achieve the same strategic objectives, which is the right one, which is to enable capable motivated forces on the ground to retake territory from ISIL and reclaim Syrian territory from extremism so we have devised a number of different approaches to that going forward," Defense Secretary Ash Carter said at a news conference in London.
Details are still emerging. The New York Times reported the Pentagon would make a formal announcement later Friday, and Carter suggested President Obama would speak on it.
A senior official tried to put a brave face on the news, telling The Washington Post this wasn't the end of the program—simply a reimagining: "It's being refocused to enhance its effectiveness. It's being refocused in a new direction."
But "enhancing the effectiveness" seems to undersell the gravity of the program's failings. It was designed to provide a counterweight to both the Assad regime in Syria as well as radical groups like Jabhat al-Nusra and ISIS, by providing U.S. training to moderate Syrian rebels. The goal was to give the U.S. a serious foothold without requiring major commitments of troops. But it has been, by any standard, a failure. Last month, General Lloyd Austin acknowledged that despite spending $500 million, the program was well short of its goal of 5,400 fighters trained per year.
How short? "We're talking four or five" fighters still in the field, Austin said. He said more had been trained, but they had laid down their arms, been killed, or were captured. Members of the Senate Armed Services Committee, from Republican John McCain to Democrat Claire McCaskill, were flabbergasted and angry.
The new plan, while still vague, involves training soldiers and embedding them with existing units of Kurdish or Arab fighters already in the field, in an effort to fortify those units, rather than trying to create new rebel groups from scratch. An official told the Times that
there would no longer be any more recruiting of so-called moderate Syrian rebels to go through training programs in Jordan, Qatar, Saudi Arabia or the United Arab Emirates. Instead, a much smaller training center would be set up in Turkey, where a small group of "enablers"—mostly leaders of opposition groups—would be taught operational maneuvers like how to call in airstrikes.
In London, Carter held up cooperation with Kurds as a model for going forward.
As the training program spins it wheels, the U.S. has widely been seen as ceding much of the field in Syria to Russia, which has launched airstrikes and missiles, largely on behalf of the Assad regime and ostensibly but not actually against ISIS.
In general, it's been a rough few months for the Pentagon. At the hearing where Austin divulged the poor training numbers, he was also grilled on reports the military was altering intelligence reports on the fight against ISIS to paint a rosier picture. Meanwhile, the Army is facing difficulties in its other major war, in Afghanistan, as well. Taliban fighters won a major moral victory by briefly taking Kunduz, and the U.S. is now dealing with fallout from an airstrike it launched against a Doctors Without Borders hospital in the city. President Obama called the organization to apologize this week for the strike that killed 22 people.