Thou Shalt Commit Adultery
A rare copy of the so-called Wicked Bible of 1631, which omitted a rather important "not" from the 10 Commandments, is going on auction in the U.K.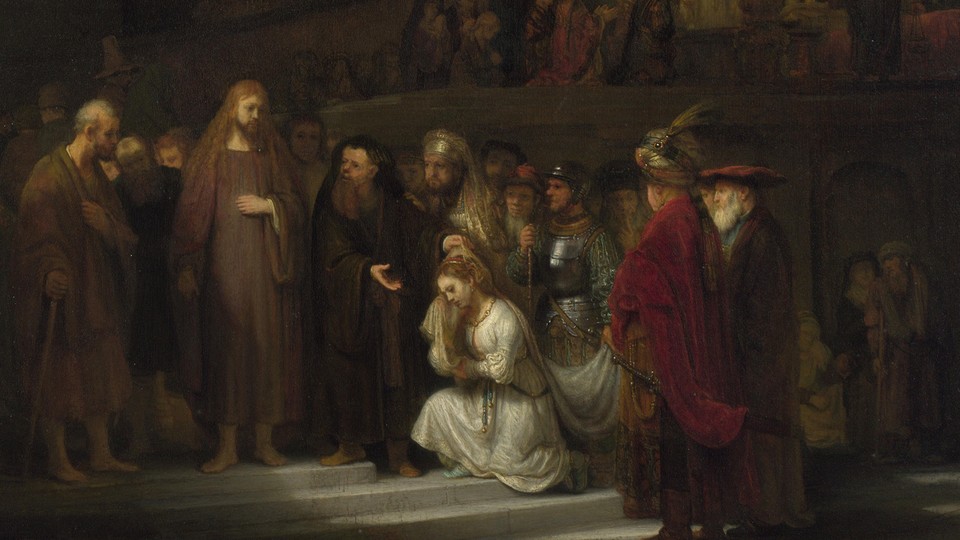 Crack open a copy of the so-called Wicked Bible to Exodus 20, and you'll find a pretty standard version of the 10 Commandments, albeit with 17th-century spelling twists: "Honour thy father and thy mother, that thy dayes may bee long upon the land which the LORD thy God giveth thee. Thou shalt not kill."
And then you hit verse 14: "Thou shalt commit adultery."
Yeah, oops. That missing "not" is kind of important.
One of history's most titillating biblical misprints is back in the news: A copy, said to be one of about 10 left, is going on auction at Bonhams in the United Kingdom. Once the error was discovered, about a year after roughly 1,000 of the books were printed in 1631, most copies were burned, which is why they're so rare. The printers, Robert Barker and Martin Lucas, were brought to court and fined by King Charles I of England, and they lost their printing licenses. Barker later died in debtor's prison.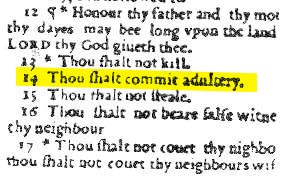 And: There's intrigue! As if a biblical endorsement of hanky-panky weren't enough. There's a rumor that another printer purposefully inserted the error, said Diana Severance, the director of the Dunham Bible Museum in Houston, Texas, which also has a copy of the book. The strongest evidence? "There is another error," she said. In "Deuteronomy 5:24, when it talks about the 'greatness' of God, it has 'great-asse.'" The 10 Commandments appear only twice in the Bible: once in Deuteronomy 5, and again in Exodus 20, the very two places where the Wicked Bible contains errors. One could understand a dropped "not," maybe, but "'great-asse' is not a typical typographical error," Severance said. "It's not just an accidental mistake."
The auction house has put up an initial asking price of £10,000 to £15,000, reports The Guardian. But when the Dunham Bible Museum, which is part of Houston Baptist University, purchased their copy of the Wicked Bible in 2008 from a private collector, it was valued at much less—$1,000, Severance said. She noted how funny it is that this bible gets so much press attention: justifiable from a joyful headline-writer's perspective, perhaps, but less so from a historical  perspective, since there are so many other error-riddled bibles from the early years of the printing press. Severance cited the "Wife-Beater's Bible," for example, a mid-16th-century edition that allegedly included a note in 1 Peter advising husbands about their wives, "And if she be not obediente and healpful unto hym, endevoureth to beate the fere of God into her heade." And the  18th-century "Vinegar Bible" titled Luke 20 "The Parable of the Vinegar," rather than "Vineyard." Chuckle-worthy, to be sure, but "the Vinegar Bible doesn't excite people like this," Severance said; people find the Wicked Bible funny because "it speaks to their sinfulness."
The Wicked Bible was printed at a time when people were just beginning to own and read full-text copies of the Bible. This edition was physically pretty small, so laypeople probably would have purchased most of them, Severance said; it wouldn't have been a pulpit bible for preachers. But that doesn't mean a lot of folks ran out to Ye Olde Strip Club, she said. "There was enough Christian teaching, and pervasive Christian teaching in England, to know that this was an error."