The Hajj Stampede: Twice as Bad as the Saudis Said
A new tally of the those killed last month makes it the deadliest-ever disaster at the annual pilgrimage.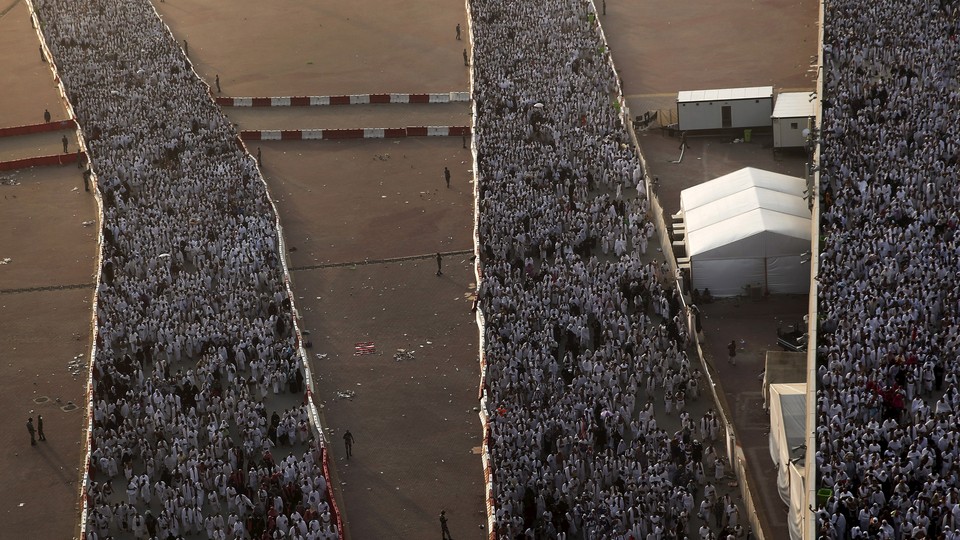 The death toll in last month's Hajj stampede in Saudi Arabia is roughly double the number that the country first reported, the Associated Press is reporting.
The Saudi estimate of the disaster was 769, but the new estimate, based on an AP count, suggests that 1,453 people died in the stampede. This new number would make it the deadliest catastrophe in the history of the event.
The Hajj draws roughly 2 million pilgrims to Mecca each year, an observance that lends its host, Saudi Arabia, unrivaled prestige across the Muslim world. It also saddles the kingdom with billions of dollars of costs and logistical considerations. Over the course of the past 40 years, several of the pilgrimages have been marred by deaths caused from stampedes, the collapse of infrastructure, violence, and fires.
Noting Saudi Arabia's ongoing struggles with low global oil prices, the civil war in neighboring Yemen, and the (continuing) threat of a domestic insurgency, the AP report suggests the country is more overextended and vulnerable than usual:
Any disaster at the hajj, a pillar of Islamic faith, could be seen as a blow to the kingdom's cherished stewardship of Islam's holiest sites. This season saw two, including the Sept. 11 collapse of a crane at Mecca's Grand Mosque that killed 111 people.
Indeed, Shiite Iran in particular has challenged its Sunni arch-rival's status as the custodian of Islam's two holiest sites, warning that if diplomacy doesn't yield an independent investigation, "the Islamic Republic is also prepared to use the language of force." Nearly one-third of the deaths in the incident were pilgrims from neighboring Iran.
Given all of this, it's not terribly surprising that a more accurate accounting of the tragedy had to come from an outside source. As Ruth Graham noted last month in The Atlantic, Saudi officials weren't eager to take responsibility: "In Saudi Arabia, the country's health minister chalked up the latest incident to a failure to follow instructions, and the head of the Central Hajj Committee blamed 'some pilgrims from African nationalities.'"
In the meantime, hundreds of worshipers still remain missing and so the true extent of last month's disaster is not fully known.