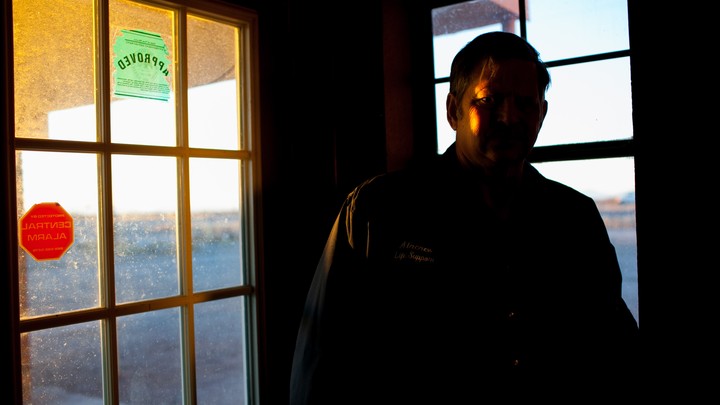 Alamogordo, New Mexico, bills itself as the "friendliest place on earth." The somewhat sleepy desert city has a population of around 30,000, according to the latest census, and temperatures have been known to reach 110 degrees in the throes of summer. The biggest driver of the local economy is the nearby Holloman Air Force Base, which employs roughly one-third of the city's people and is home to one of the largest training centers for drone pilots—just don't call them that.
"The preferred nomenclature for these vehicles nowadays is RPA, for Remotely Piloted Aircraft," photographer Elijah Hurwitz explained. "The word drone conjures images of brainless bots on autopilot, an implication not especially appreciated by the three-person crew of pilot, sensor operator, and intelligence analyst typically tasked with the supervision of these relatively new additions to the military's arsenal." Hurwitz spent several days tagging along with these Alamogordo-based pilots, traveling with them to work, to the movies, and to McDonald's.
The resulting photographs are almost banal; there is no dust of war. The pilots seem disinterested in their own work. Hurwitz does not show any faces, only body parts: the back of a head in front of an LCD screen, a leg on a motorcycle, a hand on a coffee cup. The pilots do not command the frame. "Many early recruits to the program flew bombers, jets, or cargo planes in Iraq or Afghanistan before being 'asked' to transfer to drone duty," Hurwitz wrote in Mother Jones. "In a sense, they are range-bound thrill-jockeys now managing an adrenaline deficit."
We want to hear what you think about this article. Submit a letter to the editor or write to letters@theatlantic.com.
Emily Anne Epstein
is a senior editor at
The Atlantic
, where she oversees visuals. She has worked as a photojournalist, reporter, and the managing editor of the
New York Observer
.