Saving Syria's 'Lost Generation'
Should universities be doing more to help the country's displaced students and scholars?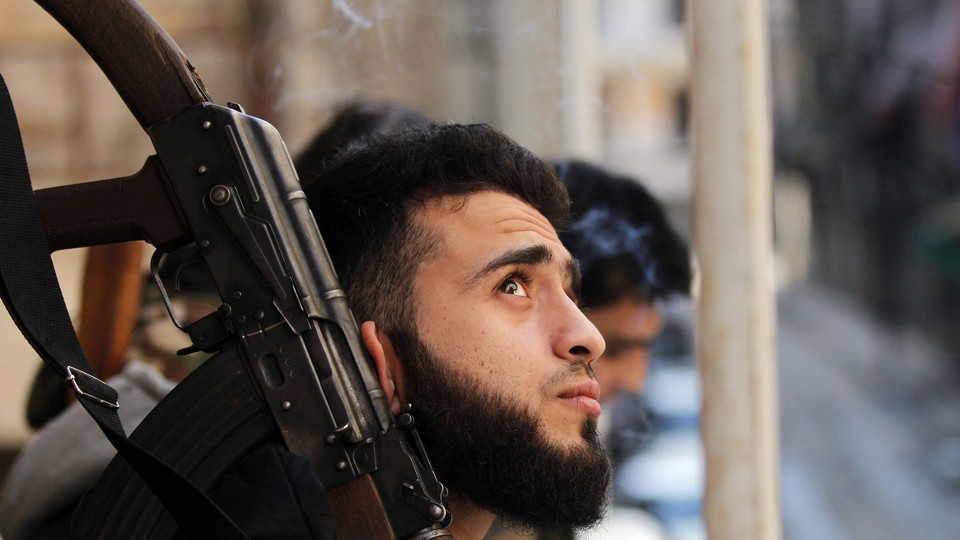 It wasn't long after the onset of the Great Recession that academics and headline writers began referring to recent college graduates as a "lost generation." Faced with unemployment rates for their cohort higher than at any time since World War II, young Americans seemed doomed to a lifetime of lower earnings and savings. But even at the peak of pessimistic predictions, pundits had to acknowledge: Those with college degrees were relatively well-off compared to those without.
What, then, do you call an entire generation that never even finishes college? That's the threat facing Syria's young adults. In the years leading up to the current civil war, enrollment figures for Syrian tertiary education had been climbing steadily upward—from 12 percent of the college-age population in 2002, according to the UNESCO Institute for Statistics, to 26 percent in 2010, on the eve of the Syrian uprising. Now, the estimated 100,000 university-qualified refugees currently scattered throughout the Middle East and Europe must place their hopes in schools outside Syria—and that's to say nothing of those still inside the country, where few educational institutions remain functional. In neighboring Turkey, Lebanon, and Jordan, all of which have been overwhelmed with refugees since the start of the conflict, only a fraction of students have found ways to continue their studies, despite the number of Syrian students in Turkish universities, for example, reportedly quadrupling in recent years. With professors and researchers displaced as well, Syria's entire university infrastructure is at risk.
Earlier this month, Oxford University became the latest institution to try to address this massive educational challenge; the U.K.-based Council for At-Risk Academics (CARA), which works with scholars at the master's level and above, reported that it had placed four Syrian academics in two-year positions at Oxford's colleges.
But the very fact that Oxford's action made news highlights the crisis in Syrian higher education: Four academics are more than typically get placed at a single university, according to CARA, due to the expense involved in doing so. But it's also a paltry figure when compared with, say, the thousands of students in Gulf Coast colleges who were temporarily relocated to universities throughout the United States and abroad in a matter of weeks following Hurricane Katrina in 2005.
Why has placing displaced students and scholars in universities outside Syria proven so difficult?
"It's such a witches' brew of things we're working against," said Allan Goodman, the president and chief executive officer of the New York-based Institute of International Education (IIE), which has provided support to some 80 Syrian faculty members and 150 scholarships to Syrian students thus far, partnering with a consortium of 50 universities mainly in the U.S., but also in Europe, Latin America, Turkey, and Kurdish Iraq. "If a university provides a tuition scholarship they need to find somebody to provide the transportation and living expenses when they get to campus," Goodman explained. "If the student is in a refugee camp in Turkey, [his or her] parents may have fled but don't have the [student's] birth certificate, the transcript. Maybe they don't have a passport. Unlike the emergency we dealt with in Iraq, where people were displaced but there was a functioning government in Baghdad where you could get passports and transcripts, in the Syrian case you have people all over."
"Every time we get a [single] student [placed] here we think of it as a victory," he added.
There are also language issues. Many Syrians don't know English, said Stephen Wordsworth, CARA's executive director, though they "may have studied in France because of the strong [historical] connection." (Syria fell under the French mandate when the Ottoman Empire was carved up after World War I.) "We have a couple of people at French universities so far, and the same in Germany, and we're trying to expand. It obviously takes time and the systems are different," he said, pointing out that French universities, for example, frequently have more difficulty coming up with housing assistance or funds for living expenses. Fully funding a student involves considerable outlay, he added: "If you're looking at hosting a Ph.D. student particularly with full costs, you're looking at £50,000 ($77,000) per year—probably more than that."
Funding is a particular challenge for Portugal's Global Platform for Syrian Students, an organization founded in 2013 and chaired by Portugal's former president, Jorge Sampaio. "One of the most difficult things is to make people understand that higher education in a context of [wartime] emergencies is not a luxury but one of the most strategic investments," wrote Sampaio's diplomatic advisor, Helena Barroco, via email. "Who will rebuild a destroyed country? Who will be the next generation of leaders if you do not avoid creating a lost generation of university graduates?" These arguments sometimes fail to resonate with potential funders, she said, noting the large amount of money beyond tuition wavers needed to get a student from a refugee camp to campus housing. "We have 700 places offered in universities with tuition-fees waivers (partial or full waivers)," she explained, "and we are not yet able to allocate them to students because of a funding gap."
Even with the funding gap, the Global Platform, which works primarily with Portuguese universities and now partners with IIE, will help place 150 Syrian students this year—up by 50 from 2014—and plans to start working with medical students in 2016. But Barroco said the organization could have done even more had a mechanism existed to do its work before the Syrian conflict started. "You waste a lot of time," she wrote, in starting up a new organization at dire moments and having to fundraise, contact universities, and reach out to students all at once. "What you need is a rapid-response mechanism for higher education in emergencies that is ready to act each time there is a crisis," she said, ideally a global consortium of universities with an international funding base that can work closely with governments to sort out visa issues.
If there's any organization close to that on the national level, it's probably the German Academic Exchange Service (DAAD), a government agency. No stranger to the academic crisis-response scene—public universities in Germany offered 30 spots to Gulf Coast students after Katrina—the German government in 2014 funded DAAD's proposal for a mammoth effort to bring "elite" Syrian students into the country's academic system for both a full university education and an unapologetic immersion course in German civic values. "We said, OK, these people are going to be trained in Germany not just as engineers or in the sciences, but with additional modules," said Christian Hühlshörster, DAAD's North Africa, Middle East, and Gulf Region division head. "Civil governance, society, how democracy works according to our standards, how you organize the relationship between religion and politics. These people, hopefully when they have a chance to go back to Syria, they will take that back."
DAAD received "about 5,000 applications," according to Hühlshörster, and sent 30 professors to its field offices in Amman, Istanbul, Beirut, Erbil, and Cairo to conduct 500 personal interviews for a total of 200 scholarships, complete with living expenses, which were adjusted for students with spouses or children. The admitted students were also enrolled in full-time, intensive German classes over the summer (candidates only needed to have a working knowledge of either German or English for the interview), and in the additional modules mentioned by Hühlshörster. The total value of the awarded scholarships, according to Hühlshörster, was about €16 million—around 11 times the estimated £1 million value of what CARA, a private charity, and its university partners together gave out in fee waivers and in-kind support in 2014 to all academics, both Syrian and otherwise. DAAD covers everything but tuition waivers (which, given that the universities are publicly funded as well, is just a matter of a different government agency footing the bill). Separately, the state government of North Rhine-Westphalia has funded 21 scholarships for Syrians, and the state of Baden-Württemberg 50.
The recent influx of refugees into Germany has changed matters, however. DAAD is now focusing mainly on supporting German universities by funding tutoring, mentoring, and language courses, while simultaneously investing in what Hühlshörster calls "third-country scholarships," or providing funds for Syrian refugees "to complete their education in neighboring countries like Turkey, Lebanon, Jordan, Egypt. In this case, we would pay tuition fees plus living expenses, in order to minimize the need to come to Europe for a better chance in life."
Hühlshörster agreed with Barroco's point about the value of a coordinated approach, pointing to the consortium DAAD is forming with government agencies in the United Kingdom, France, and the Netherlands. "Take Lebanon, for example," he said. "The French have a very strong infrastructure in Lebanon. Teaming up in this consortium, they could provide the services in Lebanon which we do in Jordan. Our British colleagues are strong in Iraq."
In the absence of such international coordination, the cost of placing Syrian students at universities outside their country will remain high—meaning wealthy colleges are perhaps best-positioned to fill the void. The United States is the mother lode for such institutions. But notably, of the 20 richest universities in the U.S., only Emory and Notre Dame make appearances on IIE's Syria consortium list.
I reached out to the media-relations offices at a few of America's wealthiest universities—Harvard, Stanford, Yale, and Princeton—to ask whether any special initiatives are under discussion for displaced Syrian students or academics. So far, only Princeton's media office has responded.
"We have no such plan and we've not had any discussions about it," Martin Mbugua, a Princeton spokesman, wrote via email. "It's important to note that the arrangement for Tulane students [after Hurricane Katrina] was under very different circumstances and involved students already enrolled at another institution who were given that opportunity for a while." In other words, Katrina-displaced students were never actually admitted to schools like Princeton, and went back to Tulane or Dillard or Xavier at the end of the fall semester.
For Syrian students, returning to Al-Baath University in Homs is unlikely to be an option. For many, there aren't any options at all, really.