A Strengthened Assad's Welcome at the Kremlin
Their meeting on Tuesday marks the first time the Syrian leader has left his country since 2011.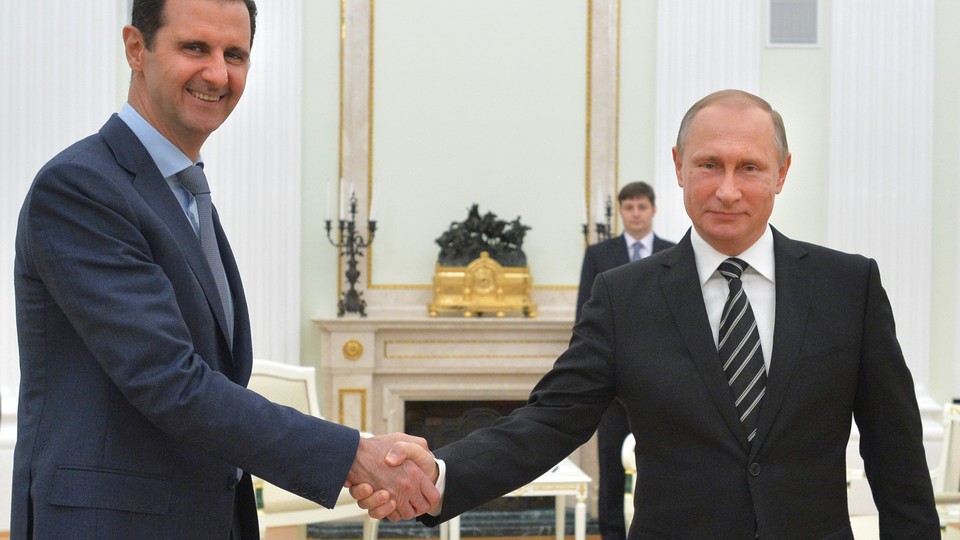 Syrian President Bashar al-Assad visited Moscow on Tuesday at the invitation of his Russian counterpart, Vladimir Putin, to discuss the security situation in his country, which is in the midst of a nearly five-year-long civil war, and lay the base for a long-term political settlement, the Kremlin said Wednesday.
The visit is apparently Assad's first outside his country since 2011, and it shows the Syrian leader's confidence after the Russian military intervention in the civil war began on September 30 on his  behalf. Russia's operations are ostensibly against the Islamic State, but its airstrikes and missile strikes have reportedly also hit other groups—some backed by the West—that are fighting Assad.
A transcript of the meeting posted on the Kremlin's website noted that the visit was initiated at Putin's request, and that claim was backed by the state-run Syrian Arab News Agency. (You can watch the meeting here.)
"We took the decision upon your request to provide effective aid to the Syrian people in fighting the international terrorists who have unleashed a genuine war against Syria," Putin told Assad, according to the Kremlin's transcript. "The Syrian people has been practically alone in putting up resistance and fighting these international terrorists for several years now, and has suffered great losses. Lately though, there have been some major positive results in this fight."
Those "major positive results" are likely because of Russia's role. Russia, and before it the Soviet Union, has been a longtime ally of Syria, and its involvement in the conflict is part of Putin's desire for a more forceful foreign policy in the region. Putin has also noted, as he did in Tuesday's meeting, the estimated 4,000 people from the former Soviet Union who have joined the Islamic State and are fighting Assad in Syria.
"Of course, we cannot let these people gain combat experience and go through ideological indoctrination and then return to Russia," Putin said.
In his remarks, Putin appeared to lay groundwork for a political settlement.
"On the question of a settlement in Syria, our position is that positive results in military operations will lay the base for then working out a long-term settlement based on a political process that involves all political forces, ethnic, and religious groups," Putin told Assad. "Ultimately, it is the Syrian people alone who must have the deciding voice here."
Those comments could prove particularly significant. The U.S. and its allies say any political settlement in Syria must first involve Assad stepping down. But on Tuesday, an unnamed official from Turkey, one of Assad's most severe critics, told Reuters the Syrian leader could stay "for six months … [if] there will be a guarantee of his departure." That apparent concession is part of a plan being  discussed with Turkey's Western allies.
The U.S., which has been carrying out its own airstrikes against the Islamic State, has been particularly critical of Russia's intervention in Syria, with President Obama suggesting it was a sign of Russia's weakness and the actions would lead it into a "quagmire." Still, the two sides signed a technical agreement on Tuesday regulating drone and aircraft flights over Syria.
In Moscow, Putin told Assad that any coordination on a political process in Syria would be done "in close contact with the other global powers and with the countries in the region that want to see a peaceful settlement to this conflict."
Assad, in his comments, thanked Russia for its role in preventing "events in Syria from taking an even more tragic turn."
"Of course, we all know that any military action must be followed by political steps," he said. "Of course, our common goal is to bring about the vision the Syrian people have of their own country's future."
It's unclear what impact the Russian intervention has had. Supported by Russian airstrikes, Syrian ground forces, along with fighters from Iran and Hezbollah, the Shiite militant group from Lebanon, have staged a massive ground offensive against rebel-held cities, including Aleppo. But other news reports suggest that the Islamic State has actually made more gains after the Russian airstrikes began. If nothing else, the Russian intervention has bolstered Assad. It was long believed the Syrian leader hadn't left the country because he feared a coup, but Russia's role appears to have changed that—though Assad's trip was made public only after he had returned home to Syria.